Earth Day Asia Instagram Photo Contest
April 3, 2013
As we celebrate Earth Day and the environment around us, The Asia Foundation is looking for your compelling photos that exemplify what the environment in Asia means to you. For example: What is your favorite natural environment or resource? What's at stake or threatened in Asia's environment? Images will be judged by our in-house photographer and the winners will be announced on Earth Day, April 22, 2013. The Asia Foundation will prominently feature the winning photographs with credits on Facebook and Instagram.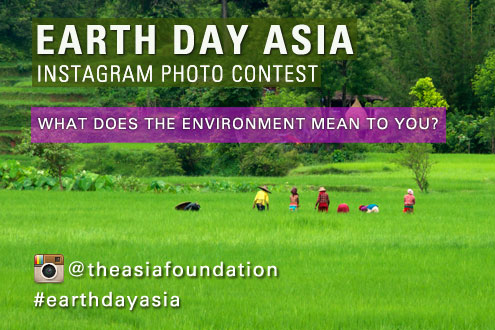 How to Participate:
Follow us on Instagram @theasiafoundation.
Upload your photos to Instagram.
Add photo description. Make sure to tell us where the photo was taken, what the photo is of, and any more interesting details that help tell your story.
Caption with #earthdayasia AND @theasiafoundation.
Share your image on Instagram.
The contest will run from Wednesday, April 3 until Sunday, April 21 at midnight EST.
Rules:
The photo must have been taken in the Asia-Pacific region.
Each person is limited to 3 entries.
Images can come from any type of camera.
The use of filters or toning and color correction from a photo editing software is accepted.
All images must be uploaded to Instagram and must include #earthdayasia and @theasiafoundation in the caption or comments section.
Images that are already on Instagram may also be entered but must have #earthdayasia and @theasiafoundation in the comment section.
You must be the sole owner and creator of the photo.
Photos should be accompanied by descriptions, including the place it was taken and a description of what the photo depicts.
No indecent or graphic content.
About our blog, InAsia
InAsia
is a bi-weekly in-depth, in-country resource for readers who want to stay abreast of significant events and issues shaping Asia's development, hosted by
The Asia Foundation
. Drawing on the first-hand insight of renowned experts,
InAsia
delivers concentrated analysis on issues affecting each region of Asia, as well as Foundation-produced reports and polls.
InAsia
is posted and distributed every other Wednesday evening, Pacific Time. If you have any questions, please send an email to
[email protected]
.
Contact
For questions about
InAsia
, or for our cross-post and re-use policy, please send an email to
[email protected]
.
The Asia Foundation
465 California St., 9th Floor
San Francisco, CA 94104
Mailing Address:
PO Box 193223
San Francisco, CA 94119-3223
Change Starts Here Campaign Impact
Thank you for powering The Asia Foundation's mission to improve lives and expand opportunities.