Development Experts and Senior Government Officials Meet in Seoul to Discuss Asian Development Cooperation on Climate Change Mitigation and Green Growth
Dialogue Series co-organized by The Asia Foundation and the Korea Development Institute
San Francisco and Seoul, April 16, 2013 —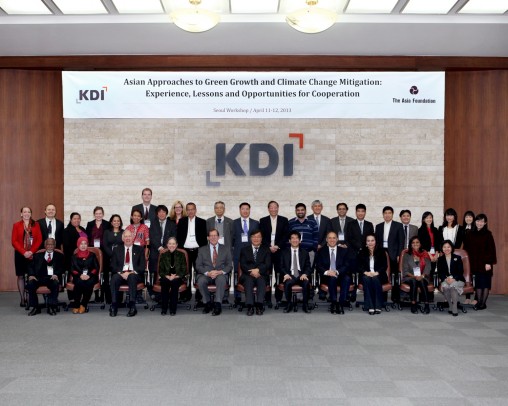 Asia's developed and emerging economies will be integral to forging the global cooperation needed to attain the goals set forth by the international community on climate change and low carbon development. On April 11 and 12, 25 government officials, policy specialists and development experts representing more than 10 countries convened in Seoul for the eighth meeting of the Asian Approaches to Development Cooperation (AADC) dialogue series. The conference was jointly organized by The Asia Foundation (TAF) and the Korea Development Institute (KDI) and hosted by KDI, with funding support from KDI, TAF, and Australian Aid. The goal of this ongoing series is to provide a forum for sharing perspectives and approaches among both emerging and traditional development actors on critical issues facing the region. The 2013 AADC series focuses on knowledge exchange on how to effectively reduce greenhouse gas emissions, adapt to climate change, and realize the regional co-benefits that transformations to green growth can provide.
The discussions in Seoul highlighted policy recommendations for low carbon development and green growth agendas, examined specific national actions and strategies for climate change mitigation, surveyed experiences with bilateral and multilateral climate finance mechanisms, and shared lessons learned on innovative energy, transport, and forestry projects. The forum also included a visit to Songdo city in the Incheon Free Economic Zone, Asia's premiere sustainable "smart city" and the site of the Green Climate Fund, to converse with Cisco Network and Gale International about approaches for public-private partnerships in sustainable urban planning.
On April 11, former Ambassador for Green Growth, Boonam Shin, from Korea's Ministry of Foreign Affairs, provided the keynote address. Other distinguished conference participants included the Deputy Mayor for Administrative Affairs of Incheon Metropolitan City Government, Myong-u Jo, and the Director General for International Economic Cooperation from Korea's Ministry of Strategy and Finance, Hong-Sang Jung, who also serves as an alternate board member of the Green Climate Fund. TAF's president, David D. Arnold, and KDI's acting president, Joo Hoon Kim, were also both in attendance.
In his opening remarks, KDI acting president Joo Hoon Kim noted: "In the face of economic and environmental challenges of climate change, the concept of inclusive green growth has emerged as a new paradigm that provides a pathway to sustainable development with its economic, environmental, and social pillars. Many countries across Asia have begun to undertake ambitious green growth strategies and initiatives to foster sustainable, low-carbon development." "The urgency of climate change calls for heightened responsiveness," said Asia Foundation president David D. Arnold, "and in a rapidly evolving development landscape—with shifting needs, new actors, funding mechanisms, and experiences and opportunities to be shared—the most effective and sustainable solutions will ultimately be spearheaded within the Asia- Pacific region itself, through regional cooperation, new technology, and sharing best practices."
Countries participating at the dialogue involved both emerging and traditional development cooperation partners from the Asia region and beyond, including: Australia, China, India, Indonesia, Japan, Malaysia, Mongolia, South Korea, Thailand, United States, and Vietnam. Representatives from multilateral and bilateral agencies, academe, and international organizations also participated in discussions, including: the Asian Development Bank, Australian Aid, Global Green Growth Institute, Institute for Global Environmental Studies, Japan International Cooperation Agency, Kyung Hee University, United Kingdom's Department for International Development, and United States Agency for International Development.
Read the Asian Approaches to Development Cooperation Seoul meeting report. View the presentations on the Korea Development Institute website or read more about The Asia Foundation and Development and Aid Effectiveness. For media inquiries, please visit the Press Room.
Read our latest news, or insights from our blog.
Media contacts
Amy Ovalle, Vice President, Global Communications
[email protected]
415-743-3340
Eelynn Sim, Director, Media & Strategy
[email protected]
415-743-3318
Change Starts Here Campaign Impact
Thank you for powering The Asia Foundation's mission to improve lives and expand opportunities.