New Asian Approaches to Development Cooperation
April 17, 2013
In recent years, Asian countries have emerged as game changers in the development assistance arena, challenging traditional notions of aid, reshaping global aid architecture, and placing new challenges on the global development agenda. On April 23, The Asia Foundation's Washington, D.C., office will bring together senior government officials and policy specialists from China, India, Indonesia, and South Korea for a high-level panel discussion on Asian approaches to development cooperation, post-2015 challenges, and the importance of emerging donors to future policy-making. After leaving Washington, D.C., the panelists will travel to New York City to participate in discussions at the UN Secretariat. The Asian Approaches to Development Cooperation (AADC) dialogue series is a partnership between The Asia Foundation and the Korea Development Institute (KDI). This program in Washington, D.C., is organized by The Asia Foundation and USAID, with additional support from UNDP and AusAID.
Read more about the event in Washington, D.C., and visit The Asia Foundation's website to watch a live webcast of the discussion starting at 9 a.m. EST.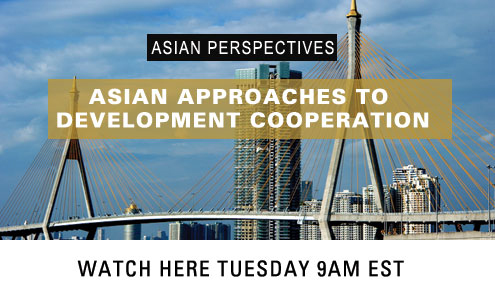 About our blog, InAsia
InAsia
is a weekly in-depth, in-country resource for readers who want to stay abreast of significant events and issues shaping Asia's development, hosted by
The Asia Foundation
. Drawing on the first-hand insight of over 70 renowned experts in over 20 countries,
InAsia
delivers concentrated analysis on issues affecting each region of Asia, as well as Foundation-produced reports and polls.
InAsia
is posted and distributed every other Wednesday evening, Pacific Time. If you have any questions, please send an email to
[email protected]
.
Contact
For questions about
InAsia
, or for our cross-post and re-use policy, please send an email to
[email protected]
.
The Asia Foundation
465 California St., 9th Floor
San Francisco, CA 94104
Mailing Address:
PO Box 193223
San Francisco, CA 94119-3223
Leaders on the Frontlines:
Leaders for a Better World
Tuesday, November 9, 2021, 6PM PT