The Asia Foundation in San Francisco Presents "Subnational Conflicts in Asia: Can Foreign Aid Help?"
Event: Monday, June 17, 2013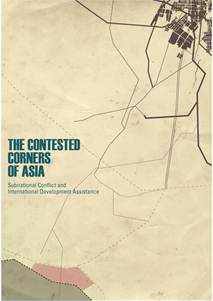 6:30 p.m. to 8:00 p.m.
World Affairs Council
312 Sutter Street, Suite 200
San Francisco, CA 94108
Moderated by:
Alastair Gee, Monocle Magazine's San Francisco Correspondent
With special guest panelists:
Thomas Parks, Regional Director for Conflict and Governance, The Asia Foundation
Nils Gilman, Director of Research, Monitor 360
Ben Oppenheim, Fellow, Center on International Cooperation, New York University
Subnational conflict is the most widespread, enduring and deadly form of violent conflict in Asia. These conflicts are among the world's longest-running armed struggles; more than half of the countries in South and Southeast Asia are affected by subnational conflicts; and millions of people in Asia are living in areas of protracted conflict.
The international community has provided nearly $6 billion in official development assistance to subnational conflict areas in Asia over the past 10 years. The Asia Foundation's major new study, The Contested Corners of Asia, was released in early June, assessing the impact – or lack thereof – of international assistance to these areas. The research team includes leading experts on conflict and foreign aid in Asia who use in-depth case studies, based upon extensive mixed-method research, including village-level ethnographic field work, perception surveys and interviews with key informants ranging from international donors to insurgents.
This panel of experts will discuss the findings of the new study and the current situation in the region.
Please click here to register.
Change Starts Here Campaign Impact
Thank you for powering The Asia Foundation's mission to improve lives and expand opportunities.