New Study to Reveal Impact of Foreign Aid on Asia's Enduring Subnational Conflicts
May 29, 2013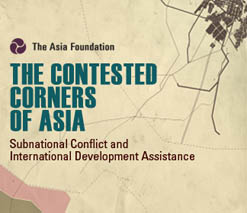 On June 3 in Bangkok, The Asia Foundation will release a major new study, "The Contested Corners of Asia," that examines subnational conflict, now the most deadly, widespread, and enduring form of violent conflict in Asia. More than half of the countries in South and Southeast Asia are affected by subnational conflicts, and millions of people in Asia are living in areas of protracted conflict. The study looks at the effect subnational conflict has had on the region as well as what impact foreign aid has made – or not made – on this issue. The research team includes leading experts on conflict and foreign aid in Asia who use in-depth case studies from Mindanao, Aceh, and Southern Thailand based on extensive mixed-method research, including village-level ethnographic field work, perception surveys, and interviews with key informants ranging from international donors to insurgents.
On June 13 in Washington, D.C., Thomas Parks, report author and the Foundation's regional director for conflict and governance, will present the findings at a panel discussion including Dr. Nat Colletta, lead report expert, USAID's Judith Dunbar; New York University's Dr. Bruce Jones, and The World Bank's Ingo Wiederhofer. On June 17, Parks will participate in another panel at the World Affairs Council in San Francisco, with panelists Nils Gilman of Monitor 360, and Ben Oppenheim, a fellow at NYU's Center on International Cooperation. The authors will continue on to London, Oslo, Tokyo, and Canberra. Read more.
This study has been co-financed by the State and Peacebuilding Fund (SPF) of the World Bank, and UK Aid from the UK Government.
About our blog, InAsia
InAsia
is a bi-weekly in-depth, in-country resource for readers who want to stay abreast of significant events and issues shaping Asia's development, hosted by
The Asia Foundation
. Drawing on the first-hand insight of renowned experts,
InAsia
delivers concentrated analysis on issues affecting each region of Asia, as well as Foundation-produced reports and polls.
InAsia
is posted and distributed every other Wednesday evening, Pacific Time. If you have any questions, please send an email to
[email protected]
.
Contact
For questions about
InAsia
, or for our cross-post and re-use policy, please send an email to
[email protected]
.
The Asia Foundation
465 California St., 9th Floor
San Francisco, CA 94104
Mailing Address:
PO Box 193223
San Francisco, CA 94119-3223
2022 Impact Report
Thank you for powering The Asia Foundation's mission to improve lives and expand opportunities.