The Asia Foundation in Washington, DC Presents "Subnational Conflicts in Asia: Can Foreign Aid Help End Some of the World's Longest-Running Conflicts?"
Event: Thursday, June 13, 2013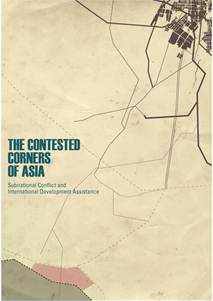 9:00 am – 11:00 am
The Cosmos Club
Powell Room
2121 Massachusetts Avenue NW
Washington, DC 20008
Registration will open at 8:30 am. Remarks will begin promptly at 9:00 am.
On June 13 in Washington, DC, The Asia Foundation will host a presentation of the findings of a major new study on subnational conflict, The Contested Corners of Asia: Subnational Conflict and International Development Assistance.
Subnational conflict is the most widespread, enduring, and deadly form of violent conflict in Asia, with more than 131 million people living in areas of protracted conflict. Subnational conflict areas differ from fragile states, with the majority of these conflicts taking place in middle-income countries with relatively strong states, regular elections, and capable security forces. As a result, subnational conflict in Asia challenges much of the conventional wisdom about the causes of armed conflict and its relationship to state capacity and development, and presents Asian governments and the international community with a distinct set of challenges. While the international community has provided nearly US$6 billion in official development assistance to subnational conflict areas in Asia over the past decade, the overall impact of international assistance on subnational conflict is unclear.
The recently-released study, co-financed by the State and Peacebuilding Fund (SPF) of The World Bank, and UK Aid from the UK Government, includes in-depth examinations of the cases of Mindanao, Aceh, and Southern Thailand, based upon extensive mixed-method research, including village-level ethnographic field work, perception surveys, and interviews with key stakeholders ranging from international donors to insurgents. Drawing on these cases, the study identifies the most critical contextual factors and program characteristics needed for aid programs to be successful, illustrates some of the more promising approaches used to date, and concludes with policy recommendations on how aid programs can contribute meaningfully towards resolving long-running conflicts.
The panel discussion will feature:
Dr. Nat Colletta, Lead Expert
Ms. Judith Dunbar, Regional Senior Conflict Advisor, Office of Conflict Management & Mitigation, USAID
Dr. Bruce Jones, Director, Center on International Cooperation, New York University
Mr. Thomas Parks, The Asia Foundation's Regional Director for Conflict and Governance
Mr. Ingo Wiederhofer, The World Bank, Senior Operations Officer, East Asia and Pacific Region
Please contact [email protected] for more information about this event.
Following this event, The Asia Foundation's Regional Director for Conflict and Governance Mr. Thomas Parks will present study findings in a June 17 panel discussion at World Affairs Council in San Francisco. See full event details here.
Change Starts Here Campaign Impact
Thank you for powering The Asia Foundation's mission to improve lives and expand opportunities.