Nandita Baruah Examines Realities & New Approaches to Combating Human Trafficking
June 5, 2013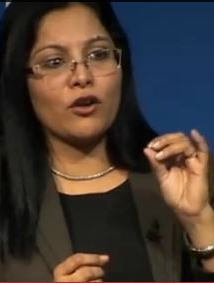 Ahead of The Asia Foundation's third annual Lotus Leadership Awards luncheon on June 6 in New York, which highlights work to end human trafficking in Asia, In Asia editor Alma Freeman caught up with counter-trafficking expert Nandita Baruah from her office in Nepal. The two discussed trends in human trafficking, why migration is on the rise, and how understanding the reality of labor migration is critical to ensuring migrant safety and well-being.
Research indicates that human trafficking is among the fastest growing criminal industries in the world, with many Asian countries both the primary sources and destinations for the victims of trafficking. What are the root causes of this?
Political and economic marginalization along class, caste, and gender lines is forcing women and men to explore other livelihood options which entail internal and external migration. As migration processes are not always well managed by the state, it puts them at risk of exploitation and abuse. Lack of adequate safety nets in the migration process fueling trafficking of persons are common in most societies in the world; though more pronounced in societies where legal and political systems do not include gender sensitive policies and regulations.
Labor migration has become one of the core foreign currency earning sectors for Bangladesh and Nepal. You recently wrote in this blog that the development of this sector is being challenged by the lack of a rights-based approach and inadequate policies. Can you elaborate on the challenges and obstacles in this area?
Globalization has had many impacts, good and bad. One impact of globalized economies is the greater interdependence among countries for economic growth and development which has lead to integration of economies and societies with increased mobility of human capital. In essence, globalized open labor markets have created a global work force that has made employment less secure at home and mobility away from home risky, because open labor markets do not necessarily operate within the framework of good governance. This has created outsourcing and subcontracting chains which do not always work within the legal framework, and in the absence of effective monitoring and control, contribute to trafficking and labor exploitation.
In Nepal, where 42 percent of the population lives below the poverty line, and the unemployment rate is at a high of 46 percent, labor migration to places like Saudi Arabia, Kuwait, and Malaysia is emerging as a real economic option, particularly for women. What are the pros and cons to this?
Roughly 2.6 million Nepalese are working abroad right now, mostly in the Middle East. The Government of Nepal estimates indicate that remittance from labor migration makes up approximately 22 percent of the country's GDP.  According to the Central Bank of Nepal projection for FY12/13 it is estimated that the approximately $4.23 billion will be received in remittance income. Unfortunately, despite huge economic contribution of labor migration there are numerous instances of abuse during the process of recruitment and in the destination country. The problem is aggravated when government policies become restrictive instead of protective. For example, the recent ban by the government of Nepal on women below 30 years from going to gulf states as domestic workers actually increased the likelihood of illegal migration. The  government perceives the ban as a way of protecting women from exploitation, but migration for domestic work to the gulf countries is an economic reality and need for many young women from Nepal. The ban has only proved counter productive as many women are now going through extralegal routes via India and therefore remain undocumented and even more vulnerable.
The Asia Foundation will soon publish a South Asia regional research study of Nepal, India, and Bangladesh to better understand what triggers or influences the choice and route of journey for the migrants. What are some of the biggest surprises that you discovered?
The study – "Labor Migration Policies and Practices in Nepal and Bangladesh Identifying Gaps and Challenges" – found that migrants are mostly driven by what they perceive as ease of movement. They rarely weigh their choices against available information on legal or illegal migration. For example, we found that many Nepali migrants are using India as an exit point to circumvent delays or obstacles related to legality of their movement. They find that it is easier and cheaper to exit through India and there are more organized operations that can facilitate extralegal migration. The issue is to see if countries can collectively address the gaps and loopholes that support illegal or extralegal migration. How do we strengthen the policies and operational structures within the country that support legal migration? We need to reverse the lens through which we are looking at the issues. Instead of focusing solely on reducing illegal migration we are focusing on promoting legal migration – a shift from a restrictive approach to a more positive approach which recognizes the reality of labor migration.
In recent years, the global fight against human trafficking has been criticized for focusing only on issues surrounding women victims of trafficking in the sex industry. While this obviously remains critical, what do you think has been missing in the fight?
Traditionally anti-trafficking work has focused mainly on sex trafficking or trafficking for prostitution which involved movement of women and girls into certain demarcated sites of sexual exploitation, and the trajectory of movement and intent was predefined for the trafficker at the onset. However, more recently, with the rapid growth in globalized markets and economies, trafficking has become a more fluid and less easily definable process, and it involves both men and women. The one clear and consistent aspect is the intent to profit through movement and exploitation of people. Today there is even greater need and opportunity for labor mobility. But if this need and opportunity is not supported by equitable socio-economic and political process and systems then it will increase risks and vulnerabilities toward trafficking. In this context we need to look at anti-trafficking interventions that go beyond addressing just the criminal context of trafficking and focus on strengthening the related socio-economic and cultural constructs that contribute to trafficking in the first place.
Can you describe The Asia Foundation's approach to anti-trafficking? What are its signature strengths?
In all of our anti trafficking interventions, we take a multi-pronged approach to addressing human trafficking. The Foundation is looking at addressing trafficking within the larger context of gender-based violence and socio-political and cultural context of the countries and regions we are working in. We do not limit ourselves to addressing trafficking from a crime reduction perspective, but instead focus on both systems building and perspective building. For example, we work with law enforcement agencies to build specific crime investigation skills, and we back that up strongly with training on gender and jurisprudence that enables a victim a humane, rights-based prosecutorial process. We have worked with governments in Nepal and Cambodia to create an engendered and rights-based policy environment by developing National Minimum Standards for Victim Protection and Care and Standard Operating Procedures. We back these up with direct support to survivors of trafficking and by working with different community-level stakeholders to address issues of stigma and discrimination so that reintegration of survivors back into the mainstream community is possible.
While working on trafficking we also have to be cognizant of the real-time aspirations and desires of the people from economically less privileged or marginalized classes to have the same opportunities and economic benefits as those well off classes. Our work aims to help them actualize that aspiration without the risk of exploitation and fear of failure. To ensure this, we also provide requisite professional and educational skills to vulnerable populations to economically and socially empower them and reduce their risk of exploitation.
About our blog, InAsia
InAsia
is a bi-weekly in-depth, in-country resource for readers who want to stay abreast of significant events and issues shaping Asia's development, hosted by
The Asia Foundation
. Drawing on the first-hand insight of renowned experts,
InAsia
delivers concentrated analysis on issues affecting each region of Asia, as well as Foundation-produced reports and polls.
InAsia
is posted and distributed every other Wednesday evening, Pacific Time. If you have any questions, please send an email to
[email protected]
.
Contact
For questions about
InAsia
, or for our cross-post and re-use policy, please send an email to
[email protected]
.
The Asia Foundation
465 California St., 9th Floor
San Francisco, CA 94104
Mailing Address:
PO Box 193223
San Francisco, CA 94119-3223
Change Starts Here Campaign Impact
Thank you for powering The Asia Foundation's mission to improve lives and expand opportunities.