A Conversation with U.S. Ambassador to Vietnam David Shear
July 10, 2013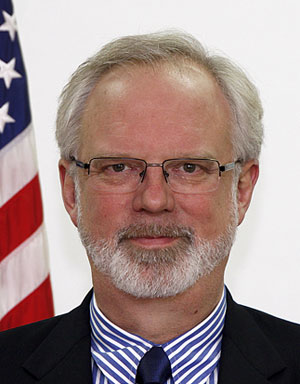 In June, The Asia Foundation hosted U.S. Ambassador to Vietnam, David B. Shear, at its headquarters in San Francisco. In Asia editor Alma Freeman sat down with him to discuss expanding economic and diplomatic ties, negotiating the Trans-Pacific Partnership, progress in human rights, and Vietnam's lively but circumscribed social media landscape.
Asia Foundation Interview with David Shear, U.S. Ambassador to Vietnam
How has the U.S.-Vietnam relationship developed since its reestablishment in 1995?
Since then, we have come a long way, especially in the areas of economics and trade. In 2001 and 2002 we were doing about $400 million a year in two-way trade, in 2012, we did $25 billion in two-way trade. That's a huge increase in economic interaction between our two countries. People to people exchanges have grown fantastically as well. We are seeing 15,000 plus Vietnamese students in the States now; education is one of our biggest exports to Vietnam. There are better and better opportunities for Vietnamese graduates of American schools back in Vietnam so we are seeing a fairly respectable percentage of those students going back to Vietnam to seek economic opportunity. Our level of diplomatic cooperation with Vietnam has also grown. We coordinate with the Vietnamese government on issues related to regional security and stability both bilaterally as well as in the context of ASEAN.
What are the sticking points?
It's evident from the size of our economic relationship that we have strong common economic interests. Because of that, we decided together that Vietnam would make a good partner in the Trans-Pacific Partnership (TPP). We are negotiating the TPP trade agreement with Vietnam as one of soon-to-be 12 total partners in this multilateral negotiation. One of the challenges is negotiating a good agreement – both Vietnam and the U.S. are asking a lot of each other, so it's going to be to be a challenging negotiation.
We have a lot of common interests in the Region, particularly in the South China Sea. We want to work together to maintain stability there, we want to work with Vietnam as an ASEAN partner, and we want to work together with China on these issues and encouraging them to resolve these issues diplomatically.
Unfortunately, we often disagree with Vietnam on human rights and freedom of religion. We engage the Vietnamese very intensely on these subjects, and one of my central messages to the Vietnamese is if we are going to have a much closer economic relationship, if we are going to have a TPP, and if we are going to drastically increase our diplomatic cooperation, those efforts will not get the political support from the American people that they need without demonstrable progress in human rights on Vietnam's side.
Has there been progress in the area of human rights?
We have been very candid with the Vietnamese in terms of what we think they can do to improve the situation. We are talking to them about increasing the releases of political prisoners, the need to increase freedom of expression and association, and increasing religious freedom. We have seen some modest progress since we've started, including some political releases and an interest from Vietnam in ratifying the UN Convention Against Torture, which I think is a very encouraging development.
Land rights are a perennial issue in Vietnam. Economic growth and the construction that comes with it has impinged on agricultural lands. You see more and more appropriation of farm land for industrial and commercial uses. Given the way that the Vietnam land law is written and implemented, it sometimes leads to tensions over the appropriation of people's lands, as we've witnessed in the news of late. There is periodically a fair amount of unrest at local levels over land issues and this is a nationwide problem in Vietnam.
Vietnam is one Facebook's fastest growing markets.  At the same time, there are reports of increased internet restriction and censorship of bloggers.   
Internet usage is growing by leaps and bounds in Vietnam; social networking sites are extremely popular. Facebook is one of a number of social networking sites; there are some indigenous sites as well and blogging is also very widespread. Despite government restrictions and close attention to what goes on the internet, there is very energetic debate online around the issues that concern the average Vietnamese like corruption, land appropriation, and what's going on with the government in Hanoi. However, this energetic debate is happening within certain limits, and if you cross those limits, you may find yourself the subject of greater government attention or arrest.
Vietnam is one of the most vulnerable counties in the world to the effects of climate change.  
The Vietnamese government and people are alarmed by the effects of climate change, particularly in the Mekong Delta Region. The region is threatened by dam development upstream, and it's threatened by sea level rise downstream. Those factors lead to increased flooding in places like Ho Chi Minh City and may increase salinity of the soil further upstream which is very serious for a region that depends on growing rice. There are some very serious consequences here, and the Mekong Delta will be among those places in the world most negatively affected by climate change. The Vietnamese are looking at ways to adapt to these climate change effects, including building dykes and salt resistant strains of rice.
In addition, Vietnam is a very active participant in the Mekong River Commission, a multilateral body which guides things like damming on the Mekong. The Xayaburi dam, under construction in Laos, was the subject of very vigorous debate within the context of the MRC, and bilaterally between Laos and Vietnam. Future damming of the Mekong will be the subject of much attention both from Vietnam, which is the country that is furthest downstream, as well as with the MRC.
By 2030, more than 55% of the population of Asia will be urban. What are concerns with the rapid urbanization that Vietnam is witnessing?
Development is taking place very rapidly and there are large movements of people from the country to the city. There are increased disparities within the cities and increased income disparities between the cities and the countryside, particularly in the mountainous areas, among the ethnic minorities who don't have the kind of natural economic opportunities that people have in the cities. These are potentially very acute problems as Vietnam moves forward. The government is aware of these problems, but developing the political will and resources necessary to address them is challenging. This is something that the U.S. as a partner watches very closely; it's a source of potential instability.
How has the role of the National Assembly changed?
Some Vietnamese increasingly view the National Assembly as a potential check and balance to the government. This is a very important development. Vietnamese leadership appears willing to experiment with different ways that the National Assembly can help articulate national political and economic issues. And they have done some interesting things – they have instituted a no confidence procedure for government leaders, they have begun to call ministers before the Assembly for public testimony, and they are considering things like establishing a C-SPAN like cable TV station for broadcasting at least some Assembly sessions. These are fairly modest steps given the nature of the Vietnamese political system, but they are important steps, and they are ways of opening up political debate more to society at large that the Vietnamese heretofore have not experienced.
About our blog, InAsia
InAsia
is a bi-weekly in-depth, in-country resource for readers who want to stay abreast of significant events and issues shaping Asia's development, hosted by
The Asia Foundation
. Drawing on the first-hand insight of renowned experts,
InAsia
delivers concentrated analysis on issues affecting each region of Asia, as well as Foundation-produced reports and polls.
InAsia
is posted and distributed every other Wednesday evening, Pacific Time. If you have any questions, please send an email to
[email protected]
.
Contact
For questions about
InAsia
, or for our cross-post and re-use policy, please send an email to
[email protected]
.
The Asia Foundation
465 California St., 9th Floor
San Francisco, CA 94104
Mailing Address:
PO Box 193223
San Francisco, CA 94119-3223
Change Starts Here Campaign Impact
Thank you for powering The Asia Foundation's mission to improve lives and expand opportunities.