Picturing: Turn Down the Heat
August 7, 2013
The World Bank's second "Turn Down the Heat" report warns of dramatic changes that will occur in the world's poorest countries if the Earth's temperature rises 2-4°C above pre-industrial levels. The report delves into some of the changes that will impact Asia, one of the world's most vulnerable regions, including water availability, agriculture yields, sea level, and the marine ecosystems that millions rely on for food and employment. Here is a collection of some of The Asia Foundation's photography from the field that illustrates those changes in Asia, with highlights from the World Bank report.
Compiled by Mordecai Stayton, communications assistant for The Asia Foundation.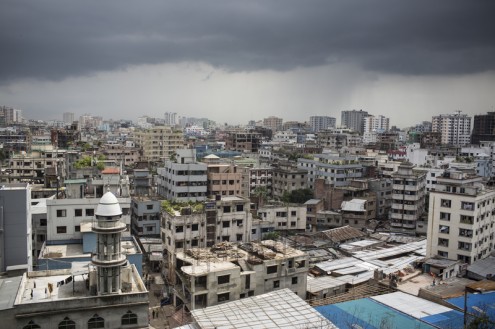 A view over Bangladesh's capital, Dhaka, from the Bashundhara City Shopping Mall as a storm approaches. The UN Population Fund forecasts that the global urban population will rise from the present 3.2 billion to nearly 5 billion by 2030, and that three out of every five people will live in cities. Asia will be home to at least 10 megacities (cities with populations over 10 million) like Dhaka, many of which are located in tropical areas or floodplains, and where climate scientists predict rainfall intensity and temperature are likely to increase the most. Photo: Conor Ashleigh
"Scientists tell us that if the world warms by 2°C – warming which may be reached in 20 to 30 years – that will cause widespread food shortages, unprecedented heat-waves, and more intense cyclones. In the near-term, climate change, which is already unfolding, could batter the slums even more and greatly harm the lives and the hopes of individuals and families who have had little hand in raising the Earth's temperature.
"Today, our world is 0.8°C above pre-industrial levels of the 18th century. We could see a 2°C world in the space of one generation." Turn Down the Heat, p. xi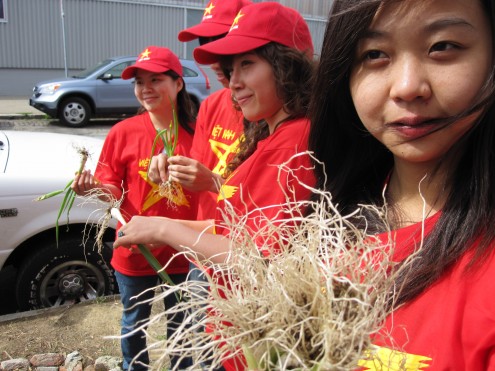 Young Vietnamese environmentalists visit San Francisco on an Asia Foundation-supported observation tour to learn about youth participation in environmental protection in the U.S. With nearly half of Vietnam's population of 90 million under the age of 25, much of the burden to respond to the effects of climate change will fall on Vietnam's youth. Photo: Jon Jamieson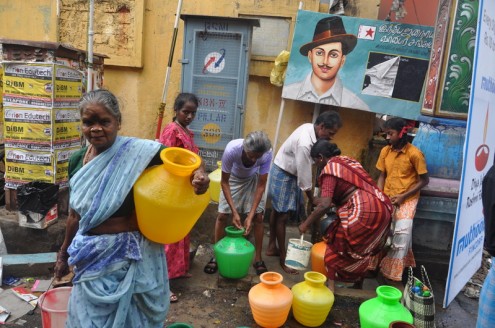 In the least-developed countries in the Asia-Pacific, women and girls generally have primary responsibility for collecting and managing water, spending up to six hours per day traveling as far as six kilometers to collect water. Often adolescent females drop out of school to assist in this household task. Global water demand is predicted to grow by 55 percent from 2000 to 2050, while climate change will impact water supply. Photo: Geoffrey Hiller
"In South Asia, climate change shocks to food production and seasonal water availability appear likely to confront populations with ongoing and multiple challenges to secure access to safe drinking water, sufficient water for irrigation and hydropower production, and adequate cooling capacity for thermal power production. Potential impact hotspots such as Bangladesh are projected to be confronted by increasing challenges from extreme river floods, more intense tropical cyclones, rising sea level, and very high temperatures." Turn Down the Heat, p. xxii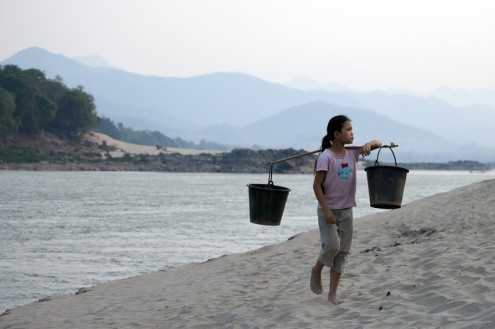 Upwards of 60 million people rely on the Mekong River for their livelihoods and food security. According to the Mekong River Commission, the river supplies 2.6 million tons ($2 billion) of wild fish and other aquatic resources a year. Photo: Bart Verweij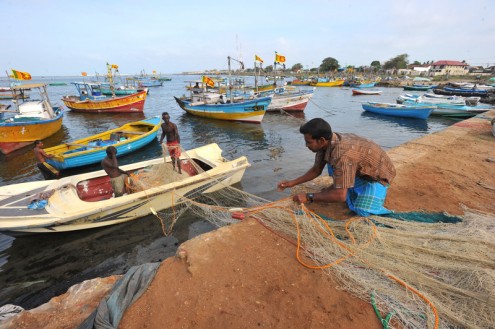 Fishermen untangle nets on the banks of Jaffna, the capital city of the Northern Province of Sri Lanka. Climate change will continue to have an impact on fisheries, through ocean acidification, warming water, and increasing salinity in inland freshwater areas. Photo: Karl Grobl
"Climate change is expected to adversely affect freshwater as well as marine systems including declines in key protein sources and reduced income generation because of decreasing fish catches." Turn Down the Heat, p. 51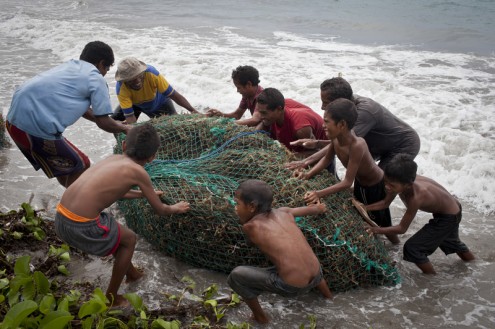 Fishermen on Atauro Island collect seaweed to be sold in Dili, the capital of Timor-Leste. Photo: Conor Ashleigh
"[T]here are estimates that suggest effects from climate change are currently reducing [agricultural] productivity worldwide of about 5-6 percent and that there are estimated to be production declines of 7 percent in at least a quarter of the countries in the world." –Douglas Bereuter, former president of The Asia Foundation – In Asia March 13, 2013
"In concert with changes in marine chemistry, warming waters are expected to adversely affect fisheries, particularly in tropical regions as stocks migrate away from tropical countries towards cooler waters." Turn Down the Heat, p. 7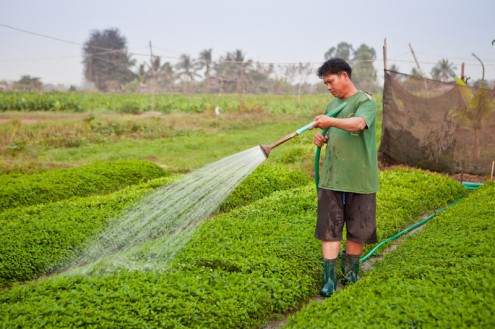 Laos' national economy, food supply, transportation routes, and electricity depend significantly on the Mekong River. In recent years, hydropower has become one of Laos' largest industries, and much of the farming – subsistence agriculture supports 80 percent of the population – and resulting food supply is affected by the health of the Mekong and its tributaries. Photo: Marco Ryan
"The Mekong Delta produces around 50 percent of Vietnam's total agricultural production and contributes significantly to the country's rice exports. It has been estimated that a sea-level rise of 30 cm, which could occur as early as 2040, could result in the loss of about 12 percent of crop production due to inundation and salinity intrusion relative to current levels." Turn Down the Heat, p. xxi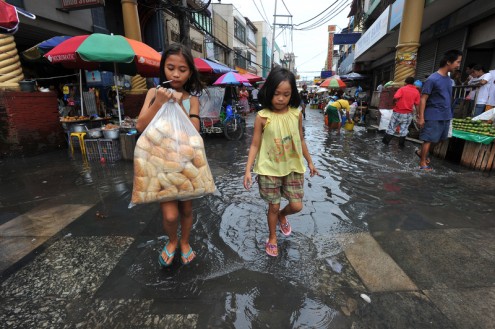 Quiapo Market in Manila, Philippines, during 2012 flooding. Photo: Karl Grobl
"Jakarta, Yangon, Manila, Bangkok, and Ho Chi Minh City are projected to be among the cities in South East Asia most affected by sea-level rise and increased storm surges." Turn Down the Heat, p. 84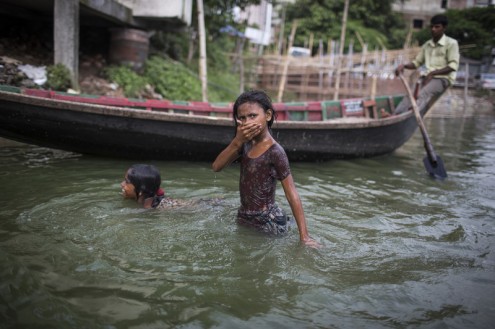 Over the long term, an estimated 17 percent of Bangladesh's land area could be submerged by rising ocean levels, which would displace about 20 million Bangladeshis. Photo: Conor Ashleigh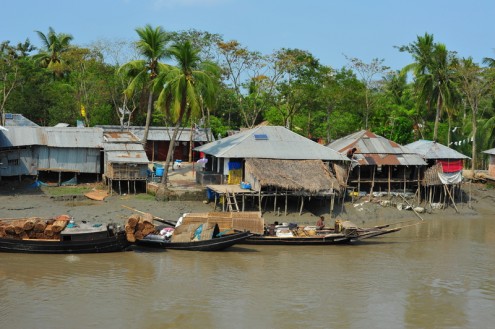 Climate change affects the poorest and most vulnerable in the world most severely – and Asia stands to face the brunt of its impact. In countries like Bangladesh, above, people are already facing the consequences of rising sea levels. Photo: Srabani Roy
About our blog, InAsia
InAsia
is a bi-weekly in-depth, in-country resource for readers who want to stay abreast of significant events and issues shaping Asia's development, hosted by
The Asia Foundation
. Drawing on the first-hand insight of renowned experts,
InAsia
delivers concentrated analysis on issues affecting each region of Asia, as well as Foundation-produced reports and polls.
InAsia
is posted and distributed every other Wednesday evening, Pacific Time. If you have any questions, please send an email to
[email protected]
.
Contact
For questions about
InAsia
, or for our cross-post and re-use policy, please send an email to
[email protected]
.
The Asia Foundation
465 California St., 9th Floor
San Francisco, CA 94104
Mailing Address:
PO Box 193223
San Francisco, CA 94119-3223
Change Starts Here Campaign Impact
Thank you for powering The Asia Foundation's mission to improve lives and expand opportunities.