Women Biz Owners in Indonesia Defy Some Long-Entrenched Barriers
September 4, 2013
At a time when analysts are monitoring Asia's economic performance as it emerges from the global financial crisis, a new study from The Asia Foundation looks at a particular limitation in many Asian economies, namely those factors that limit women-run businesses' ability to achieve their full growth potential.
Small and medium enterprises (SMEs) serve as the backbone of developing Asian economies, comprising the majority of businesses in Asia, and women are key contributors to the SME workforce. In Indonesia, for example, SMEs employ more than 96 percent of the country's workforce, and women make up about one-third of SME ownership, a figure growing 8 percent annually. These trends speak to the need to identify and address the barriers present in many Asian economies which disproportionately impact women-owned businesses and translate into a significant missed opportunity for economic growth. The United Nations estimates that Asia-Pacific economies could grow by an additional $89 billion per year if women realized their full economic potential, and that output per worker could rise 7-18 percent if business opportunities for women and men were equal.
The study, "Access to Trade and Growth of Women's SMEs in APEC Developing Economies: Evaluating the Business Environment in Indonesia," was released yesterday at a working group panel at the 2013 APEC meetings in Bali, and follows The Asia Foundation's February 2013 report, sponsored by APEC, which explored factors limiting women's entrepreneurship in Malaysia, the Philippines, and Thailand. The Indonesia research findings mirror many trends that emerged from the earlier study – emphasizing the consistency of barriers to women-run businesses across the region.
In particular, the research noted several specific areas where women-run businesses were disproportionately affected over men's: finance, social factors, and business-related technologies.
Across the four economies surveyed, businesswomen reported high interest rates to be the primary challenge in the loan process. In Indonesia, this was cited by 34 percent of women respondents and 21 percent of male respondents. Interest rates are more likely to be perceived as high by smaller businesses. Because women-owned firms across the Asia-Pacific tend to be smaller, the perception of high rates is more common among women business owners. In addition, women owners across the board cited completing loan application paperwork and procuring supporting documentation to be a major challenge. The problem was especially pronounced in Malaysia, where roughly 28 percent more women business owners than men cited this as their primary challenge in the loan application process.
Women also noted specific social constraints related to running a business. There was a much higher likelihood that women entrepreneurs were responsible for primary childcare compared to their male counterparts, with the greatest gender disparity in Indonesia. Not surprisingly, the number of children a woman SME owner had was negatively correlated to her firm's size, whereas the effect was actually the opposite for men.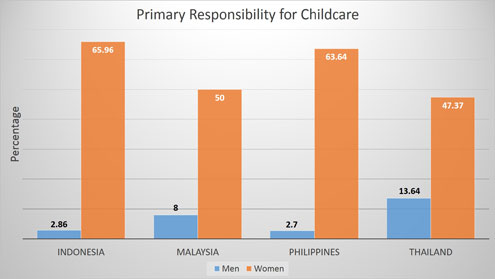 The survey results also suggest that women are less active in business networks than men, in both formal business associations and informal networks. A notable exception was in Indonesia, where women SME owners are significantly more networked than their male counterparts, particularly in formal business associations. Across the board, women who participated in business associations tended to have larger firms and were more likely to say they planned to expand operations in the next three years.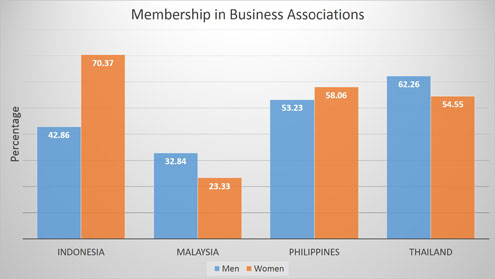 While business-related technology use can have a positive impact on firm performance, these technologies were consistently under-utilized by women relative to men in Malaysia, the Philippines, and Thailand. Again, Indonesia was an outlier, with 74 percent of women reporting computer usage (compared to 60% of men), and 56 percent of women in Indonesia reporting that they were aware of technology that could make their businesses profitable (compared to 47% of men). Some of this disparity in awareness of and use of technology could be due, in part, to the large number of women-owned manufacturing firms surveyed in the Indonesia sample, as manufacturing is more high-tech than many other SME sectors.
In addition to areas where women faced special challenges, several factors seemed to present an equally significant barrier to both women's and men's firms. These include concerns over crime and physical safety, corruption of government officials, and trouble accessing business information like land titling and business licensing. The majority of women and men SME owners in all four economies reported these factors as being concerns.
There were also areas where interventions positively impacted women's firms more than men's. For example, having family members in business to serve as role models and mentors increased the likelihood that women would go into business themselves by 12 percent, whereas the effect for men was only 7 percent. Having a female relative in business had a particularly strong effect for women in Indonesia. Women owners in the four economies also reported participation in government-provided business services, like skills trainings and trade fairs, at higher rates than men owners. Further, highly statistically significant findings emerged demonstrating that women owners tend to hire more women than men owners. Women owners were also statistically more likely to have a higher percentage of women employees.
Findings in this research highlight a number of specific interventions that governments can take to support women in business. Improving access to business information through easily-accessible web sites and government officials can help streamline the process for women to start and grow their businesses. Further, governments can support business associations, including women's business associations, to provide important training and services to women entrepreneurs related to technology, business and financial skills, employee hiring and management, business licensing and taxes, and green business training.
The private sector also has a key role to play in promoting women's full participation in business. Partnering with governments through public-private dialogues on important issues like trade regulations, education, and business technology can highlight the specific concerns of businesswomen whose voices might otherwise not be heard in the public sphere. Sponsoring networking events and trade fairs which provide opportunities for businesswomen to interact with potential clients and suppliers would be particularly beneficial to business women. In addition, mentorship programs and exchanges would provide further important opportunities for learning and dialogue between women and men in the business community.
Through such concerted efforts, the constraints unique to businesswomen across the region can be addressed, resulting in greater and more inclusive economic growth.
Laura Seaman is a junior associate with The Asia Foundation's Economic Development Programs in San Francisco and Kate Bollinger is a program officer for the Foundation's Women's Empowerment Program in Washington, D.C. They can be reached at [email protected] and [email protected], respectively. The views and opinions expressed here are those of the individual authors and not those of The Asia Foundation.
About our blog, InAsia
InAsia
is a bi-weekly in-depth, in-country resource for readers who want to stay abreast of significant events and issues shaping Asia's development, hosted by
The Asia Foundation
. Drawing on the first-hand insight of renowned experts,
InAsia
delivers concentrated analysis on issues affecting each region of Asia, as well as Foundation-produced reports and polls.
InAsia
is posted and distributed every other Wednesday evening, Pacific Time. If you have any questions, please send an email to
[email protected]
.
Contact
For questions about
InAsia
, or for our cross-post and re-use policy, please send an email to
[email protected]
.
The Asia Foundation
465 California St., 9th Floor
San Francisco, CA 94104
Mailing Address:
PO Box 193223
San Francisco, CA 94119-3223
Change Starts Here Campaign Impact
Thank you for powering The Asia Foundation's mission to improve lives and expand opportunities.