Chong-Moon Lee Receives Lotus Leadership Award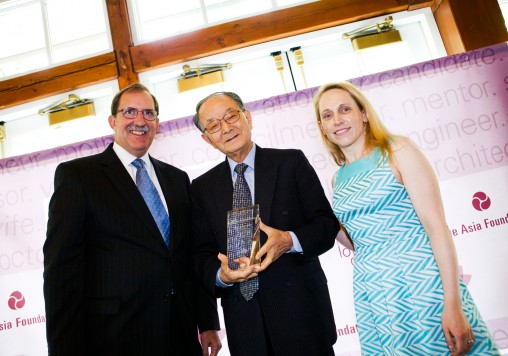 Silicon Valley entrepreneur Mr. Chong-Moon Lee was honored at a large gathering of philanthropists, business executives, international development experts, journalists, and individuals interested in women's empowerment at the third annual Lotus Leadership Awards Luncheon on June 6, 2013 in New York. Mr. Lee, a native of Korea, received a Lotus Leadership Award for his contributions to the health and well-being of women and girls in Asia. Mr. Lee has long supported development initiatives in Asia, and recently announced his support for a multi-year, multi-country initiative to combat the trafficking of women and girls in Myanmar, Cambodia, and Laos.
The Honorable Sapana Pradhan Malla, a lawyer, advocate of Nepal's Supreme Court, and leading women's rights activist, also received a Lotus Leadership Award for her contributions to anti-trafficking and the protection of women and girls. Award-winning ABC News veteran Lynn Sherr interviewed U.S. Ambassador Luis CdeBaca, director of the U.S. State Department's Office to Monitor and Combat Trafficking in Persons as part of a panel discussion.
Chevron and The Estée Lauder Companies were premier luncheon sponsors. Vista Equity Partners, Citi Private Bank, and Kirkland and Ellis were also generous sponsors. The Lotus Leadership Awards were launched, conceived, and organized by The Asia Foundation's Lotus Circle Advisors, a community of committed individuals working together to empower girls and women across Asia through the Women's Empowerment Program. Read about the work of the Young Lotus Circle, a diverse group of young professionals working alongside The Asia Foundation's Lotus Circle Advisors, including their recent Paint Nite gathering in New York City, on Facebook.