Estée Lauder Companies Expand Successful Partnership to Educate Girls in Vietnam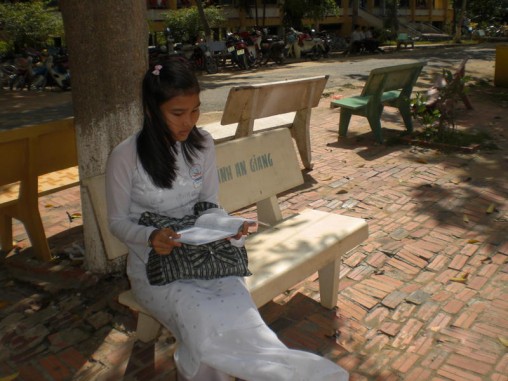 In 2010, with generous support from The Estée Lauder Companies, The Asia Foundation awarded secondary school scholarships to 70 girls in An Giang province, Vietnam, to pursue their educational goals. Through the newly expanded partnership that will fund an additional 131 Estée Lauder Scholars, The Asia Foundation will continue to educate and protect at-risk girls in the region, supporting the growth and progress of women in Vietnam.
The newly announced gift will enable more than 130 young women between the ages of 12 and 15 from An Giang and Can Tho provinces in Vietnam to become Estée Lauder Scholars and receive three-year scholarships that include tuition, books, learning materials, uniforms, and bicycles for transportation.
Many young women and girls in these provinces quit school at an early age because their families cannot afford to send them to school. Carol Yost, senior director of The Asia Foundation's Women's Empowerment Program applauded The Estée Lauder Companies' growing commitment to improving the lives of young women in Asia: "Together, we are witnessing a vital shift in these young women's lives, and their parents are now encouraging and supporting them in their education. These scholarships are powerful in transforming the future of the scholars for the better."
The Asia Foundation and The Estée Lauder Companies recognize education as one of the most critical pathways to empowering women. Access to basic education places life decisions more firmly into the hands of students, allowing them to make more informed choices about the lives they wish to lead. Education provides the skills, information, and self-confidence to become better citizens, workers, and parents, and it is the key to reducing the cycle of poverty.