Photo Blog: Relief Efforts in Zamboanga City
October 2, 2013
The ongoing conflict in Zamboanga City, on the southern Philippine island of Mindanao, which started on Sept. 9, 2013, has displaced 110,687 people, damaged more than 10,000 homes, and left more than 200 dead, among them soldiers, rebels, and civilians. Now, thousands of families are taking temporary shelter at the Joaquin Enriquez Memorial Stadium. Unseen but deeply felt is the damage wrought by the conflict on relationships between the Muslim and Christian population of the city. The Asia Foundation, through its USAID-supported "Transforming Conflicts in Sulu and Basilan through People to People Engagement" (P2P) project, is helping to respond to the immediate needs of the displaced in coordination with its partner the Interfaith Council of Leaders-Zamboanga. The Asia Foundation is also providing its own additional resources to the Tzu Chi Foundation of Zamboanga and the Crisis Management Committee of the Darul Ifta to conduct relief operations and provide basic services and goods. Eric Aseo from The Asia Foundation recently photographed the relief work underway at the stadium.
Thousands of local residents displaced by conflict between rebels and soldiers seek temporary refuge in the Joaquin Enriquez Memorial Stadium in Zamboanga City.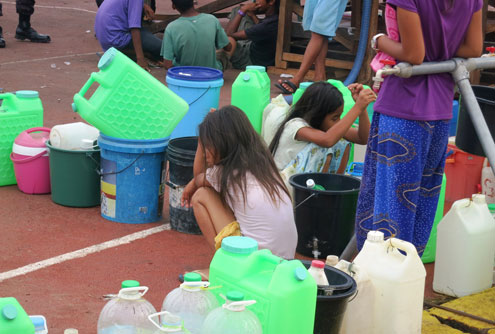 Given how quickly thousands arrived at the stadium in search of shelter, basic needs are severe, including drinking water. Above, children line up buckets and containers to collect water.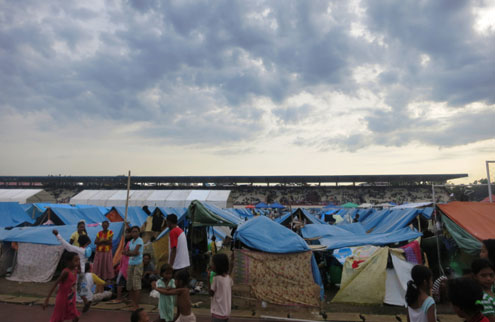 Families set up temporary tents in an attempt to keep dry from the heavy monsoon rains.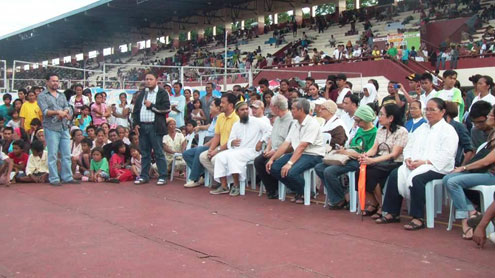 The Asia Foundation is helping to mobilize interfaith volunteers to help attend to not only the immediate needs of the displaced, but also to provide a space for religious gatherings, such as this interfaith service above.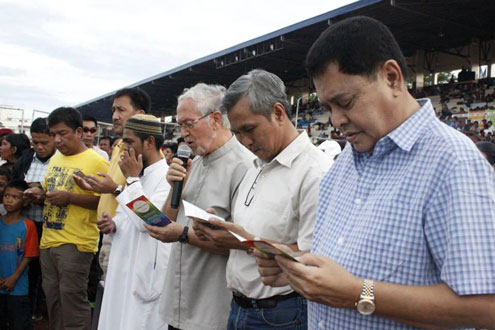 Religious leaders conduct interfaith prayers at the stadium. Photo/Alih Ayub IFCL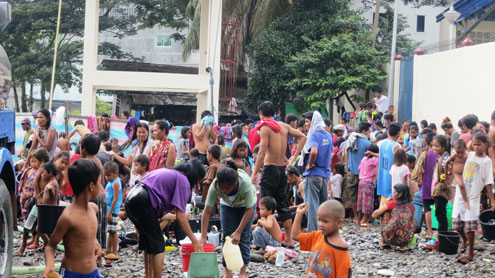 Residents of the stadium collect water.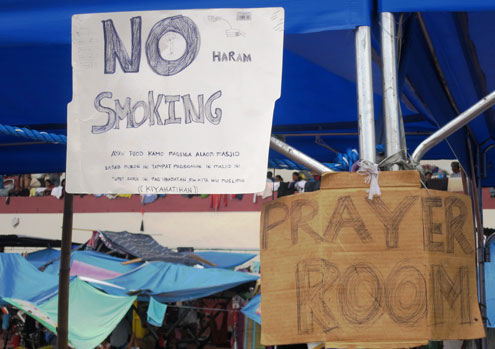 A designated prayer room has been set up under a temporary tent.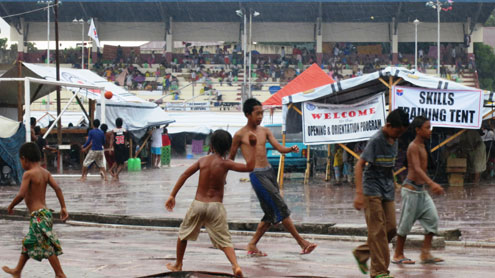 Young boys pass the time as rain floods the shelters.
About our blog, InAsia
InAsia
is a bi-weekly in-depth, in-country resource for readers who want to stay abreast of significant events and issues shaping Asia's development, hosted by
The Asia Foundation
. Drawing on the first-hand insight of renowned experts,
InAsia
delivers concentrated analysis on issues affecting each region of Asia, as well as Foundation-produced reports and polls.
InAsia
is posted and distributed every other Wednesday evening, Pacific Time. If you have any questions, please send an email to
[email protected]
.
Contact
For questions about
InAsia
, or for our cross-post and re-use policy, please send an email to
[email protected]
.
The Asia Foundation
465 California St., 9th Floor
San Francisco, CA 94104
Mailing Address:
PO Box 193223
San Francisco, CA 94119-3223
2022 Impact Report
Thank you for powering The Asia Foundation's mission to improve lives and expand opportunities.