Back from APEC, Pres. David Arnold Discusses Private Sector & Sustainable Development
October 16, 2013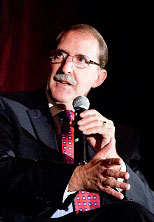 Last week, Asia Foundation President David Arnold joined over 1,200 CEOs and 10 heads of member economies at the annual APEC CEO Summit in Indonesia to discuss inclusive and sustainable development, with a special focus on the importance of women in Asia's growth trajectory. In Asia editor Alma Freeman sat down with President Arnold just back from Bali to get his thoughts on the mood from Nusa Dua, the private sector's role in driving Asia's economic growth, and a new Asian approach to corporate social responsibility.   
What were the biggest highlights and takeways from your meetings and conversations at the APEC CEO Summit?
It was my first opportunity to witness APEC in action. What was intriguing was the level of engagement and interaction between the political leaders and corporate and private sector leaders. The presentations that the various political leaders made were clearly reaching out to the private sector CEOs. This notion of seeing the private sector as partners in the region's development is something that has come over time, particularly as Asian economies have become more open and connected, both with each other and the larger global economy.
Obviously there was a tremendous interest in a variety of new trade relations – the TPP was talked about frequently, but there was also interest in what can be done to further strengthen the existing connections through ASEAN and other channels to promote internal trade within and among countries.
There also seemed to be an urgency of trying to foster and promote inclusive growth, with increasing concern over widening income gaps and that the benefits of economic growth have not been spread as broadly as they should be. There are groups that are still marginalized, and are not part of the economic success story that is being written by the Asian economies.
The biggest takeway was probably that, while the U.S. is still a dominant player, both economically and strategically in the region, there was an increasing sense of the ability of Asian economies to chart their own course and a growing self-confidence and self-reliance on the part of these economies. While Asian growth rates are starting to slow, the fact is that the region has been pulling the global economy through a very difficult period of stagnation and recession; Asia has been the bright spot. That has led to a certain degree of confidence among the corporate executives and leaders in Asia in their ability to shape policies and pursue growth strategies that may be independent of Europe or the U.S. They want the U.S. at the table, but they aren't going to sit back and wait for the U.S. to play a leadership role.
Taking a broad view of Asia's uneven development, what do you see as the biggest challenges to Asia's growth?
A critical piece of this equation is going to be about education. For the economies of the region to continue to grow at the high rates that the world and its people are hoping to see, there is going to have to be significant investment in human capital to sustain that growth.
Second, there seems to be clear recognition that the economic growth that many Asian nations have experienced has come at the expense of the environment, and there needs to be a greater understanding and enforcement of environmental standards and compliance. In many cases, there are laws in the books that protect the environment, but enforcement is low. Governments have a role to play in this, and there needs to be more effective environmental governance.
Unfortunately, governments and business leaders are not developing their green growth strategies to the extent that will be needed to deal with the magnitude of the problems that we are facing. Recent reports on environmental regulation and regional efforts in Southeast Asia don't give a great sense of confidence that we're getting to where we need to be. The continued reliance of India and China on coal as a major source of meeting future energy requirements is a cause for concern. Asia is going to be the hardest hit region by climate change, but is also the region that, in many ways, has the greatest potential to actually influence the trajectory of global climate change.
The third area that was highlighted at the Bali summit was on infrastructure and related issues of connectivity. The magnitude of infrastructure investment needed to sustain continued economic growth is staggering – some estimates are as high as $8 trillion – and there was considerable discussion of different services of financing, including public-private partnerships. China also used the occasion of the summit to announce the creation of a new Asian infrastructure investment bank, which would help finance needed infrastructure projects in developing Asian countries.
What role can the private sector play in tackling some of these issues?  
There is a growing recognition on all sides that creating employment opportunities for an expanding youth bulge in many Asian countries is a growing challenge. The private sector is the engine for job creation and economic growth – no one was talking about any massive public sector schemes to create jobs or address the income gap. But, better training and educational opportunities that enable people to move into private sector jobs are essential. This falls partly within public sector responsibility, but the private sector also has a role to play in ensuring that the changing job market demands in these countries and the skill set of the workforce match.
There are also significant private sector opportunities related to so-called "green growth" strategies in Asia. It's easy to see environmental protection as a challenge, but it's also possible to view sustainable development as an opportunity. Some new, cleaner technologies have tremendous upside economic growth capabilities.
As the foreign aid landscape shifts, what unique role can corporations and businesses play in furthering the goals of inclusive, sustainable development?
There is growing commitment for corporate social responsibility programs in virtually all of the countries in the region. In some countries like India you have mandates that require a certain percentage of corporate income to be devoted to social responsibility programs. But even where you don't have specific requirements, corporate social responsibility is very much a part of the conversation and thinking of most enlightened corporate leaders within the region.
At the same time, we are seeing that Asian corporations are not necessarily going to follow the same path as U.S. and Western companies. In many instances, Asia's CSR programs will look and feel different than from what their U.S. counterparts are doing. It's also an exciting time with the emergence of new Asian philanthropy in places like China and India, where you have industrial families and successful individuals who have accumulated new wealth and who are trying to find ways to develop their own approaches to philanthropy.
Let's turn our focus for a moment to women as change agents in Asia's growth trajectory. In your remarks at a sideline event about the Foundation's new report findings on challenges that women SME owners face in four APEC economies, you emphasized that "this is not about providing privileges to women; it is about leveling the playing field to unleash their potential for the benefit of both companies and economies." What were the reactions to the findings?
The need for governments to create an enabling environment for enterprises to grow by reducing some of the barriers is something that shows up in not just these studies around women SMEs but is a consistent theme in the Foundation's work on economic governance. A lot of the challenges are related to licensing and access to information, things that are not terribly expensive for governments to do, but require a change of mindset and change of administrative process. The fact that that this set of issues bubbled up as high as it did at APEC is important.
The importance of networking and peer support mechanisms is also a critical takeway from the research. With the exception of Indonesia, the report shows that women business owners in Malaysia, Thailand, and the Philippines participate far less in business associations than their male counterparts. The social infrastructure around the development of women-owned business is a poorly understood but critical piece of the equation to create an environment that supports women's economic empowerment.
The research also underscored the challenge that women owners face, particularly in fairly traditional Asian societies, with the expectation that they will continue to carry all of the burdens in their private capacity as mothers, as spouses, as family members, but on top of that, will be able to take on all of the burdens of managing and overseeing a small business. What they face is a double burden. In order for them to perform more effectively on the business side, social changes are also needed within which gender roles are shaped and determined.
As a leading international development organization, we are working with partners to foster long-term sustainable growth strategies that apply a gender lens to a variety of different sectors. These four country studies are very useful because it's easy to talk globally about the economic importance of SMEs, but unless you understand the differential challenges between men and women you aren't going to be able to design programs and policies that are effective. The commitment that we have to gender equality is not just a matter of social equity or fairness, it's based on sound economic arguments, as well as best practice in the international development field.
About our blog, InAsia
InAsia
is a bi-weekly in-depth, in-country resource for readers who want to stay abreast of significant events and issues shaping Asia's development, hosted by
The Asia Foundation
. Drawing on the first-hand insight of renowned experts,
InAsia
delivers concentrated analysis on issues affecting each region of Asia, as well as Foundation-produced reports and polls.
InAsia
is posted and distributed every other Wednesday evening, Pacific Time. If you have any questions, please send an email to
[email protected]
.
Contact
For questions about
InAsia
, or for our cross-post and re-use policy, please send an email to
[email protected]
.
The Asia Foundation
465 California St., 9th Floor
San Francisco, CA 94104
Mailing Address:
PO Box 193223
San Francisco, CA 94119-3223
Change Starts Here Campaign Impact
Thank you for powering The Asia Foundation's mission to improve lives and expand opportunities.