Fully Abled Nation Holds Post 2013 Midterm Elections Summit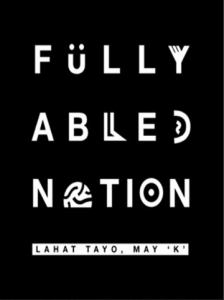 Manila, Philippines, October 16, 2013 — Fully Abled Nation (FAN), a program aimed to increase the participation of Persons with Disabilities (PWDs) in the 2013 Philippine Midterm Elections, held its Post-Election Summit on October 14 at the Mandarin Oriental Hotel in Makati.
Mr. Layton Pike, Minister Counsellor of the Australian Government's aid program in the Philippines, opened the event.
"The Australian Government aid program is helping to address the needs of people with disabilities and improve their lives through our partnerships with a number of organizations in the Philippines. Through our support to FAN, we recognize the efforts of the different organizations working on disability-inclusive projects and activities, particularly in supporting PWDs' right to participate in the electoral process," Mr. Pike said.
Case studies on the voting experience of PWDs were presented by representatives from partner organizations Cerebral Palsied Association of the Philippines (CPAP), VSO Bahagingan and ULAN. Challenges to accessibility, the voting experience and volunteer efforts were discussed.
A Survey on the 2013 Election Experience of PWDs, presented by Dr. Mahar Mangahas of SWS, demonstrated a considerable increase in PWD participation with concurrent experience of support from major election players like COMELEC and Parish Pastoral Council for Responsible Voting (PPCRV).
Disability advocate Ronnel del Rio stressed that there is still a lot to be done and hopes that the momentum gained will be sustained. This includes the establishment of the PDAO and full implementation of relevant laws and policies for PWDs. COMELEC Commissioner Grace Padaca lauds FAN efforts and recognizes FAN's role in the passing of R.A. 10366. She responded with a commitment that the Commission shall work at realizing the establishment of accessible polling places for the PWDs and other marginalized sectors.
FAN is part of the disability inclusive development program of the Australian Government implemented by The Asia Foundation. The FAN campaign employed an extensive multi-stakeholder engagement involving sectors of society like non-government organizations (NGOs), civil society organizations (CSOs), Disability Peoples' Organizations (DPOs), PWD federations, government, media, and other election-focused groups. It built on the partnerships and collaborations among these groups to increase public awareness of the importance of PWDs' right to suffrage and right to participate in democratic processes.
Dr. Steven Rood, Philippine Country Representative of The Asia Foundation, in his closing remarks lauded the many partners who made the program such a success. "It was thrilling to see how much this goal sparked the interest of such a wide variety of organizations. This is an encouraging sign of how much progress we can make to a Fully Abled Nation."
Read more about The Asia Foundation and its work in the Philippines.
Read our latest news, or insights from our blog.
Media contacts
Amy Ovalle, Vice President, Global Communications
[email protected]
415-743-3340
Eelynn Sim, Director, Media & Strategy
[email protected]
415-743-3318
Change Starts Here Campaign Impact
Thank you for powering The Asia Foundation's mission to improve lives and expand opportunities.