Photo Blog: Zamboanga City Begins Recovery Through Inter-Faith Efforts
October 16, 2013
October 15 was a national holiday in the Philippines to celebrate Eid'l Adha, the Muslim festival of the sacrifice. The day was also tragically marked by an earthquake in central Philippines, one consequence of which was considerable damage to historic churches.
In Zamboanga City, on the southern island of Mindanao, the earthquake was felt but no damage sustained. Rather, the city was focusing on damage sustained in the fighting in September that displaced over 80,000 people. Relief and reconstruction efforts are underway, but due to the presence of unexploded ordnance (UXOs), clearing areas for reentry has been challenging. The city's largest mosque, Masjid Salahuddin (commonly referred to as the Sta. Barbara mosque), used as a stronghold by the rebels, was heavily damaged during the fighting. The Asia Foundation has been working with the city government, Zamboanga Esperanza, a loose coalition of Muslim and Christian religious leaders, the Darul Ifta, the Archdiocese of Zamboanga, and both Christian and Muslim organizations to address the immediate needs of the displaced, as well as support long-term peacebuilding and inter-faith understanding.Some damage was physical, so the Foundation supported the rehabilitation of the mosque, and on October 15, Zamboanga Mayor Beng Climaco attended the re-dedication of the mosque with Muslim religious leaders. Other damage was psychological, so the Foundation brought together Muslim and Christian student leaders for a dialogue among themselves and with the mayor. And, to celebrate Eid'l Adha, tens of thousands were able to gather in the Joaquin F. Enriquez Memorial Stadium, known as "the Grandstand," where almost 30,000 displaced persons are living. The prayers were followed by an interfaith service, again bringing together Christian and Muslim religious leaders and the city government. Here are some images from these events.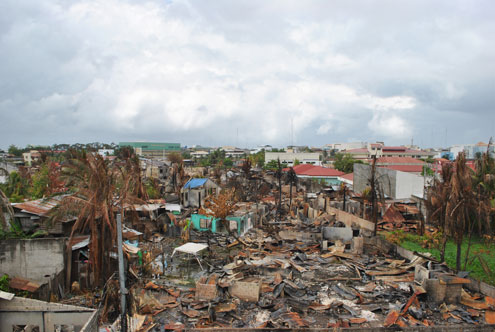 A view of battle-scarred Lustre Street in the center of Zamboanga City in the aftermath of fighting. Photo/Jowel Canuday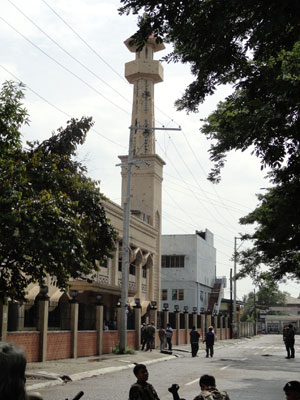 Zamboanga City's largest mosque, Masjid Salahuddin, its minaret damaged from heavy gunfire. Photo/Jason Reyes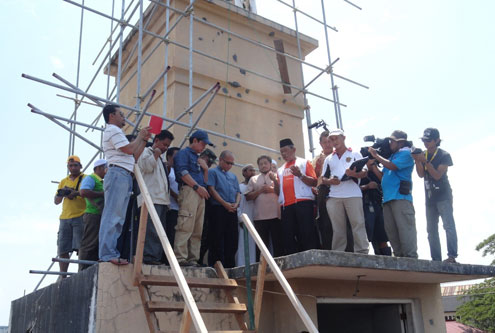 Sheikh Jackariya Mohammad conducts a prayer during the turnover of the Masjid Salahuddin to religious leaders. Photo/Jason Reyes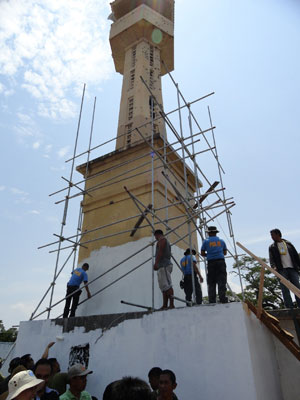 Muslim and Christian religious leaders and retired and active army officers and staff help paint a section of the damaged mosque. Photo/Jason Reyes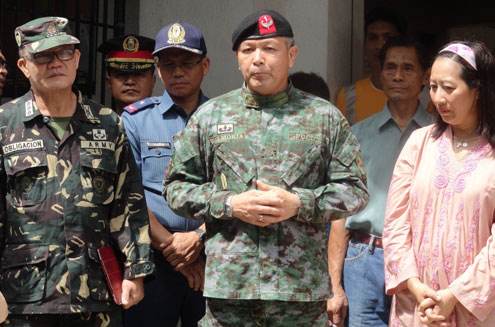 At the turnover ceremony on October 15, Police Director Carmelo Valmoria (center) declares the mosque as cleared, safe, and open for worshipers to celebrate Eid'ul Adha, as Zamboanga Mayor Beng Climaco (right) looks on. Photo/Jason Reyes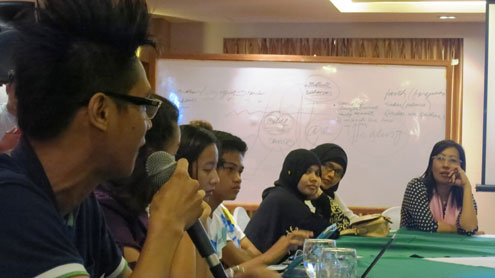 Mayor Beng Climaco (right) meets with young mixed faith leaders in Zamboanga to listen to their concerns about the conflict and the issue facing their communities. Photo/Jason Reyes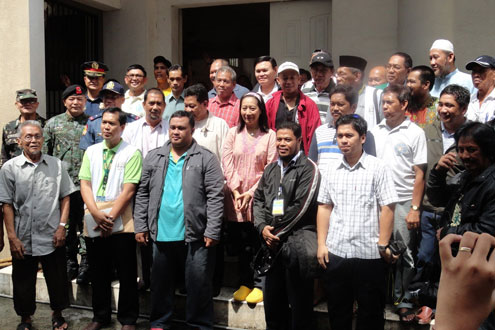 Mayor Beng (center) together with army officials and representatives from different religious groups participate in the turnover ceremony. Photo/Jason Reyes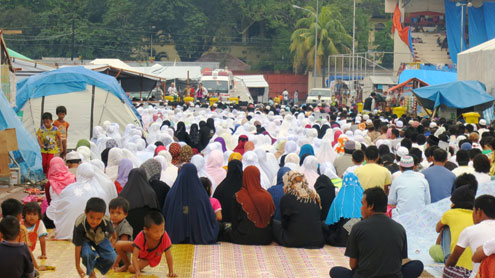 About 2 kilometers from the Sta. Barbara mosque, approximately 34,685 people are still living in the Joaquin Enriquez Memorial Stadium after being displaced by fighting. Above, residents at the stadium conduct morning Eid prayers. Photo/Eric Aseo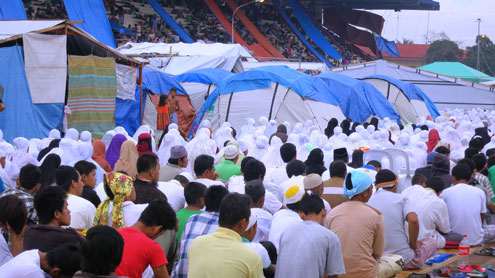 Residents at the Grandstand pray amid temporary tent housing. Photo/Eric Aseo
About our blog, InAsia
InAsia
is a bi-weekly in-depth, in-country resource for readers who want to stay abreast of significant events and issues shaping Asia's development, hosted by
The Asia Foundation
. Drawing on the first-hand insight of renowned experts,
InAsia
delivers concentrated analysis on issues affecting each region of Asia, as well as Foundation-produced reports and polls.
InAsia
is posted and distributed every other Wednesday evening, Pacific Time. If you have any questions, please send an email to
[email protected]
.
Contact
For questions about
InAsia
, or for our cross-post and re-use policy, please send an email to
[email protected]
.
The Asia Foundation
465 California St., 9th Floor
San Francisco, CA 94104
Mailing Address:
PO Box 193223
San Francisco, CA 94119-3223
2022 Impact Report
Thank you for powering The Asia Foundation's mission to improve lives and expand opportunities.