A Conversation with Capital City Governor and Ulaanbaatar Mayor Bat-Uul Erdene
October 23, 2013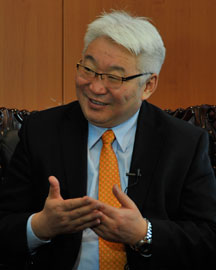 On Friday, the Ulaanbaatar city municipality will celebrate Ulaanbaatar City Day to highlight the various works being undertaken to improve the capital of Mongolia, home to more than 50 percent of the population. The Asia Foundation's country representative in Mongolia, Meloney Lindberg, recently interviewed Capital City Governor and Mayor of Ulaanbaatar, Mr. Bat-Uul Erdene, on the occasion of the Foundation's 20th anniversary in Mongolia. Read the full publication, "20 Years in Mongolia: Perspectives of 20 Mongolian Leaders," which is also available in Mongolian.
You have a long and distinguished career in politics, and in 2009, you were awarded the title of Hero of Mongolia for your leadership in the democratic revolution. In what ways has Mongolia changed since that time?
The most important achievement of the last 20 years is that our elections, by which the people of Mongolia directly elect their own government, have become routine and customary. We have had six presidential elections, as well as parliamentary elections and local elections.
You have been elected to Parliament three times, yet during the last parliamentary election in 2012, you decided not to run for Parliament but instead for mayor of Ulaanbaatar. Why did you make this decision?
I began to worry about poor governance in local communities, and I began to understand that the most important starting point to improve and protect democracy is governance at the local level. For example, in Ulaanbaatar there has been a growing influence of powerful, elite groups who pursue their own personal and private interests. They kind of forgot to represent the people of the local communities. In order to improve that situation, I decided to run for mayor.
In the year that you've been mayor, we have seen some dramatic changes in Ulaanbaatar –improved leadership, improved infrastructure, and improved transparency. What are some of the achievements of your first year as mayor, and what challenges do you see going forward?
The most worrying thing has been about the state of poor governance over the last decade. The purpose of a local government is to serve the people of the local communities – in a transparent manner, without excessive bureaucracy, like the service provided by commercial banks and shops. Nowadays, citizens are changing. They truly believe that the Ulaanbaatar City government is here to serve the public. People are now actively participating in government functions related to construction permits, land use, and budget issues. For example, we are currently planning to make the construction permit process open to the public. We have a construction permit technical committee that meets on a regular basis, and we are planning to broadcast these meetings live to the public in order to increase transparency and openness. We are making similar plans regarding land use decisions.
During your election campaign, you focused a great deal on revitalizing the city's ger areas, and The Asia Foundation has supported the city municipality with our Urban Services in Ger Districts program. What is your vision for revitalizing these areas, and how can the Foundation support the improvement of ger area services?
First of all, I would like to express my thanks to The Asia Foundation for helping us and providing us with the community mapping tool, which will be an important basis for our other planning activities. The Foundation has extensive experience in improving local government services. You were the first to understand that the issues of Ulaanbaatar could not be resolved without solving the problems in the ger districts. The Asia Foundation is helping to build the capacity of newly established ger area units, and this is an important job. So, I am very happy that The Asia Foundation first identified these issues, even before we did, and began working to improve these things.
We are also working with the Ulaanbaatar City municipality to develop anti-corruption action plans. What is your view of corruption in Mongolia now, and what are your key priorities for reducing or eliminating corruption?
In recent years, under the leadership of H. E. President Elbegdorj, anti-corruption activity has really improved. Parliamentary anti-corruption legislation has helped strengthen a number of laws. In terms of preventing corruption in Ulaanbaatar, the most important step is to involve citizens in decision-making. For example, budget planning and implementation, or granting a permit to build a building or sell alcohol in a local community, now requires citizen participation. At the same time, we will have transparency with the objective of keeping the public informed. In the past, for example, heating pipelines and sources of electricity were concealed from the public, and there was corruption in relation to that. We must improve government services so that bad service won't make the public start giving bribes.
It is a reality that in any government there will be some selfish people who take bribes. In most foreign countries they have a few corrupt people, but they have learned to hold them responsible for their actions. In Mongolia, however, corruption is so common that it has become a kind of social norm. In the end, it makes the state turn against the interests of the public. The state becomes the enemy of its own people. It ruins the main principles of democracy. So, I would advise the young generation that if they choose a political career, they must use it to serve the public. Because a politician is like a monk: monks don't serve their own interest; they serve the people and think about their welfare. Politicians, like monks, must think not only of themselves but also about the public good. They should understand that you will be successful and live better when other people around you live better.
About our blog, InAsia
InAsia
is a bi-weekly in-depth, in-country resource for readers who want to stay abreast of significant events and issues shaping Asia's development, hosted by
The Asia Foundation
. Drawing on the first-hand insight of renowned experts,
InAsia
delivers concentrated analysis on issues affecting each region of Asia, as well as Foundation-produced reports and polls.
InAsia
is posted and distributed every other Wednesday evening, Pacific Time. If you have any questions, please send an email to
[email protected]
.
Contact
For questions about
InAsia
, or for our cross-post and re-use policy, please send an email to
[email protected]
.
The Asia Foundation
465 California St., 9th Floor
San Francisco, CA 94104
Mailing Address:
PO Box 193223
San Francisco, CA 94119-3223
Change Starts Here Campaign Impact
Thank you for powering The Asia Foundation's mission to improve lives and expand opportunities.