Barangay Elections in the Philippines Test Security
November 6, 2013
Five months after the May mid-term national and local elections in the Philippines, nearly 54 million citizens across 42,000 barangays (villages) headed to the polls on October 28 to elect their new barangay chairpersons and councilors. In the Philippines, the barangay is the smallest unit of government with a population of at least 2,000 in rural areas and 5,000 in cities. It serves as the primary planning and implementing unit of government policies, plans, programs, projects, and activities in the community.
The position for a barangay chairman is usually a highly contested post. What is at stake is a grassroots-based position vested with executive power as the implementer and enforcer of laws and ordinances; legislative power as presiding officer of the barangay council that crafts the legislative agenda, and influence power in settling community disputes. It can also be part of the political machinery of a municipal or city mayor to ensure mass-based support and popularity.
Despite violence ahead of election day that left 22 candidates and supporters dead and 27 others wounded, the Commission on Elections (COMELEC) declared the election to be "generally peaceful" and smoother than the last barangay election in 2010. Failure of elections was declared in only 12 barangays compared to 462 in 2010. This relative "peace" in the barangay elections was also due to the fact that there were areas where candidates ran unopposed. (In many of these cases, the candidate's local patron, usually the mayor, negotiated with the contesting parties for a settlement, thus limiting the choice to only one candidate.)
In the Autonomous Region in Muslim Mindanao (ARMM) and nearby areas, where election-related violence is the highest, around 490 of the 2,470 barangays in ARMM were tagged as areas of concern due to the presence of intense political rivalry, previous election-related incidents, and threats of violence: 313 barangays in Lanao del Sur, 57 in Basilan, 55 in Maguindanao, 43 in Sulu, and 15 in Tawi-Tawi.
To help mitigate potential violence, The Asia Foundation, in partnership with the Australian Government, helped to form coalitions made up of local civil society organizations (CSOs), which included the Cotabato City Coalition for Change, Cotabato Coalition for Conflict Mitigation and Meaningful Elections, Maguindanao Peace Advocates, and the Ranao Coalition for Synergetic Reform. Prior to the elections, the coalitions spearheaded dialogues and peace covenant signing among opposing candidates. In the dialogues, the Philippine National Police (PNP) was active in giving briefings and raising awareness of COMELEC rules and regulations (such as bans on guns and liquor and the location of checkpoint), while the military gave regular security updates to the CSOs. The police and the military also coordinated closely with the CSOs in the identification and monitoring of the targeted "hot spot" areas on election day.
There were 1,562 additional police officers deployed in the ARMM to replace public school teachers who declined to serve as Board of Election Tellers in the polling precincts for security reasons or affinity with candidates. There was also a heavy presence of the police and the military in and around the polling areas on the day of the elections.
However, despite the improved election process due to the advanced advocacy work, peace initiatives, and security presence, some election-related violent incidents were still recorded. On election day, the PNP and coalitions recorded 34 election-related incidents in ARMM such as shooting incidents, explosion, indiscriminate firing, ballot snatching, mauling, hacking, commotion, and conflagration. In some areas where failure of elections were initially declared, barangay elections were postponed. In Lanao del Sur, some areas had their elections on October 30. In North Cotabato, 14 barangays are set to conduct their elections on November 8.
We joined our partners in Lanao del Sur and Maguindanao in the ARMM, and in the nearby province of North Cotabato for barangay election monitoring. Here are some photos from election day.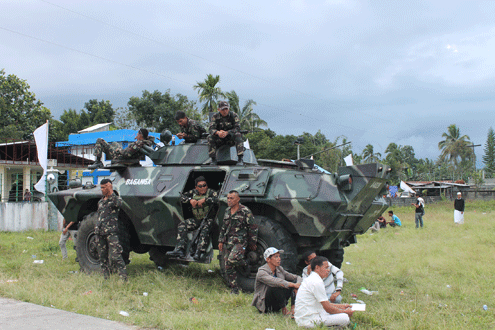 Heavy security presence during elections was evident in Lanao del Sur, which was an area of concern due to intense political rivalries and past election-related violent incidents. Photo/Yusoph Saaban of the organization RIFPAD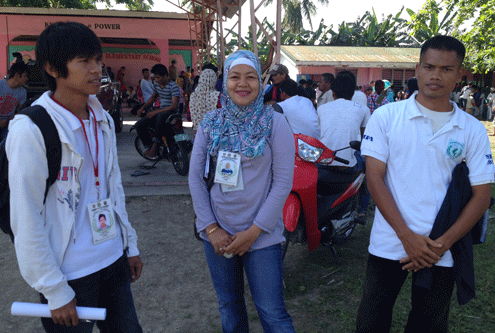 Election monitors were deployed in various polling areas in Maguindanao, North Cotabato, Cotabato City, and Lanao del Sur. Photo/Nadine S. Ragonjan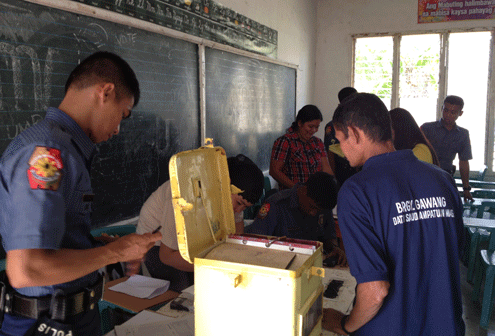 The PNP deployed policemen, above, in the precinct for Barangay Gawang in Datu Saudi Ampatuan, Maguindanao, to serve as members of the Board of Election Tellers in areas in the ARMM where public school teachers would not serve due to security concerns. Photo/Nadine S. Ragonjan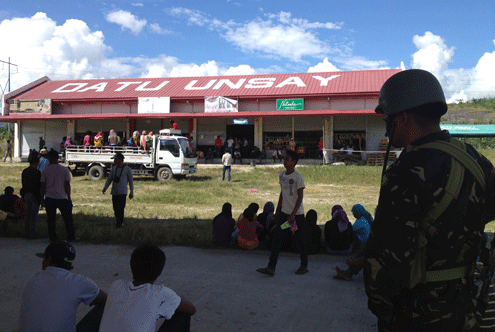 This abandoned public market in Datu Unsay, Maguindanao, served as a polling site during the barangay elections. The military secured the area after a bomb threat was reported the night before the elections. Photo/Nadine S. Ragonjan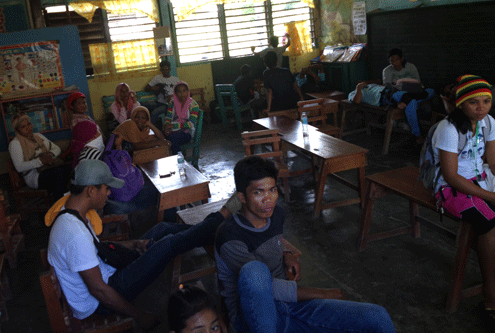 At noon on election day, these voters from Barangay Gokotan in Pikit, North Cotabato have yet to cast their votes (election was set from 7:00 am to 3:00 pm). They were waiting for the green light from the COMELEC to hold the elections in this school in the center of town. A day before the elections, the COMELEC denied the request of some local officials to transfer the elections to the town proper rather than in the barangay. The request stemmed from security concerns of the teachers as well as voters. Photo/Nadine S. Ragonjan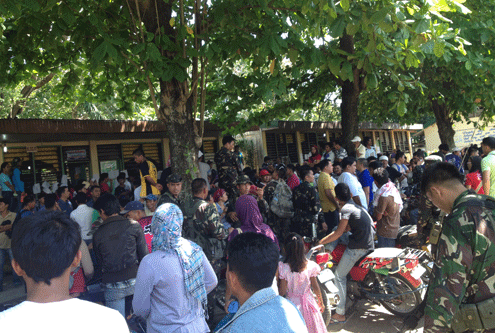 Police and military forces outside the polling precincts of Barangay Barongis and Barangay Balungis in Pikit, North Cotabato. They responded to a call after a commotion involving supporters of local candidates. Photo/Nadine S. Ragonjan
About our blog, InAsia
InAsia
is a weekly in-depth, in-country resource for readers who want to stay abreast of significant events and issues shaping Asia\'s development, hosted by
The Asia Foundation
. Drawing on the first-hand insight of over 70 renowned experts in over 20 countries,
InAsia
delivers concentrated analysis on issues affecting each region of Asia, as well as Foundation-produced reports and polls.
InAsia
is posted and distributed every other Wednesday evening, Pacific Time. If you have any questions, please send an email to
editor.inasia@asiafoundation.org
.
Contact
For questions about
InAsia
, or for our cross-post and re-use policy, please send an email to
editor.inasia@asiafoundation.org
.
The Asia Foundation
465 California St., 9th Floor
San Francisco, CA 94104
Mailing Address:
PO Box 193223
San Francisco, CA 94119-3223
Let's Read, our free digital library,
is helping children learn at home.
Learn about our Covid-19 efforts.
Let's Read, our free digital library, is helping children learn at home. Learn about our Covid-19 efforts.