A Conversation with Afghanistan Governance & Elections Expert Idrees Ilham
December 4, 2013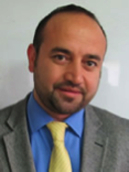 In this interview, In Asia editor Alma Freeman discusses findings from the 2013 Survey of the Afghan People and prospects for Afghanistan's future with The Asia Foundation's governance and elections expert Idrees Ilham in Kabul.
What is your outlook on Afghanistan's future as the country approaches a major security and political transition in 2014?
I have a mixed perspective looking at the future of Afghanistan: often optimistic and sometimes doubtful. I am hopeful when I see the changes taking place in the political culture, such as the rise in awareness among youth about their civil liberties and political rights. Given the decades of unrest in Afghanistan before 2001, there's a growing faith in democracy as the only option for economic prosperity, political harmony, and social unity. If young people are given the chance, they can bring positive change to the economic and political situation in the country.
However, the delay of the bilateral security agreement with the U.S. and the upcoming presidential elections in 2014 are my biggest concerns. In the absence of the international community, Afghanistan's elections would risk further loss in credibility, fairness, and transparency. The government is not in a position to provide security and logistical support for broad political participation if the international community leaves Afghanistan before the 2014 elections. Throughout its modern history, Afghanistan has always been dependent on foreign funds and imports from its neighbors. Statistics show that Afghanistan's level of dependence on other countries has increased annually. In 2012, Afghanistan's imports totaled $6.39 billion, up from 5.2 billion in 2011, while exports totaled only $376 million, despite huge investments in the country.
In The Asia Foundation's 2013 Survey of the Afghan People, a majority of Afghans say their country is moving in the right direction, but the proportion of Afghans citing corruption as a reason for pessimism rose significantly in 2013. What are your thoughts on this?
I think that the traditional leadership structure is the main reason behind widespread corruption in Afghanistan. Leadership in this system depends on the authority that comes from traditions; the populace enters into a social contract and legitimizes the elders, khans, and maliks to make decisions on important socio-political and economic issues in a locality. During the Jihad against Soviet invasion, another group joined in the traditional leadership – the powerful militia commanders. Vested with legitimacy, these groups became the most influential sources of decision-making because they were considered as the de facto governance structures. As the appointment process of leaders here is based on patronage, favoritism, and nepotism, they thus have substantial authority in the appointment of key government officials at the national and subnational level. According to the Afghan Analysts Network (AAN), the international community has tried to unite different competing factions to build the state, but President Hamid Karzai has always favored aligning with "patronage ties to the local level to be able to exert control over the provinces, mainly used as proxies in a 'divide and rule' manner." As a result, powerbrokers have been successful in obtaining key positions such as provincial governors, ministers, and district governors within the government framework. According to a United States Institute for Peace (USIP) special report on informal justice, the strong presence of the informal system has rigorously broken the "formal justice sector" in Afghanistan; functionality of the formal system is rated very poorly; and "many judges and other legal professionals are illiterate and unable to understand and apply the laws of the country appropriately."
Another big contributor to corruption is the strong sense of ethnic nationalism versus weak civic nationalism. The concept of civic nationalism sets the core of democracy, and argues that sovereignty is vested in people. The main focus of civic nationalism is to establish equality, liberty, and common citizenship. The concept also creates a sense of belonging, patriotism, shared values, and political rights. In contrast, ethnic nationalism focuses more on language, tradition, and religion as elements of nationhood.
Afghanistan's civil war further fragmented the relative sense of civic nationalism. Around seven ethnic-driven political parties fought with each other just to gain more power and resources. Millions of people lost their lives and thousands of others took refuge in neighboring countries.
Dynastic dictatorship has also shaped ethnic nationalism in Afghanistan. Prior to 2001, the people of Afghanistan had no other choice than to give allegiance to dictators. Despite Afghanistan's transition from dictatorship to democracy in 2001, few successful attempts have been made to nurture the sense of civic nationalism and develop good governance. Except for participation in elections, other components of civil liberty and political rights are still missing in our society, and no sense of ownership is given to the public. As a result, the longstanding ethnocentrism, dovetailed with dynastic nationalism, has strongly affected nation-building efforts at large and good governance in particular.
You led the Election Observation Mission within USAID's Office of Democracy and Governance during Afghanistan's 2010 presidential election, which was heavily criticized for insecurity and fraud. In the 2013 Afghan survey, Afghans are hopeful for the 2014 election, but cite security as a concern. How do you think the upcoming elections in April will be different?  
In the last presidential election, voter turnout was considerably low, although this was not always the case in Afghanistan. When the voting population first received the right to vote in 2004, over 8 million people voted out of 12 million eligible voters throughout Afghanistan. Yet each subsequent year, voter turnout, especially among youth, has declined. This drop is attributed to several compounding factors – insecurity being the biggest – but widespread electoral fraud and absence of rule of law are often cited as other major causes of voter mistrust in the election process.
The 2014 elections will be different in term of transparency and fairness. The turnout will be higher than the previous elections for two main reasons. The first is that the people are expected to vote for administration change; most are fed up with the current system as far as corruption, favoritism, and service delivery is concerned. The second reason could be the growth in people's level of awareness. As per the 2013 survey, most Afghans have access to information. In addition, the new electoral legislations – that is, Electoral Law and the Law on the Structure and Authorities of the Election – have addressed many deficiencies. For example, the parliament for the first time adopted the legislation that governs the polls, unlike in the past when it was issued by the decree. Moreover, the legislature and judiciary through a "consultative process" appointed the new commissioners for both the Independent Election Commission (IEC) and the Electoral Complaints Commission (ECC). As in the past, the president made these appointments.
Despite these positive steps, challenges to a free, fair, and legitimate election in 2014 and beyond are considerable. The IEC and ECC are still dependent to the executive branch. It is very important for these institutions to remain independent so that the people trust their decisions. Security also remains a big challenge for the 2014 elections. According to the survey, a majority of respondents (59%) reported having fear while voting in a national and provincial election. The findings show that even people in the Central/Kabul and West regions have significantly more fear of voting this year compared to 2012. In addition, the IEC should conduct its own independent survey of the security situation in the country in order to avoid ghost-polling centers that were attributed to widespread fraud in previous elections.
Three quarters of survey respondents give national government performance a positive assessment, but when asked about the level of confidence they have in various public institutions, organizations, and officials, in virtually all cases Afghans' stated level of confidence in these various entities reached an eight-year low in 2013.
To transform such sociologically driven political behavior into a more vibrant system, it is necessary to promote youth participation in political and decision-making processes, and shape them into strong leaders to eventually replace the older generation. As demonstrated by the recent "Arab Spring," a movement pushed by university students, the youth play a key role in transforming and predicating political and social change. To this end, university students, as the future elites, should be equipped with the necessary information about the importance they play in building a democratic state, and the role of their vote and voice in building transparent and accountable government. In addition, to motivate youth activism, the concept of a "youth culture" should be promoted to support political participation of the university students in targeted provinces through interaction and discussion with their peer groups. Equally important, attempts must be made to revive and institutionalize the notion of the "youth vote," and to motivate youth to engage in civic initiatives and strive to make elections and governance relevant and engaging to young people.
About our blog, In Asia
In Asia
is a weekly in-depth, in-country resource for readers who want to stay abreast of significant events and issues shaping Asia\'s development, hosted by
The Asia Foundation
. Drawing on the first-hand insight of over 70 renowned experts in over 20 countries,
In Asia
delivers concentrated analysis on issues affecting each region of Asia, as well as Foundation-produced reports and polls.
In Asia
is posted and distributed every Wednesday evening, Pacific Time and is accessible via email and RSS. If you have any questions, please send an email to
editor.inasia@asiafoundation.org
.
Subscribe
Contact
For questions about
In Asia
, or for our cross-post and re-use policy, please send an email to
editor.inasia@asiafoundation.org
.
The Asia Foundation
465 California St., 9th Floor
San Francisco, CA 94104
Mailing Address:
PO Box 193223
San Francisco, CA 94119-3223