Ulaanbaatar City Municipality And The Asia Foundation Launch "Manaikhoroo" Community Mapping Website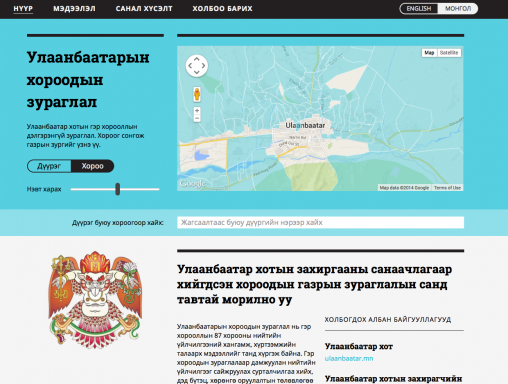 Ulaanbaatar, Mongolia, January 21, 2014 — The Ulaanbaatar City Municipality and The Asia Foundation today launched the online community website www.manaikhoroo.mn as an interactive resource for citizens and city officials. The website, developed as part of the community mapping project implemented by the Ulaanbaatar City Municipality and The Asia Foundation, maps basic public services in 87 khoroos covering all ger districts. The "manai khoroo" website which translates as "my khoroo," is an online portal where citizens can find information and download maps on 11 different indicators about the accessibility and availability of public services.
As part of the joint collaboration between the Ulaanbaatar City Municipality and The Asia Foundation, the community mapping initiative was conducted from June 2013 to October 2013 and covers 87 khoroos in the ger districts. The online community mapping project generated data in six key sectors: water, health, education, public transport, solid waste management, and vulnerability and safety.
One of the main features of the website is the Google Maps interface with which users can interact and display the indicators in various ways as selected by the user. For example, a user can choose to display the indicators such as illegal dump sites and areas vulnerable to flooding in order to draw a correlation between the two issues.
The website has been made possible through the support of The Department of Foreign Affairs and Trade of the Australian Government. Read more about The Asia Foundation and its work in Mongolia.
Read our latest news, or insights from our blog.
Media contacts
Amy Ovalle, Vice President, Global Communications
[email protected]
415-743-3340
Eelynn Sim, Director, Media & Strategy
[email protected]
415-743-3318
Change Starts Here Campaign Impact
Thank you for powering The Asia Foundation's mission to improve lives and expand opportunities.