Supporting Emerging Leaders for Asia's Future
February 5, 2014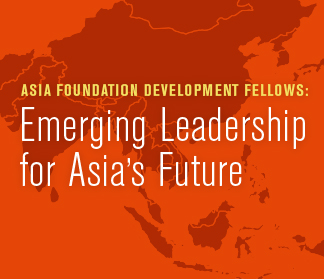 Across Asia, rapid change is presenting extraordinary development challenges. The goal of improving lives, expanding opportunities, and helping societies flourish will require innovative, effective, and coordinated development efforts, public and private sector commitment, and, perhaps most importantly, inspirational leadership. The need for investing in and supporting creative, inspired, and transformative next-generation leadership has never been more important.
Toward this end, The Asia Foundation recently launched a new program, "Asia Foundation Development Fellows: Emerging Leadership for Asia's Future," to target and empower a dynamic network of change agents across Asia – NGO and civil society leaders, government officials and policymakers, social entrepreneurs, journalists, environmentalists, and academics – with the goal of finding shared common purpose in the pursuit of creative and lasting solutions to the region's diverse development needs and challenges.
The recently selected 2014 class of fellows consists of five men and five women – an accomplished and inspirational group of young professionals working in government, nonprofit organizations, social enterprises, and media, and representing nine countries. All under age 40, the fellows have all demonstrated outstanding commitment, integrity, and leadership potential within their professional fields and within their larger community. The fellows were selected from a group of over 600 candidates from over 20 Asian counties who responded to the Foundation's October 2013 call for applicants. The final selections were made by a distinguished panel of experts who brought high levels of familiarity and decades of expertise with Asia's needs and development challenges.
The 2014 fellows include Jaya Luintel, a nationally acclaimed multimedia journalist and prominent women's rights advocate in Nepal, and Eaimt Phoo Aung, prosperity officer at the British Embassy in Yangon who focuses on macro-economic analysis and economic governance reform in Myanmar. Marcia Czarina Corazon del Mundo Medina-Guce is head of the Plans & Programs unit of the Union of Local Authorities of the Philippines, the umbrella organization of local government composed of all locally elected officials in the Philippines.
From the nonprofit sector, fellows include Badruun Gardi, executive director of the Zorig Foundation in Ulaanbaatar, whose work addresses issues of good governance, youth and education, and community development in Mongolia; and Dwi Rubiyanti Kholifah, the Indonesia country director for the Asian Muslim Action Network, who focuses on the important role of women in peace-building and inter-faith cooperation.
From government are a researcher and analyst on political economy, Guteriano Neves, an adviser for the President of Timor-Leste on macroeconomic and regional integration affairs, and from Vietnam, Thiem H. Bui, deputy director of the Department for General Affairs at the Institute for Legislative Studies (ILS) of the National Assembly Standing Committee of Vietnam.
An engineer and social entrepreneur, Salinee Tavaranan, is director of the Border Green Energy Team, and CEO and Founder of SunSawang, a social enterprise that offers solar-powered products and services for rural villages in Thailand. Salinee is joined by another accomplished social entrepreneur with environmental concerns, Goris Mustaqim, the director and co-owner of PT Resultan Nusantara and president of the ASGAR MUDA Foundation, a youth empowering social enterprise in his hometown of Garut in West Java, Indonesia. With shared concern for the environment, Lican Liu is the co-founder and director of Programs and Communications at the Greenovation Hub, a grassroots NGO that focuses on environmental protection and innovation in China.
The 2014 program will include a customized Leadership Training Program held in partnership with the prestigious Lee Kuan Yew School of Public Policy in Singapore; an applied workshop on Asian development in the Philippines; a small grant for each fellow to design a custom professional development plan or project to be implemented over the course of the year; a mentoring program that links fellows with experienced and respected leaders who have participated in Asia's progress and growth; and, a capstone two-week leadership dialogue and exchange program in Washington, D.C., and San Francisco, coinciding with the Foundation's 60th anniversary celebrations. The various components of the program create a nexus of different disciplines, working environments, professional experiences, cultures, and country contexts through which the fellows can effectively build practical skills and enhance their leadership capabilities while deepening bonds of regional and international perspective, understanding, and commitment.
Read more about the Asia Foundation Development Fellows program.
David L. Kim is director of the Asia Foundation Development Fellows program, and coordinator of the Luce Scholars program. He can be reached at [email protected]. The views and opinions expressed here are those of the individual author and not those of The Asia Foundation.
About our blog, InAsia
InAsia
is a bi-weekly in-depth, in-country resource for readers who want to stay abreast of significant events and issues shaping Asia's development, hosted by
The Asia Foundation
. Drawing on the first-hand insight of renowned experts,
InAsia
delivers concentrated analysis on issues affecting each region of Asia, as well as Foundation-produced reports and polls.
InAsia
is posted and distributed every other Wednesday evening, Pacific Time. If you have any questions, please send an email to
[email protected]
.
Contact
For questions about
InAsia
, or for our cross-post and re-use policy, please send an email to
[email protected]
.
The Asia Foundation
465 California St., 9th Floor
San Francisco, CA 94104
Mailing Address:
PO Box 193223
San Francisco, CA 94119-3223
Change Starts Here Campaign Impact
Thank you for powering The Asia Foundation's mission to improve lives and expand opportunities.