Photo Blog: Improving Water Quality in Laos
February 12, 2014
Clean rivers in Laos are critically important to the well-being of local communities and to the country's national development. Nearly 80 percent of the population of this landlocked Southeast Asian nation depends on river-fed subsistence agriculture for its survival. At the same time, hydropower exports from the Mekong River and its major tributaries now represent the country's single largest industry, and new dam construction is challenging traditional livelihoods for the communities who live along the river.
Over the past four years, with support from the McConnell Foundation, The Asia Foundation has been helping Lao citizens to play an influential role in protecting their rivers by engaging them in decision-making and building their capacity to support environmental protection. In October 2013, the Foundation conducted the first training in Vang Vieng District for 35 participants from six communities across Vientiane Province. This photo blog features images from these trainings, as well as field trips where participants learned how to monitor river water quality.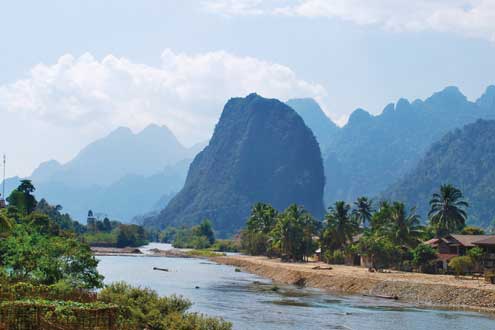 Although Laos is one of the poorest countries in Asia, it has remarkably rich natural resources. More than 85 percent of land in Laos lies within the Mekong River Basin, and communities rely on their rivers to survive.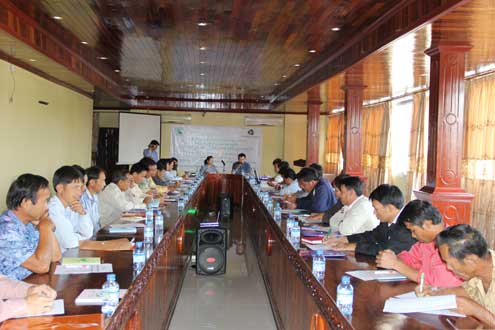 In Laos, the concerns and priorities of community members about these natural resources are often not heard at the national level. This inaugural training session conducted by The Asia Foundation, brought together 35 participants from four districts and six communities to help raise their awareness of water quality issues, and encourage community participation in decision-making to protect the river.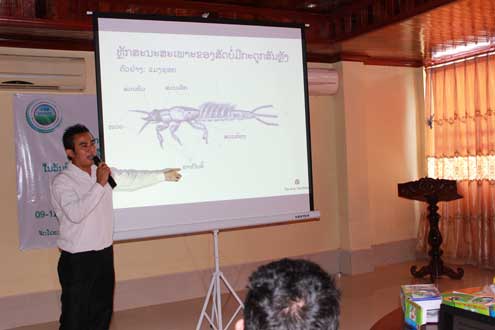 Khamphone Sisoutham, deputy head of Vientiane Province's water sector, explains to the group how to identify water insects, which are used as indicators of relative river health. There are around 38 different groups of insects in this river area.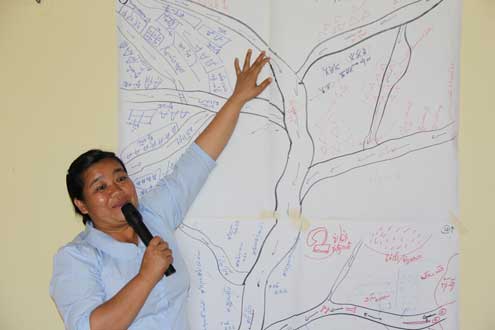 Chan Soumounthong, head of Vientiane Province's water resource sector in Kasi District, presents a sketch of the river in her district, and explains why it's critical that communities use water wisely, but also why it's critical that forests are protected upstream to maintain water flows during the dry season and to preserve water quality.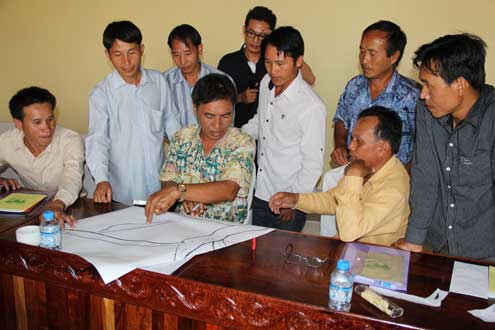 Members from each of the six communities discuss the threats to the rivers in their villages, including increased water pollution from villages and factories, as well as dams and agriculture.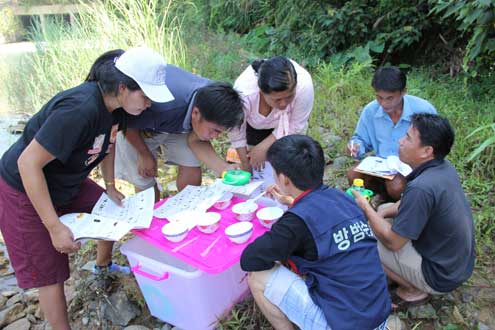 To supplement the classroom learning, 35 participants traveled to Ngad and Kabak river in Nalouw village, Vang Vieng District where they divided into seven groups to practice identifying water bugs. This group found more than 10 groups of water bugs.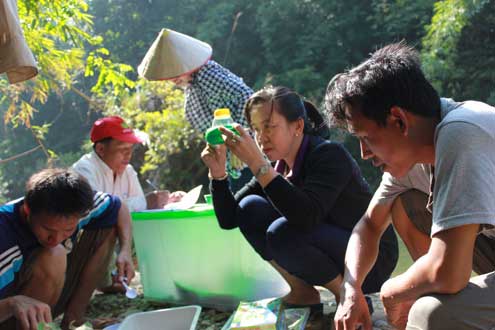 Darounny Vilaythong, with the Ministry of Natural Resources and Environment, served as the team leader for the field training. Above, Vilaythong identifies macro-invertebrates with a tool that allows them to see smaller bugs more clearly.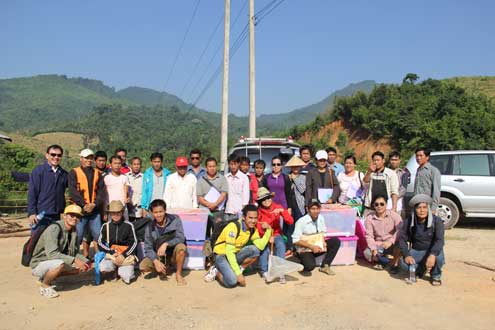 Participants as they prepare to travel to the river for training.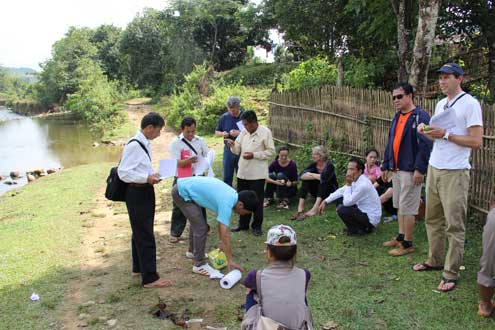 Following the community training, Jessica Rhone and Shannon E. Phillips from McConnell Foundation (center, seated), along with Asia Foundation staff, visited the community water monitoring project sites in Feung District and Vang Vieng District, Vientiane Province.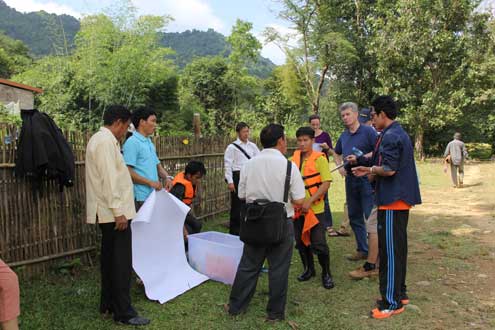 Villagers from Ban Namone demonstrate the water quality monitoring process to the delegation. In the near future, the project aims to enhance the trainings even further and expand the project to Borlikhamxay province.
Viengprasith Thiphasouda is The Asia Foundation's senior program officer in Laos. He can be reached at [email protected]. The views and opinions expressed here are those of the individual author and not those of The Asia Foundation.
About our blog, InAsia
InAsia
is a bi-weekly in-depth, in-country resource for readers who want to stay abreast of significant events and issues shaping Asia's development, hosted by
The Asia Foundation
. Drawing on the first-hand insight of renowned experts,
InAsia
delivers concentrated analysis on issues affecting each region of Asia, as well as Foundation-produced reports and polls.
InAsia
is posted and distributed every other Wednesday evening, Pacific Time. If you have any questions, please send an email to
[email protected]
.
Contact
For questions about
InAsia
, or for our cross-post and re-use policy, please send an email to
[email protected]
.
The Asia Foundation
465 California St., 9th Floor
San Francisco, CA 94104
Mailing Address:
PO Box 193223
San Francisco, CA 94119-3223
Change Starts Here Campaign Impact
Thank you for powering The Asia Foundation's mission to improve lives and expand opportunities.