Asia Foundation's 18 Country Reps Convene in D.C. to Discuss Asia's Critical Issues
March 12, 2014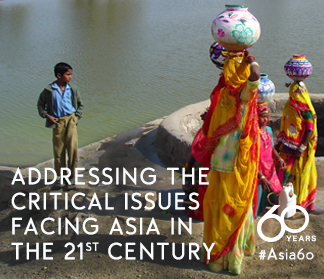 This year, The Asia Foundation is commemorating its 60th anniversary. Drawing on the expertise of local partners and our own development experts in the 18 countries where we work, we're initiating a year-long, global conversation on six critical issues facing Asia. As part of this initiative, today in Washington, D.C., we convened all 18 of our country representatives from across Asia, along with other experts, for a day-long discussion. The in-depth panel discussions were held at the Carnegie Endowment for International Peace and webcast live as part of our ongoing Asian Perspectives Series.
This event is part of a week of activities in Washington, including discussions with policy-makers, and part of the Foundation's marking of 60 years on the ground in Asia. The public conference was designed to address the opportunities, priorities, and challenges represented on the panel, and to highlight Asia Foundation approaches to effective programming for reform.
"In most parts of the world today, citizens are making their voices heard and expressing their desires for inclusion, fairness, and above all accountability. The availability of technology enables an increasingly networked citizenry. What's new particularly in these four countries [Pakistan, Afghanistan, Sri Lanka, and Nepal] is the shift in the demographic profile to an increasingly younger society … and governance is a central question to resolving conflicts in each of these issues," said Clare Lockhart, Asia Foundation trustee and director of the Institute for State Effectiveness, who moderated today's first panel.
The event, "Addressing Critical Issues Facing Asia in the 21st Century," featured four panels of Asia Foundation country representatives and other experts, and led with an introduction from Asia Foundation President David D. Arnold. Topics included:
For those who missed the event web stream, we will be posting on The Asia Foundation's website shortly. Read more about our 60th anniversary activities.
Nancy Yuan is vice president and director of The Asia Foundation's Washington, D.C., office. She can be reached at [email protected] The views and opinions expressed here are those of the individual author and not those of The Asia Foundation.
About our blog, InAsia
InAsia
is a bi-weekly in-depth, in-country resource for readers who want to stay abreast of significant events and issues shaping Asia's development, hosted by
The Asia Foundation
. Drawing on the first-hand insight of renowned experts,
InAsia
delivers concentrated analysis on issues affecting each region of Asia, as well as Foundation-produced reports and polls.
InAsia
is posted and distributed every other Wednesday evening, Pacific Time. If you have any questions, please send an email to
[email protected]
.
Contact
For questions about
InAsia
, or for our cross-post and re-use policy, please send an email to
[email protected]
.
The Asia Foundation
465 California St., 9th Floor
San Francisco, CA 94104
Mailing Address:
PO Box 193223
San Francisco, CA 94119-3223
Support Women Forest Defenders
Join us this holiday season to help untapped leaders like Sumini and the Women Forest Defenders battle rampant deforestation in Indonesia.