New Report Examines Trade Barriers in ASEAN
March 19, 2014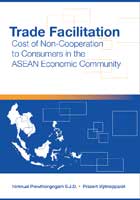 Trade experts gathered in Bangkok this week for the release of The Asia Foundation's report, "Trade Facilitation and Cost of Non-Cooperation to Consumers in the ASEAN Economic Community." Based on first-hand interviews, surveys, and economic data analysis, report authors explore the real-world consequences of trade barriers for consumers and offer recommendations on improving trade between ASEAN members. Stay tuned for next week's blog for analysis from the report.
About our blog, InAsia
InAsia
is a weekly in-depth, in-country resource for readers who want to stay abreast of significant events and issues shaping Asia's development, hosted by
The Asia Foundation
. Drawing on the first-hand insight of over 70 renowned experts in over 20 countries,
InAsia
delivers concentrated analysis on issues affecting each region of Asia, as well as Foundation-produced reports and polls.
InAsia
is posted and distributed every other Wednesday evening, Pacific Time. If you have any questions, please send an email to
[email protected]
.
Contact
For questions about
InAsia
, or for our cross-post and re-use policy, please send an email to
[email protected]
.
The Asia Foundation
465 California St., 9th Floor
San Francisco, CA 94104
Mailing Address:
PO Box 193223
San Francisco, CA 94119-3223
Leaders on the Frontlines:
Leaders for a Better World
Tuesday, November 9, 2021, 6PM PT