New Report Examines Land Disputes in Nepal's Terai
April 2, 2014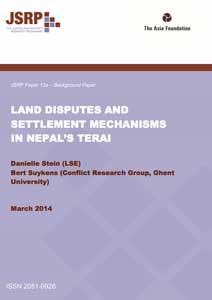 Land has long been among the most politically contentious issues in Nepal. Since the 1960s, land reform has been an important area of contestation between political parties. This pattern was further visible in the country's civil conflict between 1996 and 2006, as Maoist insurgents targeted large landowners as a symbol of Nepal's exclusionary, patronage-based state. Now in the post-conflict period, land reform remains contentious, attracting attention from politicians, academics, NGOs, and advocacy organizations interested in both development and conflict resolution.
Just released is a new report on the dynamics and nature of land disputes, part of an ongoing working papers series from The Asia Foundation's multi-year collaboration with the London School of Economics' Justice and Security Research Program to look into the "theories of change" the Foundation uses to underpin its justice and security programs. Authors Danielle Stein, with the London School of Economics' JSRP, and Bert Suykens, a professor at Ghent University's Conflict Research Group, shed light on disputes brought to mediation and relay local perspectives on the causes and consequences of these disputes.
Read more about this collaboration, or download the full report, "Land Disputes and Settlement Mechanisms in Nepal's Terai," on JSRP's website.
About our blog, InAsia
InAsia
is a bi-weekly in-depth, in-country resource for readers who want to stay abreast of significant events and issues shaping Asia's development, hosted by
The Asia Foundation
. Drawing on the first-hand insight of renowned experts,
InAsia
delivers concentrated analysis on issues affecting each region of Asia, as well as Foundation-produced reports and polls.
InAsia
is posted and distributed every other Wednesday evening, Pacific Time. If you have any questions, please send an email to
[email protected]
.
Contact
For questions about
InAsia
, or for our cross-post and re-use policy, please send an email to
[email protected]
.
The Asia Foundation
465 California St., 9th Floor
San Francisco, CA 94104
Mailing Address:
PO Box 193223
San Francisco, CA 94119-3223
2023 Lotus Leadership Awards
Join us in New York on April 26, 2023, to honor Gloria Steinem, Google.org, and HAkA.