Asia Foundation Development Fellows Program Welcomes Emerging Leaders at Singapore Reception
Singapore, April 4, 2014 — Earlier today, The Asia Foundation, a nonprofit international development organization committed to improving lives across a dynamic and developing Asia, held an opening reception to welcome the inaugural participants of The Asia Foundation Development Fellows: Emerging Leadership for Asia's Future program, a new initiative designed to support emerging development leaders in Asia. The reception marks the beginning of a four-day Leadership Development Workshop presented in partnership with the Lee Kuan Yew School of Public Policy at National University of Singapore. View slideshow here.
Hosted by Asia Foundation President David D. Arnold, the reception gathered government officials, corporate leaders, and development professionals to recognize the 2014 Asia Foundation Development Fellows– an accomplished group of inspirational young professionals working in government, nonprofit organizations, social enterprises, and media representing nine Asian countries.  The Development Fellows were selected from among 600 applicants for their outstanding leadership potential and accomplishments related to the Foundation's fields of expertise – governance and law, economic development, women's empowerment, environment, and regional cooperation.
Reception guests included Lee Kuan Yew School of Public Policy's Dean Kishore Mahbubani and Professor and Chairman Wang Gangwu, and representatives from Singapore's Ministry of Foreign Affairs; the U.S. Embassy in Singapore; Philippines Embassy in Singapore; Thailand Embassy in Singapore; ASEAN Government Affairs & Policy; Institute of Southeast Asian Studies' ASEAN Studies Centre; the Foundation's Singapore Board members as well as its Advisory Council.
At the Lee Kuan Yew School of Public Policy, the cohort will participate in leadership training by program faculty Philip Merry, founder and chief executive officer at Global Leadership Academy. The Leadership Development Workshop will focus on strategic thinking and decision-making, working with participants on developing critical perspectives and best practices in leadership and management.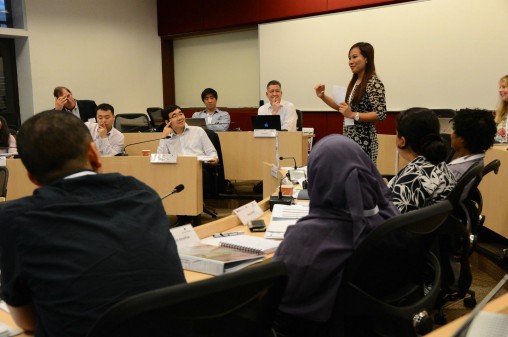 The prestigious development program provides young Asian professionals with an unparalleled opportunity to network and engage on the critical issues impacting Asia today. After the leadership training in Singapore, the emerging Asian leaders will travel to the Philippines to continue the on-the-ground development training as part of the 2014 program.  Read more about the program.
For media inquiries, please visit the Press Room.
Read our latest news, or insights from our blog.
Media contacts
Amy Ovalle, Vice President, Global Communications
[email protected]
415-743-3340
Eelynn Sim, Director, Media & Strategy
[email protected]
415-743-3318
Leaders on the Frontlines:
Leaders for a Better World
Highlights from the event