Filipinos with Disabilities Tell Stories of Exercising Right to Vote in 2013 Elections
Manila, April 23, 2014 — The Asia Foundation and Vera Files, Inc, with support from the Australian Government, today launched "The Right to Vote: Filipinos with Disabilities and the 2013 Elections", a publication that tells the stories of people with disabilities (PWDs) in exercising their right to vote during the 2013 elections.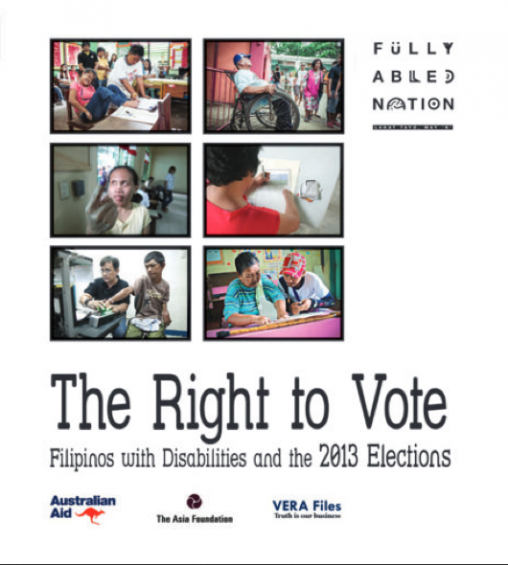 The publication examines the gains and challenges of the Commission on Election (COMELEC) and its Inter-Agency and NGO Network on the Empowerment of PWDs and of the Fully Abled Nation project to enable people with disabilities to fully enjoy their right to suffrage. The publication is a product of rigorous and intensive research, interviews and analysis conducted over the past months throughout the country. The Right to Vote chronicles the journey of the government and civil society to make the 2013 elections disability-inclusive.
Speaking at the book launch, Australian Ambassador to the Philippines Bill Tweddell said, "Australia, through our aid program, is ensuring that development is benefiting those most in need and most vulnerable, including people with disability. Australia is pleased to have partnered with The Asia Foundation, government agencies and non-government organisations to bring the issues of Filipinos with disabilities to national attention during local elections."
"This book is as much about the journey of the Philippines in giving more people the chance to exercise citizenship as it is about the journey of people with disability in advancing a fully abled nation."
The Fully Abled Nation project, supported by a PHP52 million (A$1.3 million) funding from the Australian Government and implemented by The Foundation, led a campaign to increase participation of people with disabilities during the 2013 midterm elections. The project also collaborated with people with disabilities, disabled persons organizations, the COMELEC, the National Council on Disability Affairs, the Parish Pastoral Council for Responsible Voting, and other elections-focused NGOs to increase awareness of the public on the importance of right to suffrage of people with disabilities and to participate in other democratic processes.
The book launch, held at the Diamond Hotel Manila, was also attended by Country Representative of The Foundation in the Philippines Steven Rood, Trustee of Vera Files Inc. Ellen Tordesillas, former COMELEC Commissioner Rene Sarmiento, AKAP-Pinoy President Capt. Oscar Taleon, National Council on Disability Affairs Executive Director Carmen Zubiaga, representatives from the sector of people with disabilities, and other partners of the Fully Abled Nation project.
Founded in 2008, Vera Files Inc. is comprised of veteran journalists who take an in-depth perspective into issues oftentimes ignored by the Filipino society. The Right to Vote's main writers are Artha Kira Paredes, Lala Ordenes-Cascolan, Avigail Olarte and Maribel Buenaobra. It is co-edited by Luz Rimban and Yvonne T. Chua.
Read more about the Foundation and its work in the Philippines.