Ministry of Environment and Green Development, Ulaanbaatar City Mayor's Office, and Asia Foundation Co-Launch Public Awareness Campaign to Improve Citizens' Behavior Around Garbage Disposal
Ulaanbaatar, April 23, 2014 —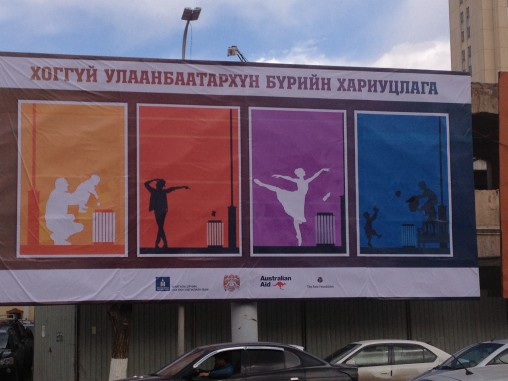 To mark Ulaanbaatar's city-wide cleanup on Saturday, April 19, the Ministry of Environment, the Ulaanbaatar City Mayor's Office, and The Asia Foundation partnered to launch a public awareness campaign to improve citizen behavior in relation to garbage disposal. Throughout the city, billboards and posters featured the slogan "Waste Free UB is Everyone's Responsibility" to remind citizens not to dump garbage and to ensure that Ulaanbaatar remains a pleasant city to live in for this generation and those to come.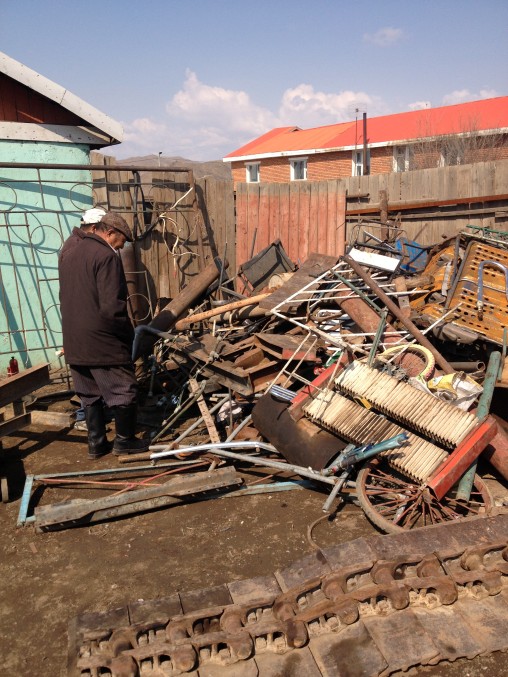 Solid waste management is a key challenge in Ulaanbaatar, particularly in the ger districts where there are many illegal dump sites. To act upon the campaign's slogan, the Foundation supported the cleanup of garbage at the 14th khoroo of the Sukhbaatar district, 16th khoroo of the Chingeltei district, 13th khoroo of the Khan-Uul district, 9th khoroo of the Bayangol district, and 26th khoroo of the Songinokhairkhan district. During the cleanup day, the Foundation worked with representatives of khoroo governors' office, business entities, eco-employees, residents, school children and volunteers to clean up public spaces, ger streets, and gullies of the Model Khoroos. The Foundation also sponsored competitions for residents that participated in the cleanup activities, including a cleanest street competition.
City Municipality's representatives led by Mr. Badral, General Manager of the Ulaanbaatar City Administration, khoroo districts' public officials, and Foundation staff, including Deputy Country Representative Ms. Tirza Theunissen, joined residents in local cleanups.
The campaign and cleanup activities are implemented under the Model Solid Waste Khoroo Project implemented by the City Municipality Solid Waste Department and the Foundation in six khoroos within the framework of its Urban Services in the Ger Districts of Ulaanbaatar Project. The campaign will continue until June 2014.
With generous support from the Australian Government's Department of Foreign Affairs and Trade Australian Aid Program, the Foundation initiated the "Urban Services in the Ger Districts of Ulaanbaatar" project in May 2012, which aims to improve urban services in the ger districts. The Foundation, throughout the duration of this three year project, is working to increase citizen participation at local level and also support the city at the management level to improve strategic planning, policy making and good governance.
Read more about The Asia Foundation and its work in Mongolia.