Asia Foundation Launches Interactive Timeline
San Francisco, May 14, 2014 — To mark its 60th anniversary, The Asia Foundation debuted today a living, interactive timeline of its six decades in Asia, including archival video, audio interviews, oral histories, photographs, documents, and multimedia. The timeline tells a compelling story of international development in Asia from the 1950s to present day while weaving in the Foundation's milestones and programs in the countries it works in. It can be viewed on the Foundation's website together with the annual report, also released today.
The debut of the timeline and the Foundation's annual report coincides with an anniversary-themed Board of Trustees and Officers dinner in Washington, D.C. next Monday, where Senator Dianne Feinstein of California will be honored.
Providing a visual narrative of milestones in Asia, the interactive timeline is organized into three streams: Historical Landscape, Critical Issues, and Our Work. The narrative reflects the Foundation's sixty years of work bringing together local individuals, communities, and governments who are shaping Asia's future.  Notable timeline features include interviews and images with prominent professional photographers who have documented the work of the Foundation, early Foundation leaders and current and past staff from on the ground in Asia, providing context for the dramatic transformation in Asia since it emerged from the devastation of World War II through the region's extraordinary growth of today.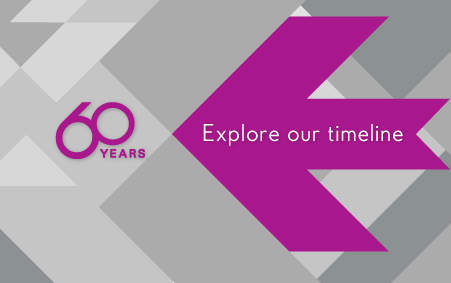 Designed as an evolving record – looking forward and back – the Foundation timeline will provide a dynamic, flexible platform to incorporate and communicate significant milestones in the years ahead. The Foundation welcomes input at [email protected].
The timeline is part of an overall 60th anniversary program announced earlier this year by President David D. Arnold featuring issue-based special events; expert analysis of critical issues identified by the Foundation on In Asia, the Foundation's noted blog; and across its digital and social media channels.
Drawing on the expertise of local partners and its own development experts in the 18 countries where it currently works, the international development nonprofit aims to focus international attention on six critical issues impacting Asia today, including:  lack of transparency and accountability in government; persistent poverty and rising income inequality; exclusion of women from political and economic life; ethnic and religious conflicts; access to justice and human rights; and disaster management, climate change, and water resource management.
Experience the timeline and read the annual report. Engage with us on Twitter at @Asia_Foundation and follow #Asia60.
Read our latest news, or insights from our blog.
Media contacts
Amy Ovalle, Vice President, Global Communications
[email protected]
415-743-3340
Eelynn Sim, Director, Media & Strategy
[email protected]
415-743-3318
Change Starts Here Campaign Impact
Thank you for powering The Asia Foundation's mission to improve lives and expand opportunities.