Asia Foundation Honors Senator Dianne Feinstein of California at Anniversary Dinner in Washington DC
Nonprofit Marks 60 Years of Addressing the Critical Issues Facing Asia
Washington, DC, May 19, 2014 —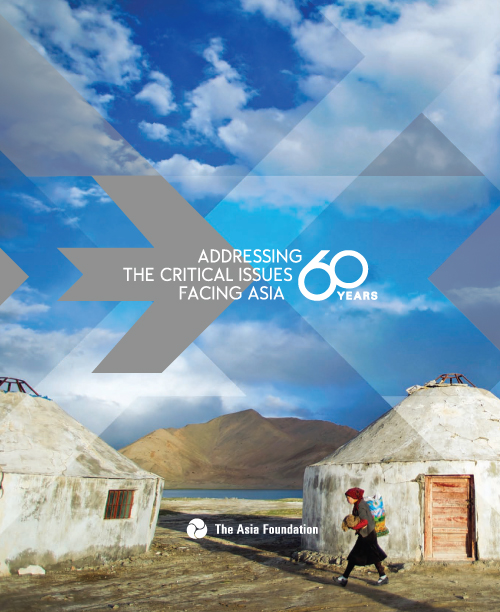 To mark its 60th anniversary, The Asia Foundation will honor Senator Dianne Feinstein of California with the first-ever Chairman's Award for her commitment to U.S.-Asia Relations at a special Ambassadors Dinner in Washington, DC this evening, where ambassadors from across the Asia-Pacific region will gather to mark the Foundation's pioneering work over the last six decades. The dinner will also be attended by key foreign policy experts and officials, journalists who cover the region, and highly accomplished alumni of the Luce Scholars program, administered by The Asia Foundation since 1974 to provide an awareness of Asia among future leaders in American society. View a slideshow of the event here.
"As California's most senior senator, Senator Feinstein has long been committed to a strong and enduring relationship with the countries of Asia. As a San Francisco-based organization, we are proud of our long association with Senator Feinstein and believe that her efforts have been crucial to our work in Asia," said David D. Arnold, president of The Asia Foundation. "A legacy of the Foundation is nurturing strong leaders, and since 1954 we have invested in leadership in public office, academia, the private sector, and civil society; we know the catalytic role that leaders like Senator Feinstein can play in societies. Today, Senator Feinstein is the very first recipient of The Asia Foundation's Chairman's Award in appreciation for her distinguished service, longstanding commitment to U.S.-Asia Relations, and for her strong support for The Asia Foundation and its mission."
The Washington Ambassadors Dinner is part of an overall 60th anniversary program announced earlier this year by President Arnold featuring a series of special events, the creation of an interactive timeline of the Foundation's remarkable history in Asia, a brand-new Foundation film premiering for the first time at the Washington DC dinner, and a global conversation on the critical issues facing Asia in the 21st century on the In Asia blog and across its digital and social media channels.
In June, the Foundation will continue special events to mark its 60th anniversary when it will honor Nobel Peace Laureate Muhammad Yunus at the fourth annual Asia Foundation Lotus Leadership Awards in New York City. These awards champion individuals who work to empower women and girls in Asia. Professor Yunus has been a champion of women's economic empowerment since the 1970s when he founded Grameen Bank to give small loans to poor women and men so they could lift themselves out of poverty; today, women make up 97% of the bank's members. Secretary Hillary Rodham Clinton and Former U.S. President Jimmy Carter will deliver recorded remarks acknowledging the Foundation's 60th anniversary and twenty years of the Foundation's Women's Empowerment Program.
Experience the Asia Foundation timeline and read the annual report. Engage with us on Twitter at @Asia_Foundation and follow #Asia60.
Read our latest news, or insights from our blog.
Media contacts
Amy Ovalle, Vice President, Global Communications
[email protected]
415-743-3340
Eelynn Sim, Director, Media & Strategy
[email protected]
415-743-3318
Change Starts Here Campaign Impact
Thank you for powering The Asia Foundation's mission to improve lives and expand opportunities.