A Discussion with Lotus Circle Advisor Winnie Feng
June 18, 2014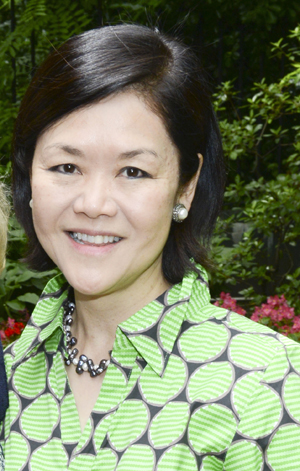 Today, The Asia Foundation holds its fourth annual Lotus Leadership Awards in New York City, honoring the work of Nobel Laureate Professor Muhammad Yunus and Indonesian NGO leader, Nani Zulminarni. In Asia interviewed Lotus Circle Co-Chair Winnie Feng just ahead of the event for her reflections on her most memorable Lotus Circle projects, her passion for education, and future plans for this year.
Can you share what it was about the Lotus Circle that first interested you?
I think of Lotus Circle members as modern day activists, passionate about positive change but who just can't be on the ground. But we can make things happen by raising awareness, taking action, and empowering others in small ways that add up to meaningful change. The Lotus Circle is a way for me to participate in that change.
Which Lotus Circle project would you say is the most meaningful to you?
In graduate school, part of my research focused on a historical timeline of girls' education in Afghanistan from 1928 to the post-Soviet era pullout, so I was familiar with the extraordinary underground work of Dr. Sakena Yacoobi during the Taliban era. When I had the opportunity in New York to meet The Asia Foundation's then country representative in Afghanistan, Meloney Lindberg, who is now the representative in Mongolia, and she mentioned the Foundation's work with Dr. Yacoobi, I realized this was more than coincidental. Professor Yacoobi launched the first learning centers inside refugee camps in Afghanistan and Pakistan. She risked her life to run illegal home schools for girls during the Taliban reign, pioneered student-centered learning and teacher training in Afghanistan, and created first-of-their-kind specialized health clinics for women, enabling many women and their families to see a doctor for the first time ever.
The first Lotus Circle project I participated in was to help fund the rebuilding of two schools in Kabul. In 2009, Lotus Circle Advisors and staff from the Foundation's Women's Empowerment program went to see first-hand the impact that our funds – together with matching grants from the National Geographic Society – were having on young girls. I could not be there but the images were powerful. My own sense of personal satisfaction doesn't compare to what this means for more than 4,500 girls enrolled at these terrific schools. There are many organizations that promote girls' education in Afghanistan today, but The Asia Foundation provided the early assistance to local partners needed to build capacity in targeted, sustainable ways.
Two years ago, we honored Dr. Yacoobi at the second Lotus Leadership Awards for her contributions to the education and health of Afghan women and children. We also honored the National Geographic Society (NGS). The partnership began in 2002 after photographer Steve McCurry rediscovered Sharbat Gula, the "Afghan girl with the haunting green eyes," who he had photographed for a 1985 cover of National Geographic. When he tracked her down many years later, Sharbat Gula asked NGS to provide education to girls – something she had been denied. The National Geographic Society turned to The Asia Foundation to partner because of its depth of experience in Afghanistan.
You are an advocate for children's education and created the Children's Language Program at the China Institute in America. Can you talk about the role and importance of education in a young woman's life?
In the early 1990s, I was eager to have my children learn Chinese, but I couldn't find any classes. I am of Chinese descent and I could see the benefits of them learning Mandarin, not only for their cultural development and connection with their heritage, but also for their future opportunity. I saw an identifiable need and worked with an existing organization that then became part of a growing trend. Today, according to USA Today, more American students take Mandarin Chinese in schools than any other language. Mandarin Chinese classes are now available in many schools and immersion programs here and abroad that create global opportunities and careers for young people.
Looking back, it is easy to see how a small project starts with a personal commitment and a vision, and grows into a larger sustainable program. This was an opportunity to stay ahead of a changing trend so that my own children were able to acquire the basic skills for the most widely spoken language today.
It really reinforces one of the main tenets of the Lotus Circle: education is the medium and the message for change. What this means for girls is that once they gain access to education even in the poorest countries, they gain the confidence, courage, and persistence, and the edge to meet challenges, overcome discrimination, and become productive and influential members of society. Just look at Malala Yousafzai. We know educating one girl irreversibly transforms the lives of her family and community for future generations. There are additional studies that support this fact. The ripple effect of girls' education that opens doors is immeasurable.
You generously support the visual arts and collect art yourself. Some of The Asia Foundation's earliest work was in the arts, cultural preservation, and promotion. In the 1950s, to promote peace and reconciliation within divided societies in Asia and to preserve Asian cultures, the Foundation, supported Taiwan the construction of an exhibition hall for China's invaluable art treasures. This tiny exhibition was the precursor of the world-famous Palace Museum in Taipei. The Foundation also supported the National Museum of Korea and helped bringing Korean culture to the attention of international scholars and art connoisseurs. And our Margaret F. Williams Memorial Fellows in Asian Art Program and Brayton Wilbur, Jr. Fellow in Asian Art contribute to the professional enhancement of Asian art curators. How can exposure to art and culture expand a person's sense of herself and her future?
I am amazed by the foresight and reach of The Asia Foundation in the 1950s and today. Governments that value art and culture do significantly better for their country than those that destroy their own heritage. Look at the example of South Korea, where women have gained in significant ways culminating in South Korea's first democratically elected women president.
In a civil society, art and culture connect the people to their history and provide context from which to view themselves. Since ancient times, art is seen as the best form of human expression that defines a culture. When you follow the art markets, you see the value placed on art. Many countries seek art repatriation as a mandate. Even in times of war, governments and individuals take extremes measures to protect art to preserve and protect culture and society.
Interestingly, the field of art has been traditionally dominated by men artists, collectors, museum directors, curators, scholars, and connoisseurs. However, more and more women are entering the field. I think exposure to art enhances a person's sense of beauty with an awareness of the Divine. It offers context of where we are in the world. For a girl in poverty, it provides a moment's relief, a pause for the eyes to see possibilities beyond her immediate circumstance. Sometimes, that's all it takes. Hope for a better future.
The fourth annual Lotus Leadership Awards takes place this evening in New York City and you will raise awareness for the importance of empowering women and girls in Asia and the issue of women and extreme poverty. What do you hope to accomplish this year?
This year's honoree Nobel Laureate and author of Banker to the Poor, Muhammad Yunus, has shown how small loans create huge economic opportunities for his country's poor and destitute. Nearly 97 percent of his loans were made directly to impoverished women in Bangladesh, and most of these loans were repaid! Not a bad investment.
A primary focus of The Asia Foundation's Women's Empowerment Program is to promote economic opportunities for women in Asia. Our other Lotus Circle honoree this year, Nani Zulminarni, who heads the Indonesian organization PEKKA (which in Indonesian stands for "Women-Headed Household Empowerment") that works with widows and other women in conflict regions so they can gain access to finance and build their savings. Her efforts have helped over 10,000 women-led families across Indonesia to create economic opportunities and play a greater role in their households and communities.
Another way we do this is through microfinance with local partners. Our program in Aceh, Indonesia, is a good example of how this works. Launched in collaboration with United Way International and with the support of our generous Lotus Circle donors and others, lending cooperatives throughout Aceh are administered by local women and have provided loans to 42 women's groups that have a combined membership of more than 1,500 women. These loans are enabling entrepreneurial women to seize emerging economic opportunities and help their communities rebuild after the devastating 2004 tsunami.
With the impact of this year's important anniversary benefit, and the inspiration of Professor Yunus' micro-finance model, we hope to continue this growing trend of making small loans to women in need through our local partners, and providing these women with the support, training, and networks to succeed. I know we will capitalize on the success of the Aceh program by expanding into other areas offering more women more economic opportunities to improve their lives. That is empowerment. As Lotus Circle advisors, we like to say, "Tell Her She Can."
Microfinance is a powerful example of a small investment that adds up to positive sustainable change. Professor Yunus embodies this year's message.
About our blog, InAsia
InAsia
is a weekly in-depth, in-country resource for readers who want to stay abreast of significant events and issues shaping Asia's development, hosted by
The Asia Foundation
. Drawing on the first-hand insight of over 70 renowned experts in over 20 countries,
InAsia
delivers concentrated analysis on issues affecting each region of Asia, as well as Foundation-produced reports and polls.
InAsia
is posted and distributed every other Wednesday evening, Pacific Time. If you have any questions, please send an email to
[email protected]
.
Contact
For questions about
InAsia
, or for our cross-post and re-use policy, please send an email to
[email protected]
.
The Asia Foundation
465 California St., 9th Floor
San Francisco, CA 94104
Mailing Address:
PO Box 193223
San Francisco, CA 94119-3223
Leaders on the Frontlines:
Leaders for a Better World
Tuesday, November 9, 2021, 6PM PT