Fellow Marcia Czarina Corazon Medina-Guce on Reform in the Philippines
June 25, 2014

In Asia editor Alma Freeman recently interviewed Philippine local governance leader Marcia Czarina Corazon Medina-Guce on President Aquino's ambitious reform agenda and progress on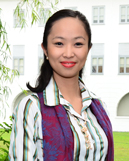 poverty reduction and inclusive development. Medina-Guce, who was recently selected as one of 10 inaugural 2014 Asia Foundation Development Fellows, is the executive director of the Union of Local Authorities of the Philippines, the umbrella organization of the local government leagues composed of all locally elected officials in the Philippines.
What do you see as the biggest development success stories in the Philippines in the last decade and the most critical challenges that remain?
The past decade has been a long-running story of how demand for transparency and accountability in government came to be. The Philippines had a controversial national election in 2004, and proof of election fraud surfaced years later. Our last two presidents have been under great scrutiny for corruption, which gave rise to people electing a reform-oriented leader, current President Benigno Aquino III, in the 2010 elections. Since then, the government has successfully institutionalized platforms for more constructive engagement between government and civil society through transparency in reporting of expenditures, grassroots participatory budgeting, and incentives for financial soundness of government units. Because of these reforms, the national economy has boomed and our credit rating reached its highest in Philippine history. Public service delivery in the areas of health and finance, social welfare, poverty alleviation, and inclusive education has improved. The past decade has been a narrative for good governance for the Philippines – the fall and rise of public trust – and the Filipino people can be proud of how its demand on transparency and accountability have opened up government systems for greater and more meaningful government-civil society partnership.
The challenges that remain are two-fold. First, the public service reforms that government introduced have to address the "last mile" challenge; we need make sure that services are accessible to each Filipino household. The key is to reach the frontlines, and the frontlines are the realm of local governments. While local governments are doing their share of the reform work at the community-level, more harmonized planning, implementation, and monitoring systems must be established between national and local governments. Second, the reforms and the spirit that drives them need to be sustained. Six years is not enough to heal and rehabilitate government institutions. We do not want this reform-oriented mission to end when the president's term expires. The Philippines made its mark in the world in its story of restoring democracy in the 1980s. I believe we can make a dent in history once more if we can institutionalize and sustain the democratic reforms that we are working very hard on right now.
While President Aquino has made poverty reduction a pillar of his presidency, the government announced earlier this year that the Philippines will miss its 2015 Millennium Development Goal (MDG) on poverty reduction. Why do you think this is such a stubborn, ongoing problem for the country?
Poverty reduction is a complex problem that requires equally complex responses, and the odds are not totally in our favor. As I mentioned, while we have programs to address different facets of poverty such as conditional subsidies, health financing for the poorest of the poor, and education that leads to job placement and livelihood, we have to contend with the difficulties of bringing these services to the frontlines. How do we reach a poor household in a remote, geographically isolated island municipality? How does government mobilize local alliances of private and civil society in rural villages when presence of these local development partners is scarce in those areas? How do we make policies more evidence-informed so we can cater to the wide range of needs per locality?
This is when the promise and potential of local governments for needs-based, community-level service delivery need to be harnessed. Harmonizing efforts and developing enabling policy and program environments pushing for more genuine local autonomy need to be strengthened. We have local government champions who have made significant outcomes in improving health, education, and local economic development in provinces, cities, and municipalities. But there needs to be greater work in mainstreaming local government innovations and best practices, and institutionalization through legislative support.
Given your experience working at the local-level, what are your thoughts on President Aquino's geographical approach to defeating poverty by identifying 30 of the poorest provinces to receive increased funding and government support?
On a national strategy level, prioritizing the 30 poorest provinces makes sense. The national government acts as an agent of equitable distribution of resources by pooling public-private partnerships, both infrastructure and soft service delivery programs, in these poor areas so that the provinces can leverage national government resources to catch up on their development needs. Greater harmonization between the work of the national government and the provincial cluster (regional) and local government planning units on how the local governments can complement the national investments is needed. For instance, when new airports, seaports, and roads are built in an area, how can local governments pool their resources to maximize the opportunity for increased economic activity and job creation? How do we make social services like health and education more accessible to the people and encourage further productivity? Responding to these kinds of questions requires close and intense collaboration between national and local governments.
Local governments are moving toward streamlining their processes to encourage more small- and medium-sized enterprises to emerge. Opportunities for tapping migrants' resources are also being mainstreamed in many provinces through developing investment and entrepreneurial platforms. We have seen how local governments – through more inclusive development – can curb incidences of armed conflict. There are provinces such as Albay and Bohol whose experiences in dealing with disaster preparedness and response are becoming benchmarks to secure the welfare of people, and in effect mitigating risks on productive activities. If we can put together the strategies of national government and the community needs-informed plans of the local governments, we can hopefully speed up collaborative action towards achieving inclusive growth.
About our blog, InAsia
InAsia
is a bi-weekly in-depth, in-country resource for readers who want to stay abreast of significant events and issues shaping Asia's development, hosted by
The Asia Foundation
. Drawing on the first-hand insight of renowned experts,
InAsia
delivers concentrated analysis on issues affecting each region of Asia, as well as Foundation-produced reports and polls.
InAsia
is posted and distributed every other Wednesday evening, Pacific Time. If you have any questions, please send an email to
[email protected]
.
Contact
For questions about
InAsia
, or for our cross-post and re-use policy, please send an email to
[email protected]
.
The Asia Foundation
465 California St., 9th Floor
San Francisco, CA 94104
Mailing Address:
PO Box 193223
San Francisco, CA 94119-3223
Support Women Forest Defenders
Join us this holiday season to help untapped leaders like Sumini and the Women Forest Defenders battle rampant deforestation in Indonesia.