2014 Asia Foundation Development Forum: Challenges and Voices for Asia's Future
Event: Thursday, September 18, 2014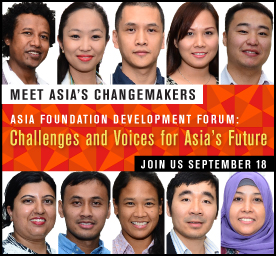 Bechtel Conference Center
Registration: 8:30 am
Forum: 9:00 am – 2:00 pm
Refreshments provided
The Forum features the inaugural 2014 class of Asia Foundation Development Fellows, a dynamic and inspirational network of young changemakers working on the most critical issues impacting Asia today. The prestigious program brings together next-generation Asian leaders to find shared common purpose and create lasting solutions to the region's rapid change and diverse development needs and challenges. The 10 Development Fellows, selected from a highly competitive pool of over 600 applicants, represent the fields of government, nonprofit organizations, social enterprises, and media in nine Asian countries. Conducted in Singapore, Philippines, Washington, D.C., and San Francisco in 2014, the fellowship program draws on The Asia Foundation's extensive 18-country network and deep expertise working with innovative leaders and communities across the region. For more information on the Forum, read the news release.
Forum topics include:
Asia's Challenges of Good Governance
Asia's Challenges for Inclusive Growth and Development
Asia's Challenges for Environment and Sustainable Development
Asia's Development Challenges 2015
RSVP required. Please click here to email your confirmation by September 15.
Change Starts Here Campaign Impact
Thank you for powering The Asia Foundation's mission to improve lives and expand opportunities.