Ethnic Conflict and Social Services in Myanmar's Contested Regions
Event: Tuesday, September 9, 2014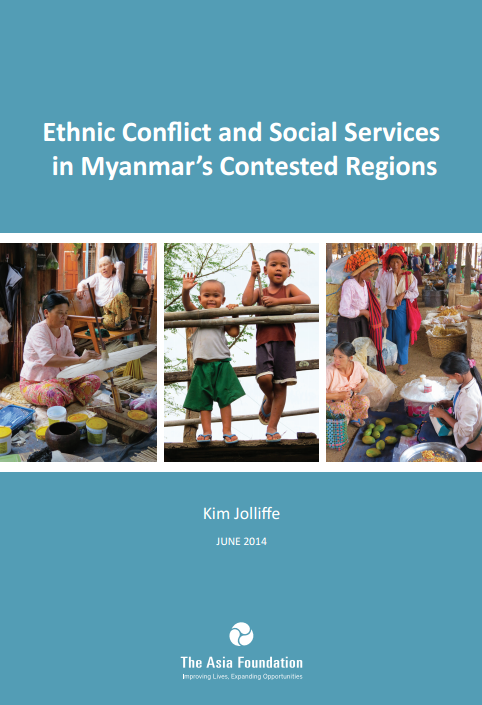 Washington, D.C.
12:30pm – 2:00pm
Speaker:
Kim Jolliffe
Independent research consultant, Author, Ethnic Conflict and Social Services in Myanmar's Contested Regions
As Myanmar takes steps to address its long-running ethnic conflicts, international donors are making commitments to help improve healthcare, education, and other social services for the people of Myanmar. The Asia Foundation commissioned an analysis of the dynamics of social service delivery in the contested regions of Myanmar, and the significance of collaboration between the state and ethnic armed organizations for service delivery and peacebuilding written by Mr. Jolliffe. The Ethnic Conflict and Social Services in Myanmar's Congested Regions report offers guidance on how international aid agencies can direct social service spending to support the peace process and inclusive institutions, rather than exacerbating conflict. Mr. Jolliffe will discuss the findings of the study funded by the UK's DFID and is one of a series of papers on Myanmar released by The Asia Foundation.
Mr. Jolliffe is an independent research consultant specializing in security, development, and humanitarian affairs in Myanmar. With seven years of experience working in the region refugee and exile communities on its borders, Mr. Jolliffe has worked for security think tanks, UN humanitarian agencies, numerous INGOs, and local civil society groups. Mr. Jolliffe works with The Asia Foundation to explore the role of foreign aid to social services including education and healthcare in relation to the current peace process between ethnic armed groups and the government.
RSVP by Friday, September 5th to Ms. Ellie Matthews at [email protected] or call 202-588-9420. RSVPs are required as seating is limited. The venue will be provided with your confirmation.
Change Starts Here Campaign Impact
Thank you for powering The Asia Foundation's mission to improve lives and expand opportunities.