The Asia Foundation Hosts Development Forum: Challenges and Voices for Asia's Future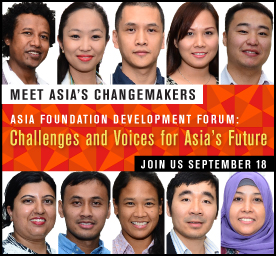 San Francisco, September 10, 2014 — On September 18, The Asia Foundation will host its "2014 Asia Foundation Development Forum: Challenges and Voices for Asia's Future," a unique opportunity in San Francisco to learn from leading development practitioners and next-generation Asian leaders invested in the region's social and economic development challenges. Working across 18 countries in Asia, The Asia Foundation is the premier international development NGO addressing the most critical issues facing Asia today.
Held at the Bechtel Conference Center, the forum features a dynamic group of young change-makers from the Foundation's inaugural 2014 class of Asia Foundation Development Fellows. From Myanmar to Mongolia, Thailand to China, these ten next-generation Asian leaders are committed to solving the region's most pressing development issues. The Foundation's senior experts in Women's Empowerment, Conflict and Development, and Economic Reform will join the discussion along with the country representative from Indonesia. Other forum participants include policymakers, business leaders, and scholars.
Forum topics will include:
Asia's Challenges of Good Governance
Asia's Challenges for Inclusive Growth and Development
Asia's Challenges for Environment and Sustainable Development
Asia's Development Challenges 2015
The Development Fellows are an accomplished group of rising development leaders, under age 40, selected from the fields of government, nonprofit organizations, social enterprises, and media representing nine Asian countries. The September forum is part of the 2014 Asia Foundation Development Fellows' two-week capstone program in Washington, D.C. and San Francisco. The year-long program included a leadership training in Singapore followed by a development program component in the Philippines last April.
The Asia Foundation has been supporting emerging development leaders for many decades. This year, as the Foundation marks its 60 years in Asia, the nonprofit continues this tradition by nurturing the next generation of leaders in their efforts to respond to the critical issues impacting Asia.
Read more about the Development Fellows program and the forum. To attend the event please RSVP as seating is limited. Click here to email your confirmation by September 15.
Engage with us at #AsiaDevFellows as we contribute fresh and inspiring thinking on the future of Asia and follow updates on Facebook, on Twitter at: @Asia_Foundation, and on Instagram at: @theasiafoundation.
Read our latest news, or insights from our blog.
Media contacts
Amy Ovalle, Vice President, Global Communications
[email protected]
415-743-3340
Eelynn Sim, Director, Media & Strategy
[email protected]
415-743-3318
Change Starts Here Campaign Impact
Thank you for powering The Asia Foundation's mission to improve lives and expand opportunities.