WEF Declares Philippines Most Improved Country in Global Competitiveness
September 10, 2014
The Filipino workforce has long been considered to be internationally competitive, exemplified in its impressive performance in the business process outsourcing and overseas labor markets. However, it is only recently that Philippine competitiveness has been recognized on a global scale.
Last week, the World Economic Forum's new Global Competitiveness Report, which looked at the competitiveness of 144 economies based on 2013 data and a survey of business perceptions up to May 2014, declared the Philippines the "most improved country overall," rising seven notches to 52nd place.
This is welcome news to the Philippines, particularly since it has been rocked by numerous natural calamities, most devastating of which was Typhoon Yolanda last November that left nearly 8,000 dead, affected 16 million people, and resulted in the virtual destruction of the major productive assets (e.g., agriculture and food manufacturing) amounting to about $10 billion in economic damages according to the International Disaster Database. The country's rise in its competitiveness standing is all the more surprising on several counts.
First, the Philippines has risen 33 places since 2010 when it ranked 85th, marking the biggest improvement among all countries during that period. The other top 10 gainers include: Latvia (+28 to 42nd), Nepal (+28 to 102nd), Tajikistan (+25 to 91st), Georgia (+24 to 69th), Kazakhstan (+22 to 50th), Lesotho (+21 to 107th), Azerbaijan (+19 to 38th), Zambia (+19 to 96th), and Rwanda (+19 to 62nd). Such gains show that significant progress is not only possible among the lower ranked countries, but that there is room in the top one-third (48th or better, the official target of the National Competitiveness Council) for countries other than what the report calls advanced economies. The Philippines' current ranking is now close to this official ranking, in running with Panama (48th), Italy (49th), Kazakhstan (50th), and Costa Rica (51st), and ahead of more industrialized countries such as Russia (53rd), South Africa (54th), Brazil (57th), Mexico (61st), India (71st), and the Ukraine (76th).
Second, this development helps to change the public image of the Philippines as the "sick man of Asia" and the "odd man out" in a dynamic ASEAN region. The improvement is the highest in the ASEAN region since 2010 and has narrowed the gap with the top five ASEAN countries. Vietnam, which ranked 59th in 2010, has since slipped to 75th in 2012 and recovered slightly to 68th in 2014. The next closest ASEAN country Indonesia, which ranks 34th, has only shown a 10-point increase since 2010, compared to a 33-point increase for the Philippines.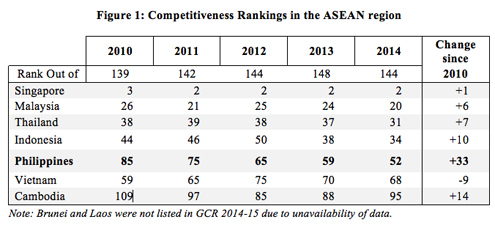 Third, the competitiveness data shows that this positive development is not a one-time fluke but an improving trend in the Philippines since 2010 that is generally consistent across the board with the 12 pillars of competitiveness. The improvements have been occurring every year with only slight slippages in 2014 in terms of market size (-2 to 35th) and financial market development (-1 to 49th). According to the government, the latest credit rating upgrade to investment grade by the South Korea-based National Information & Credit Evaluation (NICE) group is the 18th positive rating action since President Aquino became president in 2010.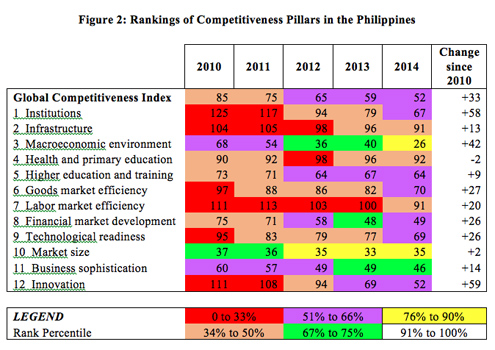 Fourth, the major improvements in the state of Philippine competitiveness are related to pillars that many Filipinos still perceive as being problematic, including innovation (+59), institutions (+58), and the macroeconomic environment (+42). The participation of Filipino workers in fields of innovation is well known and reinforced with the rise in capacity for innovation (+50 to 30th) since 2010. But what is not well known is how government-purchasing decisions are fostering innovation (+76 to 53rd), company spending on R&D (+43 to 42nd), quality of scientific research institutions (+33 to 75th), and the availability of scientists and engineers (+25 to 71st). However the Philippines has lagged further behind in terms of patent applications (-17 to 88th).
On the macroeconomic front, the country registered higher rankings based on economic data on public debt levels (+44 to 58th), government budget balances (+38 to 25th), national savings (+23 to 51st), and inflation (+16 to 57th). The latest employment figures indicate that the macroeconomic performance has reached the grassroots level. Excluding the region devastated by Typhoon Yolanda, over 1.654 million new jobs were created year-on-year in April 2014 – the first time that the government's target of 1 million new jobs per year has been attained since April 2012.
Historical experience shows that Filipinos have shown the world glimpses of their true national character when faced with bad news in back-against-the-wall situations. The question remains on how Filipinos – whose penchant for self-effacing humor in the face of economic turmoil is well known – will react to success stories on national competitiveness that are so few and far between in their history. That outcome may pose the biggest surprise of them all, or not.
Leandro Tomas David D. Tan is Monitoring and Evaluation Specialist for the USAID Advancing Philippine Competitiveness (COMPETE) project, being undertaken by The Asia Foundation in partnership with Nathan Associates Inc., the REID Foundation, the Foundation for Economic Freedom, and Asia Pacific Projects, Inc. The views and opinions expressed here are those of the author and not those of USAID, The Asia Foundation, or other COMPETE implementing partners. An employee of Nathan Associates, he can be reached at [email protected].
About our blog, InAsia
InAsia
is a bi-weekly in-depth, in-country resource for readers who want to stay abreast of significant events and issues shaping Asia's development, hosted by
The Asia Foundation
. Drawing on the first-hand insight of renowned experts,
InAsia
delivers concentrated analysis on issues affecting each region of Asia, as well as Foundation-produced reports and polls.
InAsia
is posted and distributed every other Wednesday evening, Pacific Time. If you have any questions, please send an email to
[email protected]
.
Contact
For questions about
InAsia
, or for our cross-post and re-use policy, please send an email to
[email protected]
.
The Asia Foundation
465 California St., 9th Floor
San Francisco, CA 94104
2023 Leaders on the Frontlines
Join us in San Francisco on October 12, 2023, to honor Niwat Roykaew.