Asian Civil Society Organizations Convene for Jakarta Summit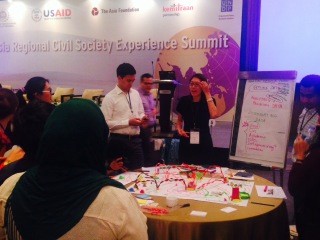 Jakarta, September 15, 2014 — Representatives of 78 civil society organizations (CSOs) from 21 countries across Asia concluded a three day summit in Jakarta on September 10, by releasing a statement to President Obama and the leaders of the United Nations. The Jakarta Civil Society Statement calls on Mr. Obama to further empower civil society and enable CSOs to fulfill their vital role in sustaining democratic and peaceful societies, protection of rights, and provision of services.
The Statement outlines urgent challenges that face CSOs in many countries in Asia such as restrictive legal and regulatory environments that result in closing political space and reduced organizational independence. The Statement also identifies the need for more institutional and financial support for CSOs as well as notes the need for CSOs themselves to practice transparency, accountability and effective internal governance. The statement is addressed to President Obama in hopes of influencing the further development of the Stand With Civil Society agenda he launched with other world leaders on the sidelines of U.N. General Assembly in Sept. 2013.
The CSOs came together this week at the Asia Regional Civil Society Experience Summit where they discussed their common challenges and celebrated their successes. CSOs shared communication and data tools for organization and advocacy and also learned about techniques of human-centered design to amplify CSOs' development impact in advocacy and service delivery. The event was co-sponsored by The Asia Foundation, the Foreign Ministry of Indonesia, USAID, the U.N. Development Programme, and local Indonesian NGO Kemitraan.
Read more about the Foundation and its work in governance.
Read our latest news, or insights from our blog.
Media contacts
Amy Ovalle, Vice President, Global Communications
[email protected]
415-743-3340
Eelynn Sim, Director, Media & Strategy
[email protected]
415-743-3318
Leaders on the Frontlines:
Leaders for a Better World
Tuesday, November 9, 2021, 6PM PT