The Asia Foundation Hosts Forum on Disaster Risk Management in Bangkok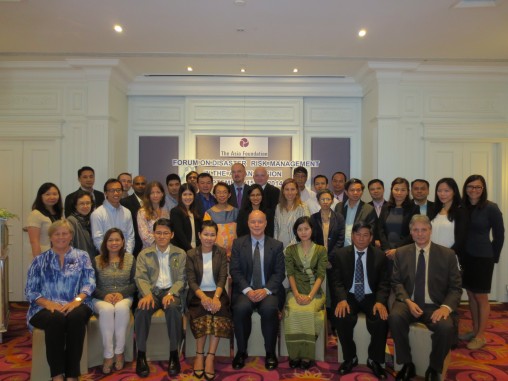 Bangkok, September 17, 2014 — This week (September 15-16, 2014), The Asia Foundation hosted a Forum on Disaster Risk Management in the ASEAN Region. The Foundation's Thailand office and the Environment program unit experts co-hosted the gathering of practitioners from ten countries to discuss disaster risk management for natural disasters, with funding from the U.S. Department of State. The Forum facilitated regional engagement among DRM specialists from ASEAN nations representing government, civil society, the business community, and academia.
Senior government officials included representatives from Lao PDR's Department of Disaster Management and Climate Change, Ministry of Natural Resources and Environment (MONRE); Myanmar's Relief and Resettlement Department, Ministry of Welfare, Relief and Resettlement; Thailand Department of Disaster Prevention and Mitigation (DDPM); and Vietnam's Disaster Management Committee (DMC).
In addition, notable participants from other sectors included those from from Cambodia's NGO Forum; the Secretariat of the Pacific Community; ASEAN Disaster Risk Management; Myanmar Business Executives Association; Net Hope; Google, Thailand; Asian Disaster Preparedness Center (ADPC); Humanitarian Open StreetMap, Indonesia; and the Vietnam Chamber of Commerce and Industry (VCCI).
The experts discussed challenges and opportunities for enhancing coordination on DRM across stakeholders, sectors, and in the region. They also examined DRM priorities, policies, and current challenges, as well as regional ASEAN frameworks and financing for DRM, the application of information communication technologies (ICTs) to DRM, and the link between DRM and climate change adaptation. Key points identified included the need for coordinating diverse stakeholders in DRM, gaining a better understanding of who-is-doing-what, and further engaging the private sector in DRM.
Read more about the Foundation and its Environment Programs.
Read our latest news, or insights from our blog.
Media contacts
Amy Ovalle, Vice President, Global Communications
[email protected]
415-743-3340
Eelynn Sim, Director, Media & Strategy
[email protected]
415-743-3318
Leaders on the Frontlines:
Leaders for a Better World
Tuesday, November 9, 2021, 6PM PT