The Asia Foundation Commemorates Six Decades of Addressing Asia's Critical Issues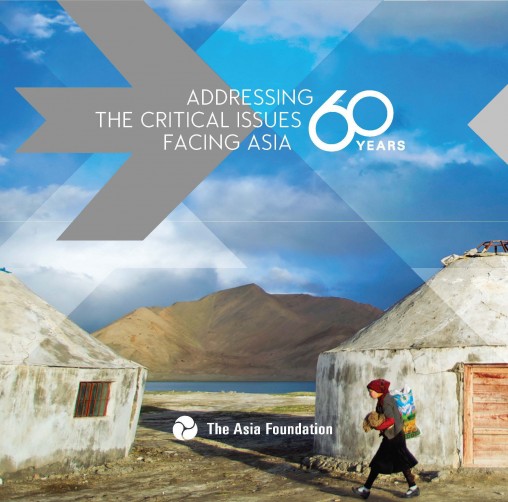 San Francisco, September 18, 2014 — This evening, The Asia Foundation commemorates six decades of improving lives and expanding opportunities at a gala fundraising dinner—its first in San Francisco. Ambassadors, civic and corporate leaders, and philanthropists shaping social, political, economic, and cultural life in the Bay Area and elsewhere will recognize the Foundation's creation of a more peaceful, just, and thriving Asia since its founding in 1954 in San Francisco, the gateway to the Asia-Pacific. Hosted by Civic Leader Janet Reilly, the evening will include special congratulations by California Senator Dianne Feinstein and Honorable George P. Shultz, honorary gala co-chairs. The program will also include a brief reflection by President David Arnold on the Foundation's year-long international anniversary campaign drawing attention to the most critical issues affecting Asia in the 21st century.
Earlier this year, Mr. Arnold asserted that Asia's economic success sometimes obscures the critical issues and challenges still affecting the region. "As international crises continue to rock the world, a peaceful, just, and thriving Asia matters more than ever. Throughout the Foundation's history, we have worked to address the critical issues standing in the way of Asia's ability to fulfill the hopes and dreams of more than half the world's population. These issues include: poverty; lack of transparency in government; exclusion of women; ethnic and religious conflict; human rights; and disaster management. With each year, our work becomes more urgent and more imperative."
Judith F. Wilbur, a trustee of The Asia Foundation and widow of Brayton Wilbur Jr., a former chairman of the Foundation and whose father, Brayton Sr., was a founder in 1954; and S. Timothy Kochis, a trustee and founding member of the President's Leadership Council of The Asia Foundation, and CEO of Kochis Global, are gala co-chairs.
California Senator Dianne Feinstein, who earlier this year received The Asia Foundation's inaugural Chairman's Award in appreciation for her distinguished service and longstanding commitment to U.S.-Asia Relations said: "The Pacific Ocean is the ocean of the future—with both sides forming a peaceful community of allies, not antagonists. The Asia Foundation plays a very strong role in that regard and I am very grateful."
Honorable George P. Shultz expressed his warm congratulations: "The Asia Foundation has helped produce a spread of democratic and representative governments in Asia. It has developed leaders of consequence. And I wish the Foundation all the best in the next 60 years."
The evening will also honor The Merali Foundation, established by the late Pandju Merali, a successful businessman and philanthropist, to honor his wife, Shirin, and provide young women in the developing world access to higher education. Since 2010, the Foundation has partnered with the Merali Foundation to provide close to 500 young women from low-income backgrounds with scholarships to pursue university degrees in Cambodia, Laos, Mongolia, Malaysia, and Vietnam.
Six decades after its founding, The Asia Foundation remains committed to helping Asian leaders meet the challenges they face today. The international development nonprofit continues this tradition with its Development Fellows program that invests in young Asian changemakers responding to the critical issues impacting the region. The Fellows will share their insights at the "2014 Asia Foundation Development Forum: Challenges and Voices for Asia's Future" in San Francisco today.
Generous Sponsors
Proceeds from The Asia Foundation's 60th Anniversary gala will be earmarked for the Foundation's permanently restricted fund. This new fund ensures that the Foundation's work on the ground in Asia enhancing civil society, empowering women, and promoting good governance continues. Charles Schwab is the Lead Corporate Sponsor. Chevron; Chien Lee and Kitty Chou; Thomas P. and Shelagh Rohlen; and Judith F. Wilbur are Global Sponsors. Franklin Templeton Investments; Wilbur-Ellis; Connell Brothers; William H. Draper III and Phyllis Draper; Stephen and Maria Kahng; Bill S. and Mary Kim; S. Timothy Kochis and Penelope Wong; and Janet and Clint Reilly are Golden Benefactors. Michael H. and Bonny Armacost; David D. and Sherry Arnold; Alexander D. and Connie Calhoun; William H.C. and Diana Chang; Jared Frost; Give2Asia; Masako and James Shinn; Suzanne E. Siskel and Peter Gajewski; Mary and Paul S. Slawson; and Union Bank are Patrons. Special thanks to Rancho Sisquoc Winery and Leewood Press. Inc.
Read our latest news, or insights from our blog.
Media contacts
Amy Ovalle, Vice President, Global Communications
[email protected]
415-743-3340
Eelynn Sim, Director, Media & Strategy
[email protected]
415-743-3318
Change Starts Here Campaign Impact
Thank you for powering The Asia Foundation's mission to improve lives and expand opportunities.