Discussion Series Examines Myanmar's Path to Decentralization
October 29, 2014
Since Myanmar's President U Thein Sein took office in April 2011, the country has embarked on a dramatic set of reforms that have shifted the nation from one of the world's most repressive regimes to this year's Chair of ASEAN, and next month, host of two major global forums – the ASEAN Summit and ninth East Asia Summit. In the domestic reform agenda, issues related to decentralization and local governance are emerging as critical to the country's democratic transition and long-term development.
There is a real need for timely research and analysis on key reform areas in decentralization and local governance to ensure a sound empirical basis for policy considerations and public debate resulting in reforms that can reach across Myanmar's diverse and unevenly populated regions. Through a collaboration with the Myanmar Development Resource Institute's Centre for Economic and Social Development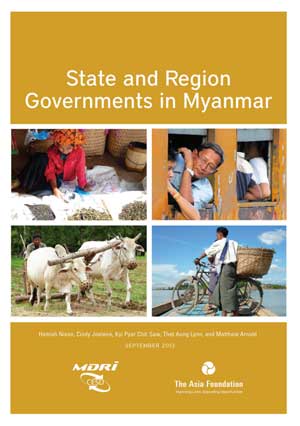 (MDRI-CESD), The Asia Foundation and MDRI-CESD produced the first major review of Myanmar's decentralization reforms, "State and Region Governments in Myanmar" in September 2013. This research covers the political, administrative, and fiscal dimensions of decentralization and has become a foundation document for policymakers, donors, aid practitioners, and civil society members interested in better understanding how decentralization is unfolding.
Building upon this work, MDRI-CESD and The Asia Foundation started a "Subnational Governance in Myanmar Discussion Paper Series" in February 2014. Now in its sixth volume, the papers provide Myanmar's policymakers at national and local levels, civil society organizations, the business community, and development partners with research findings on subnational governance issues that directly inform policy and reform processes. We will continue to produce additional analytical work to deepen understanding of institutions and processes affecting decentralization and local governance, which is informing the Foundation's own initiatives to support public sector reform. Below are brief descriptions with links to download the full reports on The Asia Foundation's website.
"A Preliminary Assessment of Decentralization in Education: Experiences in Mon State and Yangon Region," Brooke Zobrist and Patrick McCormick. A look at how the Ministry of Education is responding to the government's push toward decentralization. Intended to reach a general readership, the paper provides the relevant history, policy structures, and overarching reform context affecting the education sector. Using data collected through fieldwork carried out in Mon State and Yangon Region, the authors illustrate and analyze important trends shaping the wider education sector and the intersection between national policies and changes in local governance. The paper concludes with key policy considerations by the authors. Download paper.
"Subnational Governments and Business in Myanmar," Jared Bissinger and Linn Maung Maung. Analyzes the role that local government institutions in Myanmar play in economic governance and how this affects small- and medium-sized businesses. Intending to provide a more nuanced view of the reality for businesses operating in Myanmar, the research team carried out 30 in-depth interviews and focus groups with businesses, business associations, and government officials in two cities, Mawlamyine in Mon State and Monywa in Sagaing Region. Read a blog post about this report; download paper.
"Women's Participation in the Subnational Governance of Myanmar," Paul Minoletti. Outlines women's participation in the various forms of subnational governance in Myanmar, discuss why women's participation matters, and identifies the barriers and enabling factors to their participation. The findings are intended to inform discussion on this issue among the government, civil society, political parties, and development partners. Download paper.
"Natural Resources and Subnational Governments in Myanmar," Thet Aung Lynn and Mari Oye. Provides an overview of the current role of subnational government in natural resource management and revenue collection, and explores potential sharing of resource revenues between the national government and the states/regions to inform future analysis of the potential risks and benefits of changes to the role of subnational governments. Download paper.
"Fiscal Decentralization in Myanmar: Toward a Roadmap for Reform," Hamish Nixon and Cindy Joelene. Introduces a "roadmap" for Myanmar's fiscal decentralization — the backbone of Myanmar's efforts to strengthen public services, encourage development across the country, and secure peace and stability. Download paper.
"Administering the State in Myanmar: An Overview of the General Administration Department," Kyi Pyar Chit Saw and Matthew Arnold. Examines Myanmar's General Administration Department (GAD) of the Ministry of Home Affairs, which acts as the civil service department for the new state and region governments and provides the administration for the country's districts and townships. Provides information on how GAD is organized, its roles and functions, and how it has evolved over time, based on a literature review and a series of in-depth interviews. Download paper.
Kim N. B. Ninh is The Asia Foundation's country representative in Myanmar and Matthew B. Arnold is the Foundation's assistant director for Program Strategy, Innovation, and Learning based in Bangkok. They can be reached at [email protected] and [email protected]. The views and opinions expressed here are those of the individual authors and not those of The Asia Foundation.
About our blog, InAsia
InAsia
is a bi-weekly in-depth, in-country resource for readers who want to stay abreast of significant events and issues shaping Asia's development, hosted by
The Asia Foundation
. Drawing on the first-hand insight of renowned experts,
InAsia
delivers concentrated analysis on issues affecting each region of Asia, as well as Foundation-produced reports and polls.
InAsia
is posted and distributed every other Wednesday evening, Pacific Time. If you have any questions, please send an email to
[email protected]
.
Contact
For questions about
InAsia
, or for our cross-post and re-use policy, please send an email to
[email protected]
.
The Asia Foundation
465 California St., 9th Floor
San Francisco, CA 94104
2023 Leaders on the Frontlines
Join us in San Francisco on October 12, 2023, to honor Niwat Roykaew.