The Asia Foundation's 2014 Survey of the Afghan People
Event: Tuesday, November 18, 2014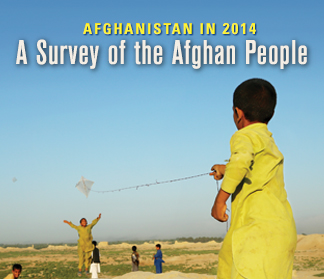 9:30 – 11:30 am
Registration begins at 9:00 am
United States Institute of Peace
2301 Constitution Ave. NW, Washington, DC 20037
The Asia Foundation, in partnership with the United States Institute of Peace, is pleased to invite you to a presentation of the findings of the 2014 Survey of the Afghan People.
With the conclusion of the first democratic transition of power in the country's history and the continuing drawdown of foreign troops, what do the people of Afghanistan think are the most critical issues facing the country? This survey, based on face-to-face interviews with a nationally representative sample of nearly 9,300 Afghan citizens, reveals their views on security, national reconciliation, the economy, development and essential services, governance and political participation, corruption, justice, gender equality and access to information.
Conducted across the country's 34 provinces, The Asia Foundation's series of annual surveys in Afghanistan provides an unmatched barometer of Afghan public opinion over time. Since 2004, 65,558 respondents nationwide have been interviewed as part of the survey; taken together the surveys serve as a resource for policymakers in government, the international community and the broader Afghan public.
Featuring experts from The Asia Foundation:
David D. Arnold, President
Najla Ayubi, Deputy Country Representative in Afghanistan
Zach Warren, Survey and Research Director in Afghanistan
Opening remarks:
Andrew Wilder, Vice President, South & Central Asia Programs, U.S. Institute of Peace
Moderator:
Scott Smith, Director for Afghanistan and Central Asia, US Institute of Peace
Please RSVP to USIP by Wednesday, November 12.
Please note: RSVPs are required for attendance. With questions or media inquiries, please contact Ms. Ellie Matthews at elizabeth.matthews@asiafoundation.org or 202-588-9420.