The Asia Foundation Releases 2014 Survey of the Afghan People
Findings reveal cautious optimism against backdrop of elections and security transition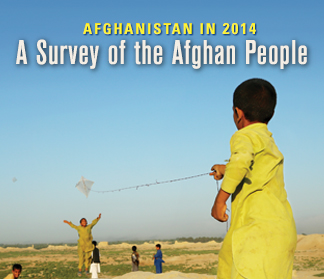 Kabul, November 18, 2014 — Afghan citizens defied security threats and turned out in millions to vote in this year's elections leading to the country's first democratic transition from one elected president to another. Against this backdrop, two-thirds of Afghans surveyed say the recent elections will improve their daily lives, in spite of continuing concerns over insecurity, corruption, and unemployment. The Asia Foundation released these and other findings today in Kabul and Washington, D.C.  In June and July 2014, 9,271 Afghan citizens from all 34 provinces were interviewed face-to-face, following the June presidential run-off election. This year's survey, which provides longitudinal data and analysis over ten years, includes new questions on the election, migration, women's rights, access to health services, and disaster response. Read the survey, executive summary, and FAQ here.
The longest-running and broadest nationwide survey of Afghan attitudes and opinions, the Survey of the Afghan People provides insight into the views of Afghans on issues central to the country's development. Since 2004, the annual survey has polled more than 65,000 Afghans. This year's findings come at a critical time and are particularly useful for Afghans and the international community during the current transition, including the September inauguration of President Ashraf Ghani, the formation of a unity government together with Dr. Abdullah Abdullah as Chief Executive, and the limited presence of foreign troops at the end of 2014.
"A unique lens into Afghan public opinion, this year's survey reflects the recent political transition and expectations for change," said Abdullah Ahmadzai, currently representing The Asia Foundation in Afghanistan. "Roughly two-thirds of Afghans are hopeful that the result of the recent election will improve their lives, and most believe that the government's reconciliation efforts with armed opposition groups will increase stability in the country. Economic issues and corruption also play a major role in shaping Afghan public opinion."
Afghans are hopeful and expect change
A major driver of national optimism in this year's survey is the 2014 presidential election. Democracy and the elections are increasingly cited as a reason for optimism, exceeding levels reported in 2010 in the wake of the 2009 presidential elections. Roughly 69.7% of women surveyed say they voted in the 2014 election, while 43.4% report voting in 2009. In addition, 67.4% of Afghans surveyed say they feel safe expressing their opinions about the government in public. Overall, 54.7% of Afghans say the country is moving in the right direction, down from 57.2% in 2013, while 40.4% say it is moving in the wrong direction, up from 37.9% in 2013. Despite yearly fluctuations, the long-term trend since 2006 shows an increase in the perception of Afghans that the country is moving in the right direction.
Insecurity, corruption, and unemployment/economy play major role in shaping opinion
Afghans identify insecurity (34.0%), corruption (28.4%), unemployment (25.7%), and the economy (10.8%) as the top problems currently facing Afghanistan on the national level. The number of people citing insecurity has risen sharply from 2013 to 2014. Around three-quarters of Afghans say that their economic situation in 2014 is worse or the same as it was in 2013, and only one-fifth say 2014 was better.
Afghans express satisfaction with public institutions and services
Election campaign platforms promising improvements in governance and services likely contributed to a sense of hope this summer. Many Afghans continue to perceive progress in the areas of reconstruction, security, and education. 75.3% of Afghans say the national government is doing a good job. Two-thirds say their provincial government (67.6%) is doing a good job; municipal authorities (58.5%) and district government (56.7%). For the second year in a row, Afghans say the media, rather than religious leaders, is the institution in which they are most confident (72.7%).
Afghans support expanding roles for women, but the survey's longitudinal data reflect women losing ground in some areas
67.8% of Afghans say women should be able to work outside the home, while longitudinal trends suggest increasing concern about domestic violence and job opportunities. This year, for the first time ever, more Afghans say political positions in government should be mostly for men (46.1%) than the number who say political positions should be shared equally between men and women (42.1%). "Despite the tremendous gains for women since 2001, Afghan women today continue to face significant challenges, including barriers to political and economic participation," said Najla Ayubi, The Asia Foundation's deputy country representative in Afghanistan. "Lack of education/literacy, lack of job opportunities, domestic violence, and forced marriage/dowry payments are the biggest problems facing Afghan women in this year's survey."
Access the survey, data sets, and infographics here. Follow @Asia_Foundation and join the conversation at #AfghanSurvey.
The Asia Foundation in Afghanistan
The Asia Foundation is a nonprofit international development organization committed to improving lives across a dynamic and developing Asia. The Asia Foundation began working in Afghanistan in 1954 and re-opened its Kabul office in 2002. Since then, the Foundation has assisted the central and provincial government and supporting Afghan citizens to create a stable, prosperous society. Programs focus on the development of subnational governance; strengthen key executive branch agencies; and support programs in civic education, women's empowerment, education, Islam and development, and free and fair elections.