Q&A: Najla Ayubi Discusses Afghanistan's New Leadership & Afghan Survey Findings
November 19, 2014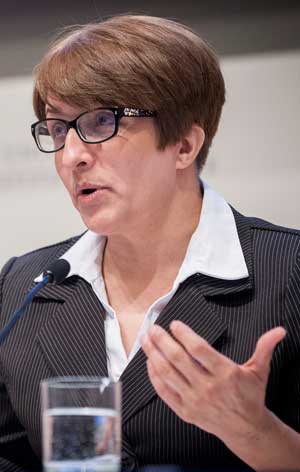 In Asia editor Alma Freeman spoke with Judge Najla Ayubi, The Asia Foundation's deputy country representative in Afghanistan, for her reaction to the just-launched 2014 Survey of the Afghan People.
In the lead-up to the run-off election in July, you wrote about concerns over ethnic divisions and security. What are your thoughts now under Afghanistan's new leadership?
After all of the heated disputes surrounding the presidential election, finally Afghanistan has a unity government under the leadership of Dr. Ghani and Dr. Abdullah. So far I think these two leaders are working very well with each other, but there are still people within their teams who are following ethnic lines in their decision-making.
The unity government has made several positive steps so far, such as prioritizing a campaign against corruption, including accusations of corruption in the judiciary system. Soon after his inauguration in late September, President Ghani requested the Supreme Court to review all employees of the courts based on a system of punishment and rewards. He also called upon the judiciary to speed up the Kabul Bank corruption case and launched a corruption investigation against five former cabinet ministers who served under the previous administration.
I was also happy to see that President Ghani's administration chose to make early strategic visits to Saudi Arabia, China, and Pakistan, which will definitely have an impact on Afghan foreign relations, as well as the security and economic stability of the country.
I was surprised, however, by the lack of women in the decision-making process for the formation of the unity government. We saw a low presence of women in the election campaigns of both Ghani and Abdullah, as well as limited participation in the negotiations over the power-sharing agreement between the two. Time will tell how both of these leaders, especially Dr. Ghani, will keep his promise of greater women's involvement and to convince his counterpart and both teams to address women's participation in the decision making process.
The Asia Foundation's new survey cites the biggest increase this year in the number of people who say insecurity is the biggest problem (34% in 2014 compared to 29.8% in 2013). As the country transitions, what is your reaction to this increase?
I think that one of the main reasons for this increase is due to the rise in suicide attacks that took place in different parts of the country before and after presidential and provincial council elections on April 5. Simultaneously there were constant military operations by the Afghan National Security Forces (ANSF), illegal armed groups causing fear, and an increased presence of Afghan local police on the streets.
It's also important to note that since the withdrawal of international forces and reduction of aid assistance to Afghanistan, the percentage of Afghans who say that unemployment is the biggest problem facing their area has increased — the survey cites a rise from 25.7 percent in 2009 to 33.1 percent in 2014 — which has had an effect on many Afghan youth who were relying on international support for jobs. In this matter, unemployment is also huge issue for security – 22 percent of survey respondents cited unemployment as the biggest cause of crime in the country. A major test in 2015 will be Afghanistan's ability to support job creation, particularly for the country's "youth bulge" rapidly coming of age and seeking employment opportunities. I think one of the most important things is to encourage national and international companies to invest in Afghanistan to increase employment opportunities. Policy reforms that create such opportunities will be critical as Afghanistan transitions – particularly since 68 percent of the population is under the age of 25 and in need of jobs that are sustainable and contribute to the economy.
Around two-thirds (67.8%) of Afghans say that women should be able to work outside the home. What opportunities do you see for women in the next five years? What are the biggest challenges?
In fact, Afghan women have long played a very important role in our society as effective traditional leaders in peace processes and as teachers educating generations of Afghans, particularly in the past few decades. More emphasis needs to be put on enabling women to use these skills productively in more policy-level positions where they could help push more for women's priorities.
Last year, USAID launched a five-year program targeting the education, promotion, and training of a new generation of Afghan women. Programs like this that aim to increase women's contributions to Afghanistan's development by strengthening women's rights groups, boosting female participation in the economy, increasing the number of women in decision-making positions within the Afghan government, and helping women gain business and management skills that will have a lasting impact on women's rights in the future.
What surprised you most in this year's survey results?
I was surprised to see that 22 percent of respondents – an increase from 10 percent in 2013 – said that they recognize the Afghan government as a funding source for reconstruction and development, which is a positive sign for citizens' recognition of the government.
I was also surprised that education and illiteracy are again on the top of the list of biggest problems facing women. This means that the demand for education continues to be very high and therefore respondents are eager to report this as a major ongoing problem.
The views and opinions expressed here are those of the individual and not those of The Asia Foundation.
About our blog, InAsia
InAsia
is a weekly in-depth, in-country resource for readers who want to stay abreast of significant events and issues shaping Asia's development, hosted by
The Asia Foundation
. Drawing on the first-hand insight of over 70 renowned experts in over 20 countries,
InAsia
delivers concentrated analysis on issues affecting each region of Asia, as well as Foundation-produced reports and polls.
InAsia
is posted and distributed every other Wednesday evening, Pacific Time. If you have any questions, please send an email to
[email protected]
.
Contact
For questions about
InAsia
, or for our cross-post and re-use policy, please send an email to
[email protected]
.
The Asia Foundation
465 California St., 9th Floor
San Francisco, CA 94104
Mailing Address:
PO Box 193223
San Francisco, CA 94119-3223