Survey Reveals 2014 Election Major Driver of Optimism in Afghanistan
November 19, 2014
On September 21, Ashraf Ghani sent his first tweet as Afghanistan's new president: "Thank you, all! Our work for a better & prosperous Afghanistan starts today. I request everyone to join us in this vital national task." Despite what seems like a daily news ticker of doom – "insurgent violence on the rise in Kabul," "opium cultivation at an all time high," "bribery rampant in customs system" – millions of Afghan citizens defied security threats to vote in this year's elections, and, as reflected in The Asia Foundation's just-launched 2014 Survey of the Afghan People, many are cautiously optimistic and ready for change.
Conducted between June 22 and July 8, 2014, just weeks after the country's first runoff election on June 14 and prior to the recount of the ballots by the Independent Election Commission (IEC), roughly two-thirds of respondents said they are hopeful that the result of the recent election will improve their lives, and most believe that the government's reconciliation efforts with armed opposition groups will increase stability in the country. Democracy and the elections are increasingly cited as a reason for optimism, exceeding levels reported in 2010 in the wake of the 2009 presidential elections.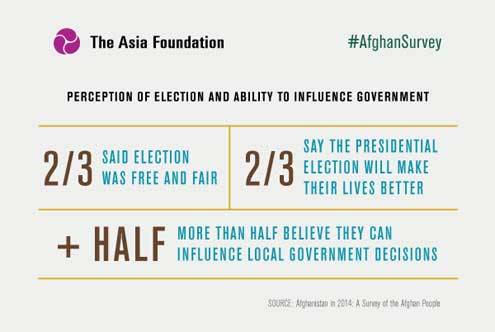 The annual survey, the country's broadest and most comprehensive public opinion poll with 9,271 Afghans interviewed face-to-face this year across all 34 provinces of Afghanistan, provides insight into the views of citizens on issues central to the country's development. This year's findings come at a critical time and are particularly useful for Afghans and the international community during the current transition and formation of the National Unity Government, with Dr. Abdullah Abdullah as chief executive, and the limited presence of foreign troops at the end of 2014.
Below are key findings from the survey:
A major driver of national optimism in this year's survey is the 2014 presidential election and the turnout for the election was much higher than anticipated. The percentage of Afghans who say they feel fear while participating in an election (45.8%) in 2014 is significantly lower than in 2013 (57.2%), while 67.4 percent say they feel safe expressing their opinions about the government in public. Roughly 69.7 percent of women surveyed say they voted in the 2014 election, while just 43.4 percent report voting in 2009.
Overall, 54.7 percent of Afghans say the country is moving in the right direction, down from 57.2 percent in 2013, while 40.4 percent say it is moving in the wrong direction, up from 37.9 percent in 2013. Despite yearly fluctuations, the long-term trend since 2006 shows an increase in the perception of Afghans that the country is moving in the right direction.
Afghans identify insecurity (34.0%), corruption (28.4%), unemployment (25.7%), and the economy (10.8%) as the top problems currently facing Afghanistan on the national level. The number of people citing insecurity has risen sharply from 2013 to 2014. Around three-quarters of Afghans say that their economic situation in 2014 is worse or the same as it was in 2013, and only one-fifth say 2014 was better. However, the economy is a top concern because those citing the unemployment and poor economy combined at 36.7 percent was in fact higher than insecurity. Some reasons for this could be that at the time of polling, many reconstruction efforts had been delayed due to uncertainty around the elections, the Bilateral Security Agreement had not yet been signed, and major donor contributions to various projects were on hold.
Election campaign platforms promising improvements in governance and services likely contributed to a sense of hope this summer. Many Afghans continue to perceive progress in the areas of reconstruction and education. 75.3 percent of Afghans say the national government is doing a good job. Two-thirds say their provincial government (67.6%) is doing a good job, followed by municipal authorities (58.5%) and district governments (56.7%).
For the second year in a row, Afghans say the media, rather than religious leaders, is the institution in which they are most confident (72.7%).
Afghans support expanding roles for women, but the survey's longitudinal data reflect women losing ground in some areas. 67.8 percent of Afghans say women should be able to work outside the home, while longitudinal trends suggest increasing concern about domestic violence and job opportunities. This year, for the first time ever, more Afghans say political positions in government should be mostly for men (46.1%) than the number who say political positions should be shared equally between men and women (42.1%).
The percentage of Afghans who say they are unemployed and currently looking for work increased from 6.6 percent in 2013 to 10.7 percent in 2014. At the same time, men's self-reported unemployment has dropped from a high of 25.5 percent in 2009 to 10 percent in 2014, while women's self-reported unemployment has increased from a low of 0.1 percent in 2009 to a high of 11.3 percent in 2014. Because the percentage of women who say they are working remains steady, this increase in self-reported unemployment likely does not represent an increase in women's joblessness, but rather an increase in interest among women to join the workforce.
For the first time, this year the survey looked at the issue of migration. Nearly one-quarter of Afghans say that they left Afghanistan at some point over the past 23 years (i.e., since the fall of the Najibullah government), while 14.5 percent say they moved from one province to another. While war and insecurity were the most commonly cited reasons for leaving the country or province, economic reasons are also salient. Among those who left the country, 27 percent say they did so due to the economy or lack of jobs.
Download the full 2014 Survey of the Afghan People on The Asia Foundation's website, and read further coverage here. 
Abdullah Ahmadzai is The Asia Foundation's acting country representative in Afghanistan. He can be reached at abdullah.ahmadzai@asiafoundation.org. The views and opinions expressed here are those of the individual author and not those of The Asia Foundation.
About our blog, InAsia
InAsia
is a weekly in-depth, in-country resource for readers who want to stay abreast of significant events and issues shaping Asia's development, hosted by
The Asia Foundation
. Drawing on the first-hand insight of over 70 renowned experts in over 20 countries,
InAsia
delivers concentrated analysis on issues affecting each region of Asia, as well as Foundation-produced reports and polls.
InAsia
is posted and distributed every other Wednesday evening, Pacific Time. If you have any questions, please send an email to
editor.inasia@asiafoundation.org
.
Contact
For questions about
InAsia
, or for our cross-post and re-use policy, please send an email to
editor.inasia@asiafoundation.org
.
The Asia Foundation
465 California St., 9th Floor
San Francisco, CA 94104
Mailing Address:
PO Box 193223
San Francisco, CA 94119-3223