The Asia Foundation and ODI Launch "Working Politically in Practice" Study Series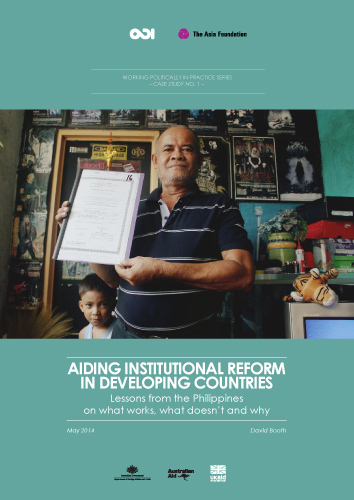 San Francisco, November 19, 2014 — The Asia Foundation and the Overseas Development Institute (ODI) recently launched a new paper series called "Working Politically in Practice," supported by the Department of Foreign Affairs and Trade Australia (DFAT). While donors and aid practitioners increasingly recognize the value of working politically, many are struggling with how to operationalize a politically-informed approach to development assistance. A key contribution of this series will be case studies examining several examples of iterative, politically-informed Foundation programs that are currently underway or recently completed. The purpose of this cutting-edge research is to expand the evidence base for understanding how, when, and under what circumstances an iterative, politically-informed approach works best.
The first paper in the series, Aiding Institutional Reform in Developing Countries: Lessons from the Philippines on what works, what doesn't and why, examines two completed reform programs by the Foundation, one concerning the formalization of residential land rights, and the other taxation and public health. Written by David Booth, research fellow at ODI, the report explores how these transformational reforms were achieved with support from donors.
The second paper of the series delves into the practice of what has been called Development Entrepreneurship, an operational model that provides a coherent, evidence-based alternative to standard donor practices. The paper identifies five distinguishing features of Development Entrepreneurship and explains and discusses the rationale of each. These first two papers were co-funded by DFAT and the Department for International Development UK (DFID).
As part of this series, an additional three case studies will examine Foundation programs being implemented in Bangladesh, Mongolia, and Cambodia, through an action research approach that is currently underway. These cases will trace the key programmatic decisions made over the life of the initiative, identify the ways in which relationships and evolving knowledge informed decision making processes, and assess how this iterative programmatic approach affected achievement of development outcomes. For this purpose, ODI researchers will make periodic field visits to the three ongoing program initiatives. In each case, they will observe and reflect on how program managers go about building critical relationships, deepening their understanding of the political and technical dimensions of the problems, and making programmatic decisions in light of changing conditions and new information.
By providing detailed examples of such programs in action, the case studies will help inform the growing community of practitioners who are interested in replicating and expanding this approach.
Read more about the Foundation's work in the Philippines.
Read our latest news, or insights from our blog.
Media contacts
Amy Ovalle, Vice President, Global Communications
[email protected]
415-743-3340
Eelynn Sim, Director, Media & Strategy
[email protected]
415-743-3318
Change Starts Here Campaign Impact
Thank you for powering The Asia Foundation's mission to improve lives and expand opportunities.