The Asia Foundation and Australian Government Launch Working Paper Series
First paper available: Strategic Uses of Data for Urban Development in Asian Cities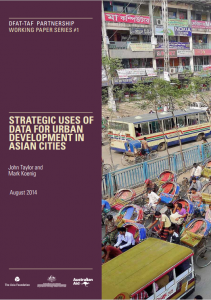 November 25, 2014 — Through its partnership with the Australian Department of Foreign Affairs and Trade (DFAT), The Asia Foundation today launched a new Working Paper series. The aim of the series is to draw on and share the rich lessons being learned through the country and regional programs that are implemented under the DFAT-Foundation partnership. The partnership is a new form of collaboration aimed at supporting program and policy innovation that can improve aid effectiveness in the Asia-Pacific. The main premise underlying the partnership is that investment in knowledge exchange and joint learning at the strategic and program levels can improve the impact and value for money achieved by both organizations. The primary purpose of the partnership is to develop, test, and promote cost-effective innovations that increase the impact of development assistance and respond to the dynamic and evolving needs of the region.
The first paper in this series, Strategic Uses of Data for Urban Development in Asian Cities, looks critically at two trends affecting Asia's development: rapid urbanization and the spread of technology. Asia is urbanizing rapidly, with half of the region's population projected to reside in urban areas by 2020. Asian countries face a number of challenges related to rapid urbanization, including congestion, pollution, rising urban poverty, and squatter settlements. These factors, as well as corruption, pose obstacles for urban governments and residents alike when it comes to service provision, access to information, and fairness in the distribution of limited city resources. However despite the challenges, the dynamism and interaction of diverse interests in Asia's cities also create significant opportunities for generating innovative solutions to intractable problems.
The paper offers a framework to better understand different ways that flows of information can have positive impacts on urban governance, and provides a resource for thinking through how to craft effective strategies for achieving impact in cities using data. The study also considers how increasing the access to data and information can affect the interests and decision-making processes of government stakeholders, and explores whether greater public access to information changes the nature of pressuring government for better outcomes. Ultimately this work will open new insights and opportunities for collaboration, and enhance the knowledge base on which DFAT and The Asia Foundation can draw in efforts to improve development programs and policy going forward.
The ongoing series will also help inform the broader international community, helping to better ground discussion in empirical evidence, advance theoretical debates, and ultimately improve development policy and practice across a variety of subject areas.
Read more about the Foundation and its work in Governance and Law.
Read our latest news, or insights from our blog.
Media contacts
Amy Ovalle, Vice President, Global Communications
[email protected]
415-743-3340
Eelynn Sim, Director, Media & Strategy
[email protected]
415-743-3318