2014 LankaCorps Fellows
November 28, 2014 — LankaCorps is a unique opportunity for young leaders of Sri Lankan heritage to professionally engage in social, cultural, and economic development activities in Sri Lanka. The program aims to foster the involvement and understanding of young members of the expatriate Sri Lankan community who have limited in-depth experience with the country of their heritage. Each year, The Asia Foundation selects an outstanding group of LankaCorps Fellows to live and work for six months in Sri Lanka, granting them the unique chance to "explore their roots while giving back."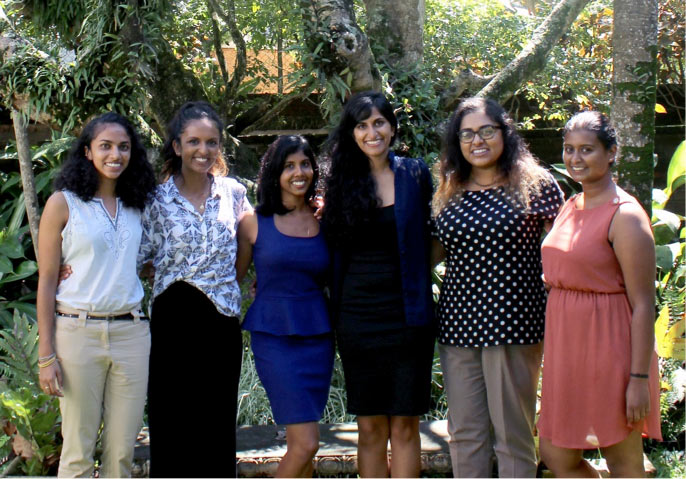 The third class of LankaCorps Fellows and their July – December 2014 placements:
Ms. Angeli Jeyarajah, Verite Research Pvt Ltd
Ms. Jeyarajah was involved in an initiative to support female politicians in Sri Lanka. Her work included liaising directly with MPs and parliamentary staff, providing research on areas directly concerning women such as domestic abuse and foreign employment, conducting literature reviews, as well as drafting written proposals for different research projects. Angeli also conducted an independent study on language dynamics in Sri Lanka, the findings of which she presented at an internal seminar in December 2014.
Ms. Mira Philips, Centre for Poverty Analysis (CEPA)
Ms. Philips' responsibilities included carrying out research on CEPA's Post-war theme, writing literature reviews and blogs, helping to organize CEPA's annual symposium on Post Conflict Development in Asia and Africa, and following up on papers and presentations. She also carried out research and advocacy programs for CEPA on women's issues and other post-conflict related topics.
Ms. Nayantara Premakumar, REDLIME: A Research and Design Firm
Ms. Premakumar's work at REDLIME included producing documentary films on social advocacy work, research on various forms of cultural performances in Sri Lanka, and project-managing campaigns to promote social awareness. She also supported their private sector work, including the conception and design of product and media advertisements.
Ms. Suruthi Ragulan, Family Planning Association (FPA) and The Good Practices Group
Ms. Ragulan was based at two organizations. At the head office of the Family Planning Association in Colombo, she regularly traveled to the east of the country and led the development of a national NGO network on sexual and reproductive health issues island-wide. Her responsibilities also included developing media pieces and helping to develop training sessions for community based organizations to use an intersectional framework to better understand how concepts like gender, sexual orientation and culture inform HIV risk. At The Good Practice Group, she performed knowledge synthesis and translation for policy and practice in the field of Mental Health and Psychosocial Support, developed communication products related to key research findings, and conducted capacity building programs within the organization.
Ms. Madushi Seneviratne, Institute of Policy Studies of Sri Lanka (IPS)
Ms. Seneviratne's responsibilities at IPS included literature review around the themes of developing case studies of other countries/initiatives on harnessing diaspora value in economic development and providing an understanding of aspects relevant for Sri Lanka. This involved developing an article for the IPS 'Talking Economics' blog, distribution of a global survey she developed to collect data on Sri Lanka's diaspora and other policy and communications content to accompany the Working Paper with policy recommendations. She joined the supervisor in making targeted advocacy presentations to stakeholder groups in the private sector, government, etc., supported ongoing dissemination activities and research seminars, and participated in IPS in-house seminars and roundtable discussions.
Ms. Melanie Wathugala, Family Planning Association (FPA) and Genetech Research Institute
Ms. Wathugala coordinated a project funded by the International Labour Organization to provide VCT (voluntary counselling and testing) in the workplace. She conducted programs that educated people, mostly in the free trade zone and leisure/hotel industries, about HIV and provided testing opportunities at mobile clinics and health camps. At Genetech, she analyzed data from dengue samples, worked on the wet lab research projects, supported the compilation of the final report for the National Biotechnology Conference, and worked on other projects under development at the institute.
Read our latest news, or insights from our blog.
Media contacts
Amy Ovalle, Vice President, Global Communications
[email protected]
415-743-3340
Eelynn Sim, Director, Media & Strategy
[email protected]
415-743-3318
Leaders on the Frontlines:
Leaders for a Better World
Tuesday, November 9, 2021, 6PM PT