Leveling the Playing Field for China's Migrant Women Entrepreneurs
December 3, 2014
On this year's Singles' Day Sale in China – one of the largest online shopping days in the world – the Chinese e-commerce company Alibaba reported sales of more than $9 billion within 24 hours. Just weeks earlier, Alibaba had the largest IPO in U.S. history, thereby minting its lead founder and chairman, Jack Ma, as China's richest man. In response, Ma thanked Chinese women consumers, who represent the majority of users of Alibaba's business-to-customer (B2C) portals. Who he forgot to thank, however, were the thousands of women entrepreneurs who account for approximately 46 percent of all businesses owners who run their businesses on Alibaba's web portals.
The Alibaba experience demonstrates the power of Chinese women in accelerating economic growth not only as consumers but also as entrepreneurs. According to the All China Women's Federation, women account for 25 percent of all entrepreneurs in China and 21 percent of Chinese women are self-employed. Women's activity is even higher in the micro and small business sectors at 38 percent, sectors that contribute 50 percent of tax revenue and provide jobs for 70 percent of urban residents and 80 percent of rural-urban migrant laborers in China.
Despite their impressive contribution to China's economy, women entrepreneurs are constrained by a range of institutional barriers. One primary barrier is access to business capital. A 2014 Goldman Sachs report indicates that the credit gap as a percentage of GDP for women-owned micro and small businesses is exceptionally high at 10 percent in China. This is intensified by the lack of business development opportunities for women entrepreneurs, including training and mentoring.
Within China, economic opportunities for migrants are particularly limited. Rural to urban migration is a widespread phenomenon in China, with most migrants moving in search of better economic futures. Internal migrants account for approximately 20 percent of the total population of China, or 269 million people (as of 2013). At least half of internal migrants in China are women, many of whom aspire to become entrepreneurs in the small and micro business sector due to the growth in living expenses that outpaces the wage increases in the manufacturing and service sectors.
Despite these ambitions, migrant women's entrepreneurial aspirations are constrained by an exacerbated set of institutional barriers. Under China's household registration (hukou) system, any citizen who resides outside his or her place of birth without a local hukou does not have access to state benefits including critical entrepreneurial resources, ranging from state-subsidized micro-loans to free-of-charge entrepreneurship training. While the Chinese government claims to have subsidized micro-loans totaling over $30 billion for over 3.5 million female entrepreneurs, migrant women are rarely beneficiaries of this assistance because their hukou status makes them ineligible for subsidized loans. Meanwhile, commercial financing is generally inaccessible for migrant women who usually lack collateral and guarantees.
In response, The Asia Foundation, through support from the GE Foundation, the GSRD Foundation, and private donors through the Foundation's Lotus Circle, established an innovative program to provide entrepreneurial training and loan opportunities for new and aspiring migrant women entrepreneurs in Shanghai. Through designing and implementing this program in partnership with Ren Ren Dai, one of China's best-known micro-lending institutions, and the Shanghai Charity Education and Training Center (SCETC), a Shanghai-based NGO, the initiative hopes to test the effectiveness of a new model of inclusive entrepreneurship support in China. This model partners the commercial lending capital from financial institutions with technical services from non-profit organizations to provide comprehensive entrepreneurial support.
Under this initiative, 280 migrant women entrepreneurs will receive business skills training. During the training period, SCETC and The Asia Foundation will provide ongoing, tailored technical support to the trainees to assist them in developing competitive business plans in preparation for loan applications. Graduates of this program will then be able to apply for small business loans from Ren Ren Dai, which has committed loans of up to $25,000 each to the most prominent graduates from the entrepreneurship training program. In addition to favorable loan terms ranging from lower interest rates and zero requirement of collateral and guarantees, Ren Ren Dai opened its doors to aspiring migrant women entrepreneurs with promising business plans but without existing business operations currently in place. This is a rare commitment that makes it possible for these borrowers to overcome the particularly significant challenge of access to start-up capital.
Successful recipients of the Ren Ren Dai loans will receive one-on-one business mentorship from SCETC and The Asia Foundation to assist with business growth and optimal loan use. As such, the partnership between Ren Ren Dai, a local lending institution, and the non-profit sector leverages the strengths of each organization and demonstrates a partnership model that has great potential to benefit millions of other women business owners across China.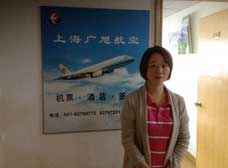 On Nov. 12, 2014, Bao Lin, a 31-year-old migrant woman from Sichuan Province, received the first loan under this initiative to expand her family's small flight ticket agency in Shanghai that opened in 2012. In 2013, Bao joined the program's 8-week entrepreneurship training program, and after consulting with the trainers, she developed a business plan to start a new chapter of their family business, targeting more profitable corporate customers. This endeavor, however, required a larger cash flow than their family business could afford. The $16,000 loan from Ren Ren Dai provided the cash flow needed for her business plan but more importantly allowed her to become a co-owner, rather than merely a helper, of the family business.
Through ongoing training and support, this initiative will continue to build opportunities for migrant women entrepreneurs in Shanghai through December 2015. In partnership with Ren Ren Dai and SCETC, we hope that this innovative model can be a successful solution for addressing barriers and building economic empowerment for women across China.
Chen Tingting is The Asia Foundation's program officer for women's empowerment programs in China. Kate Bollinger is the Foundation's senior program officer for women's empowerment programs in Washington, D.C. They can be reached at [email protected] and [email protected]. The views and opinions expressed here are those of the individual authors and not those of The Asia Foundation.
About our blog, InAsia
InAsia
is a bi-weekly in-depth, in-country resource for readers who want to stay abreast of significant events and issues shaping Asia's development, hosted by
The Asia Foundation
. Drawing on the first-hand insight of renowned experts,
InAsia
delivers concentrated analysis on issues affecting each region of Asia, as well as Foundation-produced reports and polls.
InAsia
is posted and distributed every other Wednesday evening, Pacific Time. If you have any questions, please send an email to
[email protected]
.
Contact
For questions about
InAsia
, or for our cross-post and re-use policy, please send an email to
[email protected]
.
The Asia Foundation
465 California St., 9th Floor
San Francisco, CA 94104
2023 Lotus Leadership Awards
Join us in New York on April 26, 2023, to honor Gloria Steinem, Google.org, and HAkA.