The Asia Foundation Releases Cambodian Public Opinion Survey
Democracy in Cambodia – 2014: A Survey of the Cambodian Electorate reveals sobering trends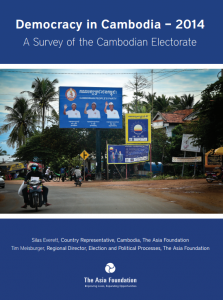 Phnom Penh, December 10, 2014 — Despite significant economic growth and poverty reduction over the last decade, Cambodians report that the country is heading in the wrong direction and are demanding better performance in government service delivery, according to a survey released today by The Asia Foundation. Democracy in Cambodia – 2014: A Survey of the Cambodian Electorate is the Foundation's third national public opinion poll on democracy in Cambodia, as a follow-up to polls conducted in 2000 and 2003 to assess attitudes and priorities of the voting public that may contribute to or constrain democratic reforms. Conducted between May 19 and June 9, the 2014 survey is based on 1,000 face-to-face interviews with Cambodian citizens aged 18 and older in 23 provinces (excluding Kep) and Phnom Penh.
The survey provides detailed information on the knowledge, attitudes, and behaviors of Cambodian voters amidst the electoral challenges facing the country. Citizens were polled on their perceptions after the government crackdown on growing anti-government demonstrations in January 2 and 3, 2014, and before a compromise was reached by the opposition CNRP party and ruling CPP party on July 22, 2014, which ended the opposition's boycott of the national assembly on claims of voter fraud during the 2013 national assembly election. The survey report also offers recommendations for key stakeholders, including the various political parties, government, and donors.
"These findings are a unique lens into Cambodia citizen views, and suggest rising expectations of a society in a rapid economic transition," said Silas Everett, Country Representative for The Asia Foundation in Cambodia. "Despite economic growth and what some see as a path toward relative stability post elections, the survey reveals sobering trends in Cambodian public opinion. The survey also shows broad public support for electoral reform, but considerably less support for holding new elections immediately. The calls for "change" we heard in the aftermath of the 2013 elections come through in this survey as calls for reform."
People feel negatively about the direction in which Cambodia is headed. Compared to public opinion surveys since 2003, the survey findings represent the most significant shift in national mood in a decade. A majority (59%) of respondents believe things in Cambodia are going in the wrong direction, while 32% feel it is heading in a positive direction. Respondents expressing a negative outlook on the country cited corruption (19%), deforestation, and economic issues (26%) as predominant factors for their negative views. The tangible results of infrastructure (27%) and economic growth (21%) are cited by respondents who believe the country is going in the right direction. Respondents were more positive about the performance of the national government than about the direction the country is headed. However, individual national institutions were perceived to be low in integrity, according to respondents.
Broad support for electoral reform. However, there is considerably less support for holding new elections immediately. Just over half of respondents (56%) believe in waiting until reforms are passed, while 25% believe elections should be held as soon as possible. While 96% have heard of the NEC, just 32% are satisfied with its work. A majority (82%) preferred a balanced commission with representation from all parties.
Democracy has positive connotations, but understanding of the concept weak. A majority of Cambodians (60%), especially youth, express a paternalistic view of the role of government, while 38% show a more democratic understanding of the relationship between government and citizens. Despite the paternalist views, 85% said that democracy is always the best way, and do not support the view that a strong, unelected leader is acceptable in times of crisis.
Gap in gender values persists. Thirty-eight percent of men and women expressed that they would prefer a man rather than a women to represent them in the National Assembly. However, more respondents (23%) in 2014 said they would prefer to be represented by a women than in 2003, and 39% said it makes no difference.
The Asia Foundation has been working for peace and prosperity with the people of Cambodia since 1955. Through periods of instability, turmoil, reconstruction, and growth, the Foundation has provided support to thousands of schools and universities, government agencies, NGOs, citizens' groups, business associations and small and medium enterprises to help them advance Cambodia's economic, social, and political development.
Read more about the Foundation and its work in Cambodia.
Read our latest news, or insights from our blog.
Media contacts
Amy Ovalle, Vice President, Global Communications
[email protected]
415-743-3340
Eelynn Sim, Director, Media & Strategy
[email protected]
415-743-3318
Change Starts Here Campaign Impact
Thank you for powering The Asia Foundation's mission to improve lives and expand opportunities.