The Asia Foundation Releases Results of Nationwide Myanmar Public Opinion Survey
Myanmar 2014: Civic Knowledge and Values in a Changing Society highlights tempered optimism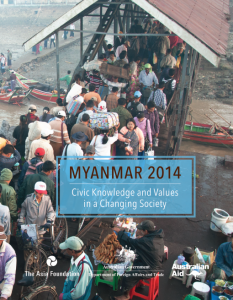 Nay Pyi Taw, December 12, 2014 — After decades of military rule and isolation, people are hopeful about the future and Myanmar's recent transition to democracy, but their optimism is tempered by the challenges that remain, according to a survey released today by The Asia Foundation. The first nationwide survey in Myanmar to document public knowledge and awareness of new government institutions and processes, Myanmar 2014: Civic Knowledge and Values in a Changing Society sheds light on the political, social, and economic views of people from diverse ethnic and religious backgrounds. Over 3,000 respondents across all 14 states and regions were interviewed face-to-face in May and June 2014. Read the survey here.
The results come at a crucial moment, amid longstanding communal and religious conflicts; ongoing efforts to achieve a nationwide cease-fire agreement and political dialogue to address the concerns of the country's numerous ethnic groups; and the upcoming 2015 elections. The survey findings reveal limited knowledge among the public about government institutions and their functions, low level of social trust, a high degree of political polarization, and deep apprehension about economic opportunities. The level of civic knowledge is consistently lower among the states (where many ethnic communities are concentrated) compared to the regions (where the majority of the Burman population reside), and also lower among women compared to men.
The survey underscores a continuing and critical need for accessible and inclusive civic education to deepen and sustain public commitment to democracy. It will also be necessary to overcome the lack of social trust and deep political divide that could threaten the development of a common vision for the country. The results of this survey can have an impact on civic and voter education, development initiatives, and contribute to the ongoing public discourse on the nature of state-society relations in post-transition Myanmar. The survey findings will be widely distributed to the Union government, state and region governments, national and regional parliaments, political parties, civil society organizations, media, and the private sector, and development organizations.
"Given a difficult history and the challenges yet to be overcome, the faith that people express in the vision of a peaceful, inclusive, and equitable society is remarkable. People are happy with their new freedoms and are cautiously optimistic about where the country is heading, but they have a low level of knowledge of government and limited understanding of their rights and responsibilities in a democracy," said Dr. Kim Ninh, Country Representative for The Asia Foundation in Myanmar. "In order to sustain and promote further democratic reforms in Myanmar, greater effort must be focused on increasing public knowledge of their government in easily accessible ways. In many instances, the development of new terms and vocabulary across a variety of issue areas – in local languages – is critical in building a base of common understanding."
People are cautiously optimistic about the direction in which Myanmar is headed. A majority (62%) of respondents believe things in Myanmar are going in the right direction, while 28% say they don't know. The level of optimism is markedly higher in the regions (67%) than in the states (49%), and a large proportion of people in the states (37%) said they don't know. Relatively few people in either the states (7%) or the regions (3%) felt the country is headed in the wrong direction. The tangible results of the reform process in delivering roads, schools, and economic growth are cited by respondents who believe the country is going in the right direction, whereas conflicts, a bad economy, and bad governance or corruption are highlighted by those who are negative about the direction of the country.
Economic performance figures prominently as a public concern. For most people, the economic situation has not improved over the last year. Half (50%) said their economic situation had not changed in the last year, 35% reported being in a better economic situation and 14% said they were worse off. Conflict (22%) was most frequently cited as the biggest problem facing Myanmar, but economic factors—a bad economy, general poverty, and unemployment—figured prominently. Poor roads lack of electricity, unemployment, and poverty were reported as the biggest problems faced at the local level.
People have limited knowledge about the structure and functions of various levels of government, particularly at the subnational levels. A significant 82% of respondents are unable to name any branches of government. Only 15% of the public correctly identified the Pyidaungsu Hluttaw, or the Union Parliament, as the institution that passes bills into law. Over three quarters (76%) of all respondents did not know the functions of the state/region government, while 68% said they did not know the functions of the township government. Though 85% of respondents could at least name their village-tract or ward administrator, only 4% could name their member of Parliament.
Public knowledge about the selection/appointment process for key government positions is poor. Although respondents report overwhelmingly that they participated in the 2010 elections and intend to vote in 2015, many incorrectly believe that key officials are elected directly by citizens. Only 12% knew that the president is elected by the Pyidaungsu Hluttaw, while 44% believed incorrectly that the president is elected directly by ordinary citizens. Similarly, 32% of all respondents believed that the chief ministers are elected, while only 22% correctly answered that chief ministers are appointed by the president.
People express a strong preference for democracy in the abstract and a high level of expectation that voting will bring about positive change. However, they possess a limited understanding of the principles and practices that underpin a democratic society. Seventy-seven percent of respondents believe that voting can change things for the better, and 80% believe that the 2015 will have a very positive or somewhat positive impact on their life. When people were asked what it means when a country is called a democracy, "freedom" was mentioned by 53%; only 3% mentioned "government of the people".
Social trust is critically low, and political disagreements deeply polarizing. An astounding 77% of all respondents believe that, generally, most people cannot be trusted. More than one third (35%) of all respondents said political parties that most people do not like should not be allowed to meet in their communities. A high 42% of respondents would end a friendship if the friend supported an unpopular political party.
Gender values remain highly traditional. Both men and women expressed a similarly strong view on the preference for men in public roles. Nearly three quarters of men (42% agree strongly, 29% agree somewhat) and women (41% agree strongly, 29% agree somewhat) agree that men make better political leaders than women, and 72% (42% agree strongly, 30% agree somewhat) of men and 69% (40% agree strongly, 29% agree somewhat) of women believe that men make better business leaders than women.
The Asia Foundation in Myanmar
The Asia Foundation is a nonprofit international development organization committed to improving lives across a dynamic and developing Asia. In 2013, the Foundation re-established a resident country office in Myanmar after an absence of more than 50 years. The Foundation works with partners in government, the private sector, and civil society to build the country's capacity for regional and global integration, strengthen the core institutions and processes of democratic governance at national and local levels, support initiatives for inclusive economic development, promote women's empowerment and political participation, and increase public access to information through policy research and dissemination. Our Books for Asia program has operated in Myanmar since 2007.
Read our latest news, or insights from our blog.
Media contacts
Amy Ovalle, Vice President, Global Communications
[email protected]
415-743-3340
Eelynn Sim, Director, Media & Strategy
[email protected]
415-743-3318
Leaders on the Frontlines:
Leaders for a Better World
Tuesday, November 9, 2021, 6PM PT